Please note:
Version 5 is the last OpenELEC release that supports PPTP connections and all settings to be found here are gone with version 6 - even though reminders are left and give the impression of native PPTP support. But this is not the case, all respective configuration entries have been removed completely and so this instruction is solely meant for version 5 and below.
Disclaimer: Please keep in mind that, although the technical process is as thoroughly documented as possible, you need to have at least some technical understanding. There's always a chance for an overseen mistake and/or things have changed and the article is not updated yet.
Step 1: Configure a OpenVPN connection
Visit your CyberGhost VPN online account.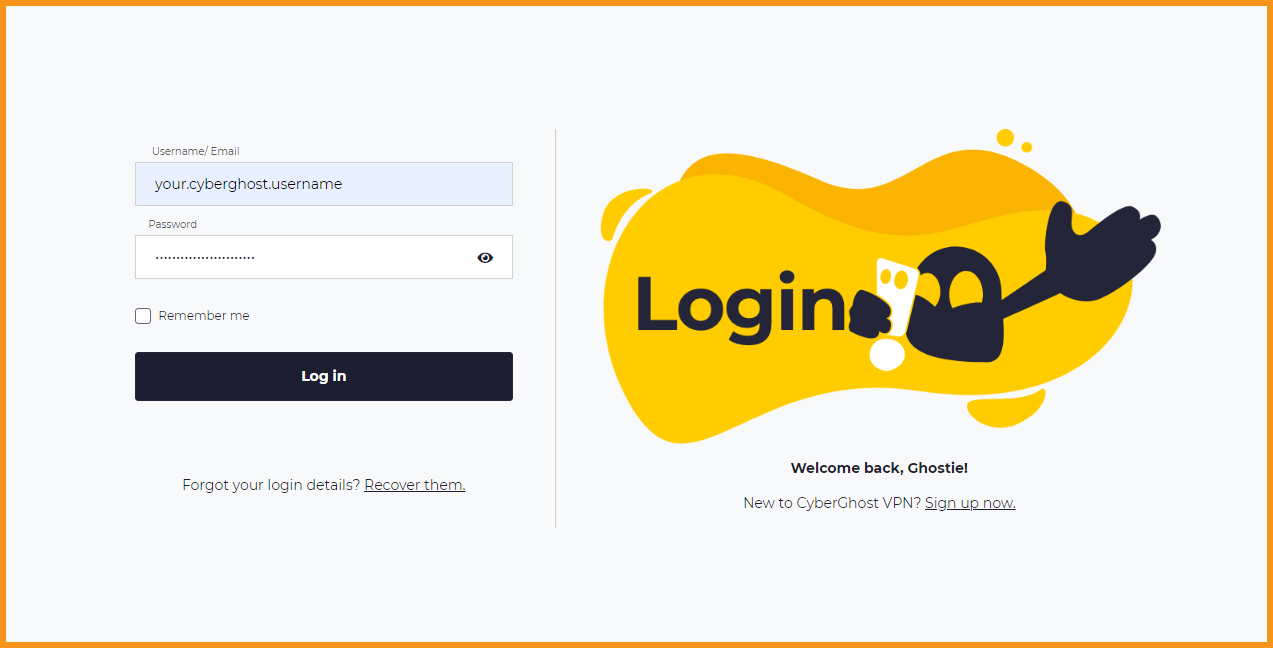 Click on 'My Devices' and in the 'Add a new device' section > click 'Others'.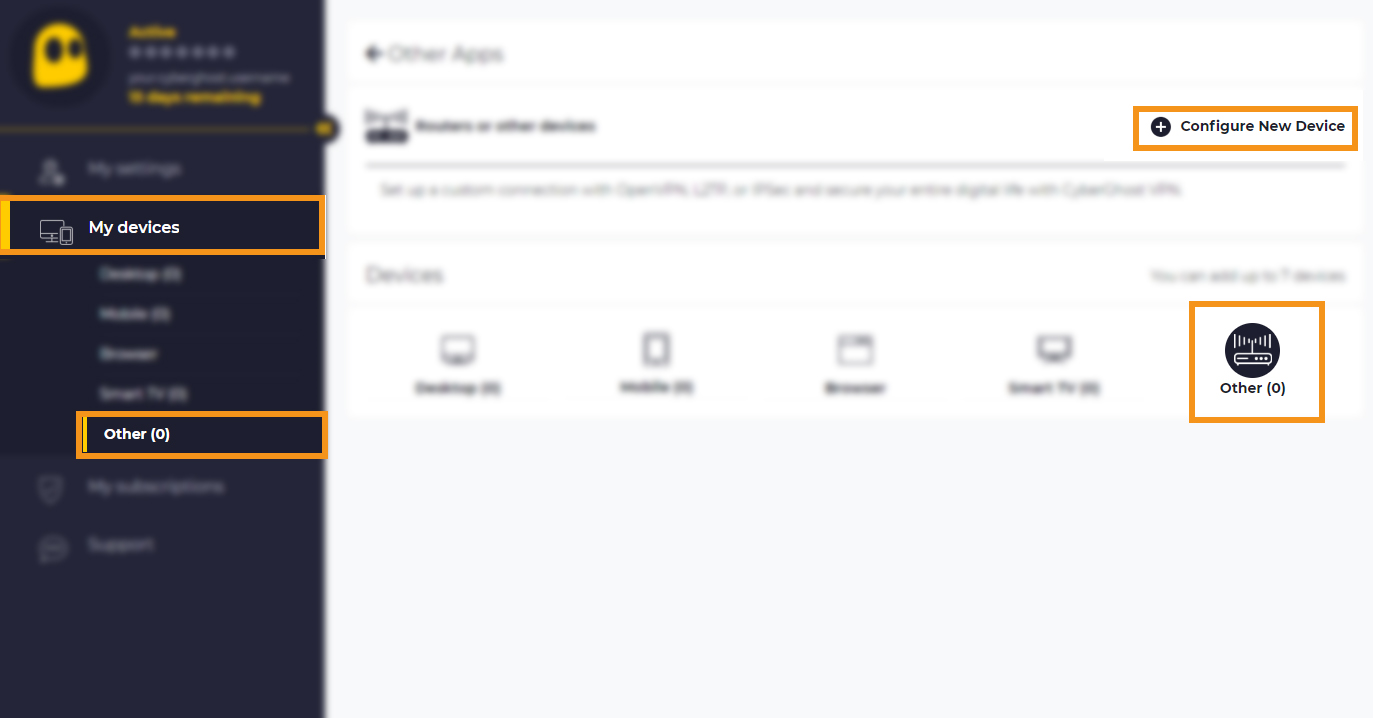 Click Configure new device and in the new window, choose your desired protocol, in our example: PPTP and your preferred country and server group, as described below.
Also type in a Device name to assign to your device, then configure the parameters for the new device.
Once the desired parameters are chosen, save them with 'Save and download configuration'.
To view the PPTP credentials that are generated for you on the configuration dashboard, press View Configuration.

Access the configuration data for the PPTP protocol. FYI: The Point To Point Tunneling Protocol is widely available and uses PAP/CHAP for authentication, but because of possible implementation deficits in key management it can't be considered completely safe anymore and should only be used, if none of the alternatives OpenVPN or L2TP is available.
Protocol: Choose the PPTP protocol.
Country: Since native protocol connections may only be used with exactly one server you now have to choose the country you want to surf from; the server to be used in this country will be chosen by CyberGhost automatically.
Server group: Depending on the chosen country as well as the availability of different server types as an attribute of your current plan you can also define a server group to use:

Standard and Premium Server: This is the group of all paid service servers of the country chosen.

NoSpy Server: This is the group of all exclusive NoSpy servers of the country chosen. These servers can only be accessed by those subscribers, who opt for them as an additional feature.
After setting up your connection wishes please note down the following data sets. You will need them to configure your device:
Server: This is the server address of the country you want to surf from, e.g. '1234-ro.cg-dialup.net'. The address includes encrypted information about your plan, the server group chosen and the domain name; the protocol to be used will be detected automatically when connecting to CyberGhost. If you want to connect to different locations, you need to adjust the target destination according to a different country and note down that 2nd, 3rd, 4th ... address as well.
User name: A solely for protocol usage generated user name. This is NOT your regular CyberGhost account user name.
Password: A solely for protocol usage generated password. This is NOT your regular CyberGhost account password.


Pre-shared key
Please also see the credentials that are downloaded on your device.
Step 2
Now start OpenELEC. It's recommended to use the default skin 'Confluence', so you don't have to search for the settings described here.
Move left to the main menu entry 'System'. Now move down and activate 'OpenELEC'. In case the entry is missing, move one entry to the left from 'Systems' and click on 'Programs'. In there you should usually also find the 'OpenELEC Configuration' add-on.
Once you opened the OpenELEC configuration window, scroll down to 'Network', click on it, move to the right list of network settings and scroll down until you reach the entry 'Add new VPN configuration'. Click on it.
Click on 'VPN Type' and choose 'PPTP'.
Now some more options become available. Take care of each single one:
Network name: Label your VPN connection. If you plan to use different locations add the country ID and maybe server group to the network name, e. g. 'CG_US_Default'.
VPN Server: Type in the server address you note down before, e. g. '4-us.cg-dialup.net'. If you want to use more than one location, this is the only place, that will be different in all your future PPTP VPN connection configurations.
Username: The user name created in step 1 (this is NOT your regular CyberGhost user name)
Passphrase: Type in the PPTP password, you noted down in step 1 (this is NOT your regular CyberGhost account password).
VPN DNS Domain: Choose 'VPN'.
Show Advanced: Activate and make sure, all options are deactivated (respective show a '0') - EXCEPT 'Require MPPE (128 bit)'. This one you need to activate.
Click on 'Save'. Now activate the menu entry 'Connections' on the left. On the right you should now see your new VPN connection(s). Click on one and choose 'Connect'.
If OpenELEC crashes and restarts the GUI, it usually keeps a VPN connection alive - but it wouldn't hurt to make a quick check, if the connection is still active. However, after a complete shutdown and restart you need to activate your VPN again.