Your account is managed online and can be accessed through the CyberGhost Account Management page directly from your preferred web browser.
Jump to…
My VPN
My Smart DNS
My Cookie Cleaner
My ID Guard
My Account
My Subscriptions
Refer a friend


My VPN
1. VPN Downloads
Here you can download and manage every CyberGhost application and service.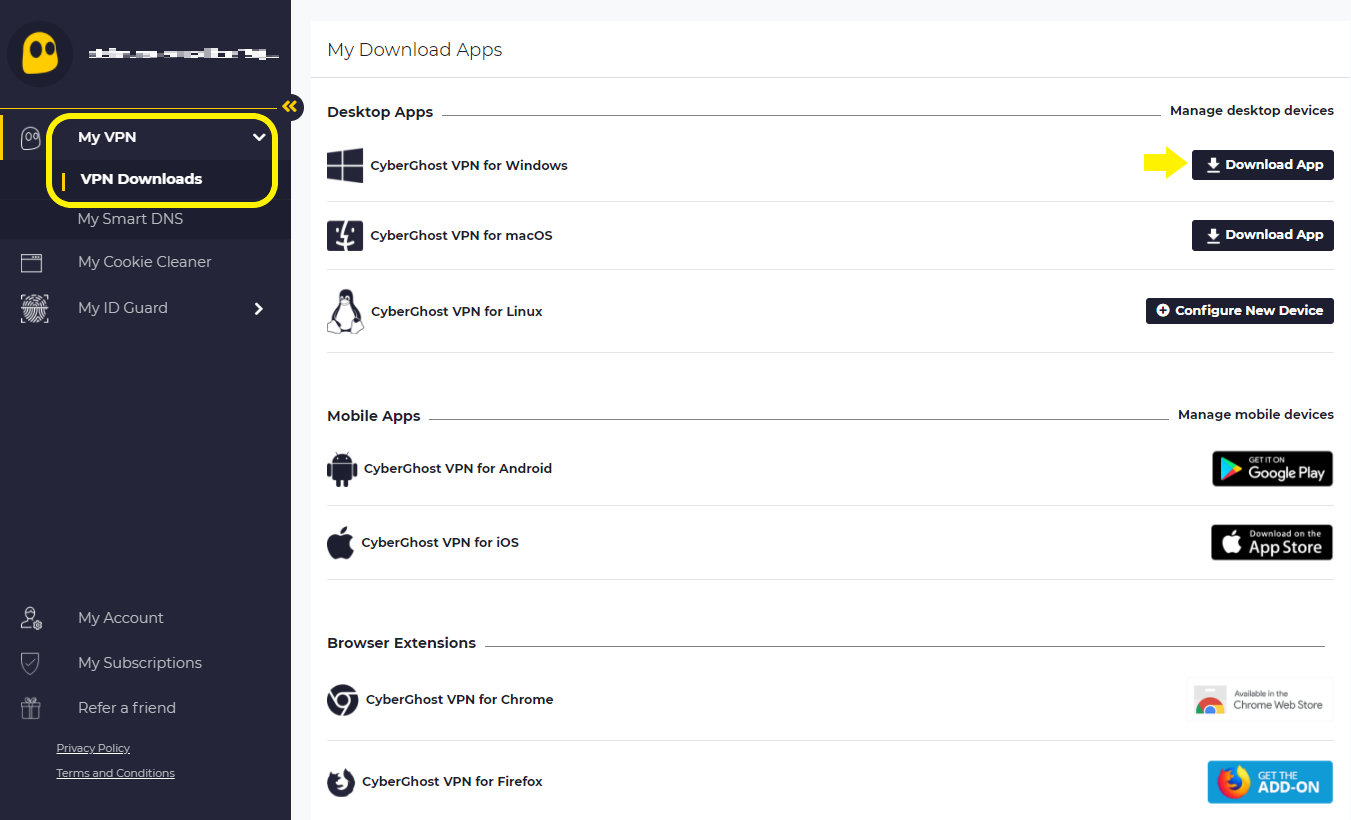 The right-handed button | Manage devices | can be used to move to the 'My devices' page, while a click on any device icon under 'Devices' allows to add / remove or configure any device that CyberGhost supports and it even works for downloading the app for the desired platform.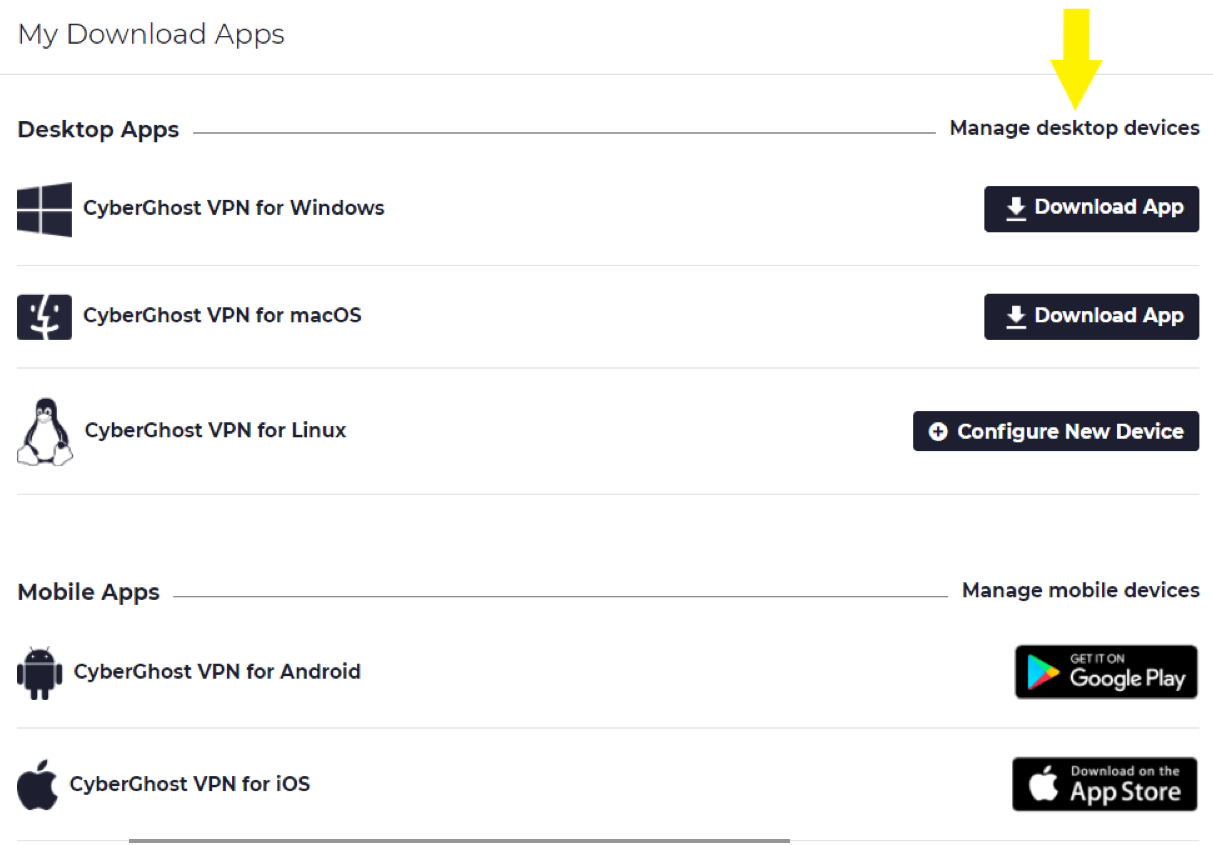 This page lists all registered devices (between 1 and 7 devices, depending on your subscription). A device can be a Desktop PC, Laptop, Smartphone, or Tablet PC, used with a CyberGhost client or a native protocol.
Please note that the number of possible devices refers to the devices used at the same time and not the number of devices in general. This means that you can use your CyberGhost account/subscription with as many devices as you want; the only restriction is that you must remove a device if all slots are occupied, as you will need to register another one. This means that you can of course use your CyberGhost account with an unlimited number of devices - but not at the same time.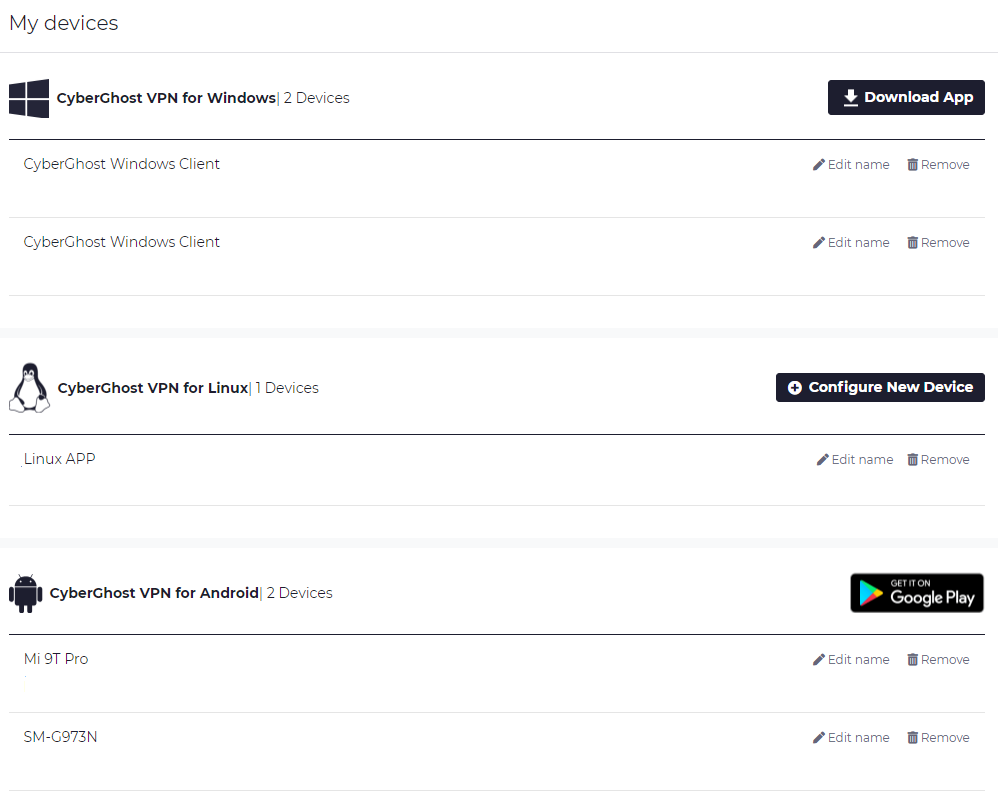 Devices that use the CyberGhost client will be detected automatically and will synchronize in your account, while devices with native protocols must be added manually by you.
My Smart DNS
SmartDNS is a CyberGhost feature that allows you to access geo-restricted Internet content. This feature will help you to unblock streaming content like US Netflix, US Hulu, UK Netflix, etc.

Click here for more information on how to configure it.
My Cookie Cleaner
CyberGhost Cookie Cleaner is a plugin designed to give you control of your online preferences, personal data, and private details.
It helps you clean your browsing history, cached images, and files, as well as cookies and website data.

My ID Guard
CyberGhost ID Guard is a feature that will automatically alert you in case your email address is revealed in a data breach. allowing you to change your password quickly. Check out more here.

My Account
1. Active Subscriptions
Displays the current subscription type this account is running on.
The right-handed button | Subscription details | can be used to move to the 'My Subscription' page.


2. Fully protect your digital life
Here you can add our additional features to your current CyberGhost subscription.

NOTE: For the time being, you can subscribe to the Dedicated IP feature from your online account only if your subscription has been previously processed by our payment partner Stripe or Cleverbrige and the subscription plan was no more than 18 months long.
3. Account settings
Fields where you can edit your : Username, E-mail, and Password. Even assign a profile picture to your account.
Active devices : Number of registered devices connected to this account.
The number of slots available : Remaining number of devices the current plan allows to be connected to this account at the same time.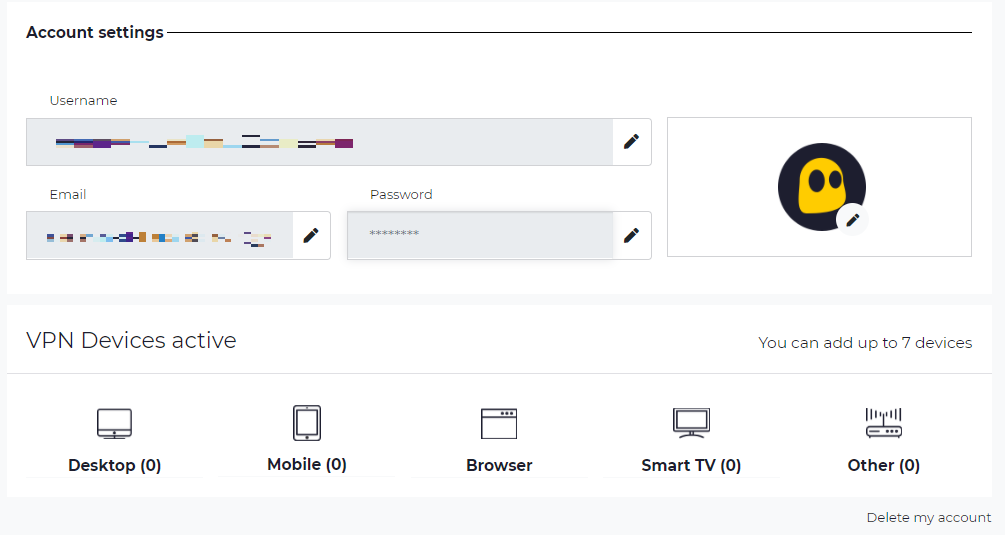 In case you want to delete the current account, please click on the respective labeled button right under the account settings. Please note that by removing your account you also delete all activation keys and remaining subscriptions! After deleting an account, you can't reactivate an already used activation key nor is our support able to recover deleted activation keys!

My Subscriptions
This area is only visible if you have a running subscription connected to this account.
Subscription : The name of the purchased plan
Purchase date : The date on which the subscription was purchased.
Payment method : The payment option which was used (Credit Card, PayPal, etc.) and payment provider that the purchase has been processed with.
Subscription price :The subscription amount that has been paid.
End in : The remaining days of your CyberGhost subscription.
Details of your next payment are displayed. To pause or cancel your subscription, simply head to 'Turn auto-renewal off'.
Did you buy CyberGhost VPN from a store? Or were you part of one of our campaigns? Put your activation key to good use here. Use your activation key.

To access your invoice and billing history, please click on the corresponding button on the right.

Refer a friend
If you join and refer CyberGhost to a friend, he or she will know, you're wide awake of what's going on in this world, that you care about him or her and you know your way around.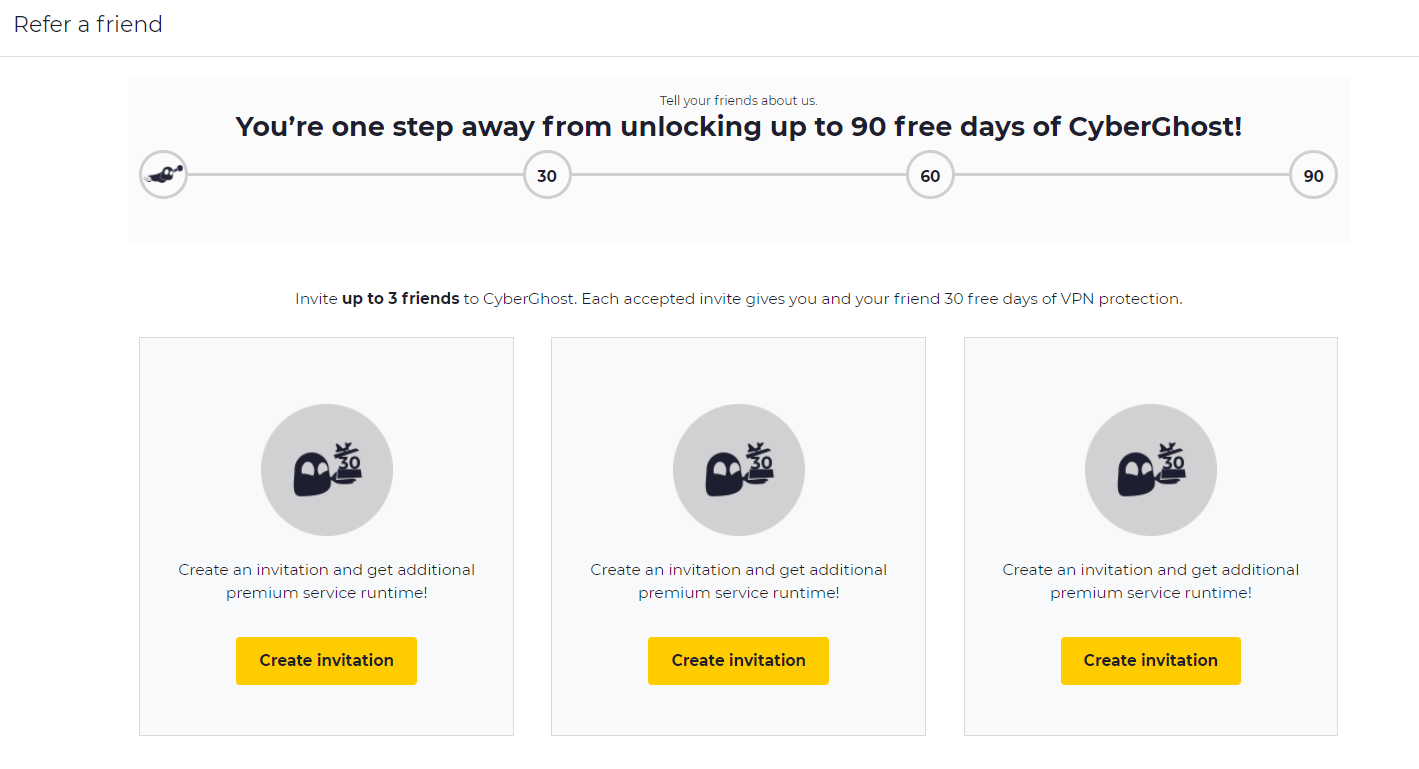 How does it work?
Check it out here.
For any additional information or concerns - it is best to approach the Support Department:
via e-mail: support@cyberghost.ro
via on-line request: https://support.cyberghostvpn.com/hc/en-us/requests/new
via 24/7 Live! Chat Sessions on our website