In case you need to recover an account (because you lost your user name or password), visit us at https://account.cyberghostvpn.com/ and click on 'Oops, I forgot my password'.
In the next window please enter you PUK (you got it when creating your account) and click on 'Recover my account'.
If you had lost your PUK as well, you might have one of the following possibilities to recover your account:

If you purchased a regular subscription via CyberGhost and its payment provider cleverbridge, and have both, the reference number of your purchase and the email address, you used for purchasing, you can re-create your account on this website. The reference number is part of the confirmation mail, you got from cleverbridge. Enter both data and click on 'Recover my account'. If you have just one element of the needed data, support can't help you out, because you have neither a PUK nor proof of purchase.
If you got an activation key, e. g. from a promotion, an offline purchase, or a Bitcoin purchase, please create a support ticket on this web page and send us the activation key, used for the account you lost credentials for. Please be patient, because the process might take 2 working days to complete.
If the account you lost your data for doesn't run any subscription, please simply create a new account.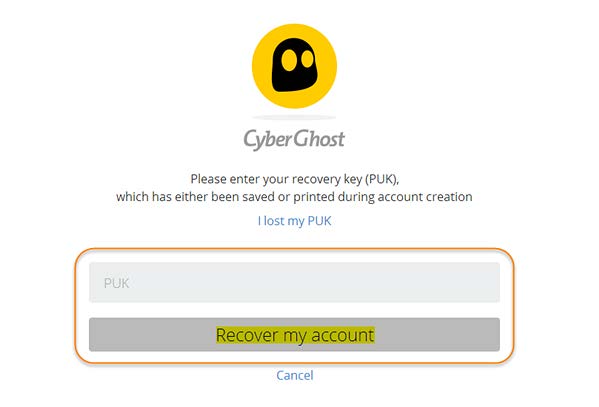 If you entered the right data you will be forwarded directly to your recovered account management.
In the account management, click on the menu entry 'My account' and change in the area 'Account Settings' your user name (optional) and your password (not optional). For that click on 'Change', enter the new user name/password data, and click again on 'Change'. Confirm with your PUK.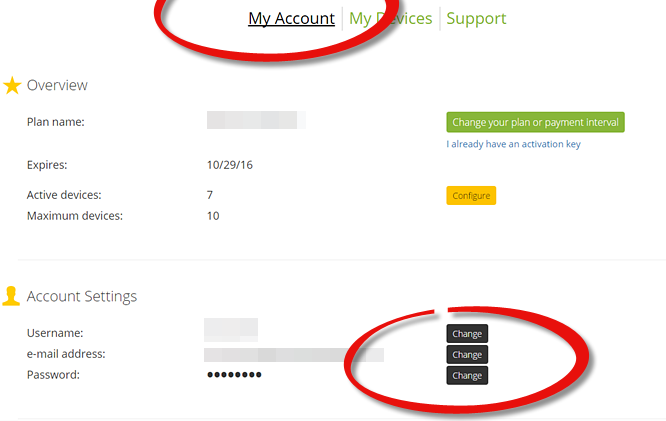 Start CyberGhost, click on the upper left side on the bar symbol and log-in with your changed credentials. If there is still a user/account name being shown, first click on the existing user name, log out and enter the new data after that.