Please make sure the following requirements are met:
Step 1
Visit your CyberGhost VPN online account and login with your Premium Username and Password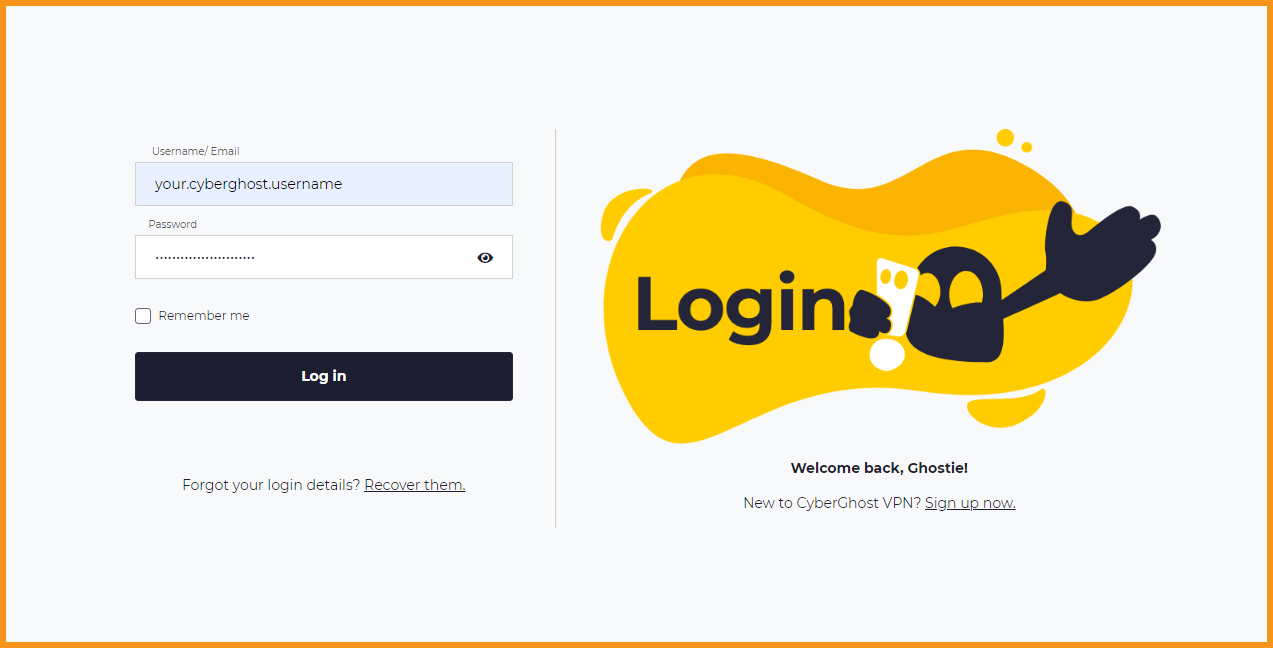 Click on 'My Devices' and in the 'Add a new device' section > click 'Others'.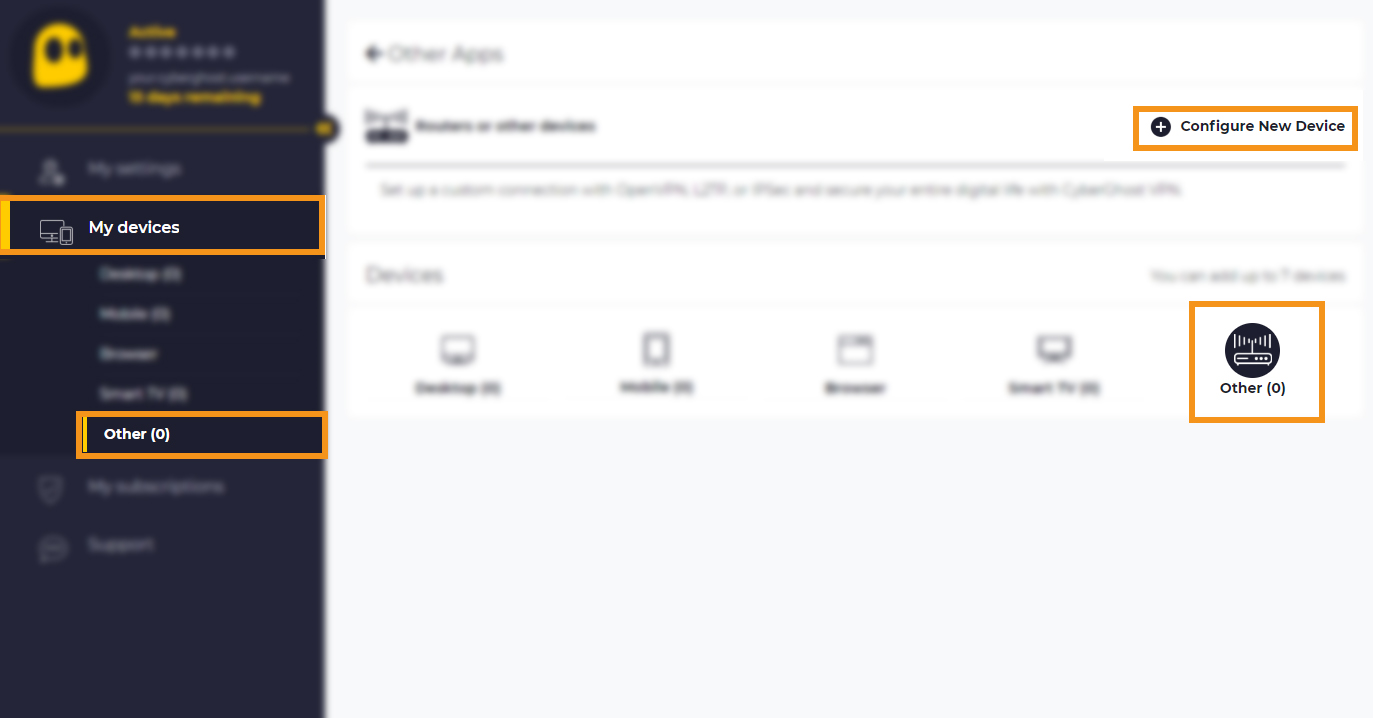 Click Configure new device and in the new window, choose your desired protocol, in our example: L2TP and your preferred country and server group, as described below.
Also type in a Device name to assign to your device, then configure the parameters for the new device.
FYI: The Layer 2 Tunneling Protocol (L2TP) allows operations of multiple tunnels and can be considered as very safe. For authentication it uses PAP/CHAP, but it lacks its own encryption, which is why CyberGhost uses L2TP in connection with the encryption technology IPSec as 'L2TP/IPSec'
Country: Since native protocol connections may only be used with exactly one server you now have to choose the country you want to surf from; the server to be used in this country will be chosen by CyberGhost automatically.
Server group: Depending on the chosen country as well as the availability of different server types as an attribute of your current plan you can also define a server group to use:
After setting up your preferred settings, save them with 'Save and download configuration'.
To view the L2TP credentials that are generated for you on the configuration dashboard, press View Configuration.

Once the new page is opened, your connection credentials are generated for you but make note of the following information:
Server group: This is the address of the country (server) you want to be connected with, e.g. '12345-1-ca.cg-dialup.net'. Note: This address changes with every country you have chosen in the step before. The actual single server to be used will be chosen automatically by CyberGhost.
User name: A solely for this protocol generated user name. This is NOT your regular CyberGhost account user name, it's used only to authenticate with our servers via Manual Configurations.
Password (you need to check the "Show Password" option in order to see it): A solely for protocol usage generated password. This is NOT your regular CyberGhost account Password, it's used only to authenticate with our servers via Manual Configurations.
Pre-Shared Key
Please download the configuration file. For that please click on 'Download configuration' and download the config file to your computer (it's recommended that you create a special folder for the config, somewhere accessible like your Desktop).
Step 2
Open your Android settings:
Tap on 'More' and then on 'VPN'.
Tap on the 'Plus' icon on the upper right:
Step 3
Enter a 'Name' for your new VPN connection, which should reflect somehow the country of the server you want to surf from and maybe even protocol and server group (e.g. 'CyberGhost L2TP US Default').
Specify the L2TP protocol by choosing the entry 'L2TP/IPSec PSK' from the 'Type' drop down menu und add the address you noted in step 1, e.g. '8-ro.cg-dialup.net'. (The address includes encrypted information about your plan, the server group chosen and the domain name; the protocol to be used will be detected automatically when connecting to CyberGhost. If you want to connect to different locations, you need to adjust the target destination according to a different country and note down that 2nd, 3rd, 4th ... address as well.)
Scroll down until 'IPSec pre-shared key' and enter 'CyberGhost' (case sensitive!).
Once you are done, tap on 'Save'. Back in the VPN connection list you should now find your new connection.
Each VPN connection can naturally only address one server; in case you need or want more than one location to choose from you need the respective amount of single VPN connections, each configured separately.
Step 4
Now tap on a connection and enter your credentials which consist of 1) the user name created in step 1, and 2) the password, also created in step 1. DO NOT use your regular CyberGhost user name and password, which you use to login in the client and your account management!
At last tap on 'Connect'.
After being connected, your device will keep you updated about the connection status in your notifying area:
Certain routers need you to activate the L2TP/IPSec protocol. How you can accomplish that task should be documented in your router's manual.