If you reinstall CyberGhost (even if it's on the same device) or you update your operating system, CyberGhost will see this as a new installation(the same device will occupy a new slot as it will be seen as a duplicate) and you might receive an error that "Maximum number of devices reached!". After you reached the allowed number of devices, you can't add another one to use with your current CyberGhost account, unless you delete at least one of the already registered ones.
Native protocol users : If you use native protocols and extend your device limit, you might not get connected (but without a message). If that's the case and you experience connection problems, please first visit your account management page to check on your device list.
How to remove a device ?
Visit your CyberGhost account
Check, how many devices are actively registered, and how many devices your subscription allows. For that have a look at the right-side area 'Manage devices', which tells you how many slots you have left.

To remove a specific device, simply click on the button 'Remove' right beneath the respective device.
After a slot has been freed you can log-in on any new device with your username and password.
The new device will be synchronized automatically. The complete process will reactivate the subscription on the respective device.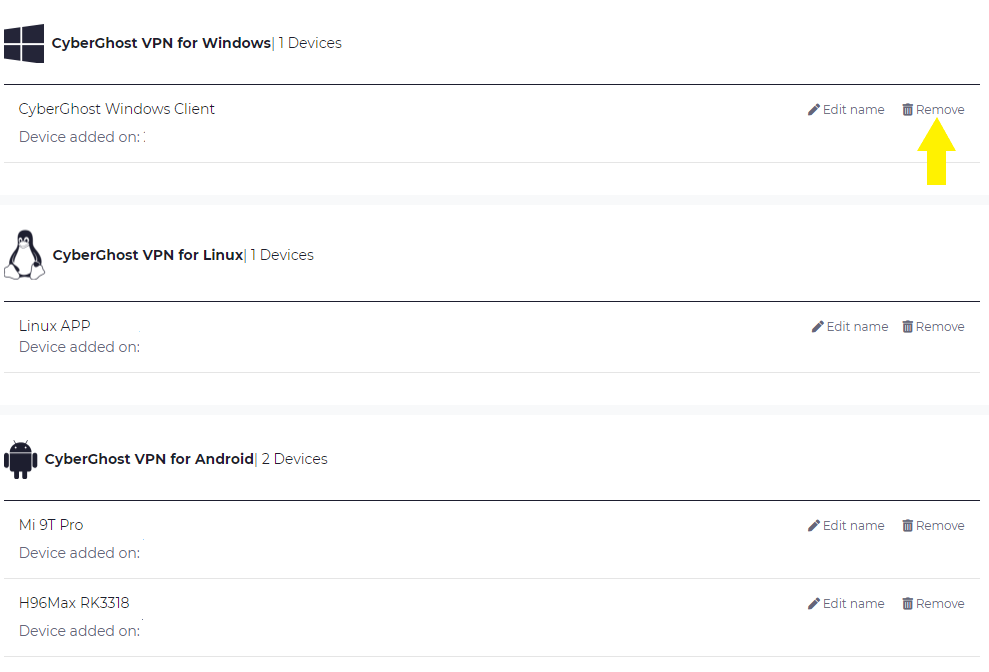 The removal of a device inside the account management page will block access to the VPN on the very same device at once and any existing connection will be terminated. Please make sure the respective device does not have an active connection at the time you remove it.
For any additional information or concerns - it is best to approach the Support Department:
via e-mail: support@cyberghost.ro
via on-line request: https://support.cyberghostvpn.com/hc/en-us/requests/new
via 24/7 Live! Chat Sessions on our website