Please make sure the following requirements are met:
When using a native VPN protocol please make sure that your VPN protocol software supports the Internet protocol IPv6 along with IPv4 or run an IPv4 Internet connection only. Many Internet Service Providers connect with the IPv6 protocol or offer both protocols, IPv4 and IPv6, at the same time and as long as a native VPN protocol doesn't support IPv6 you risk data leaks, since an IPv6 connection can bypass the tunneled IPv4 connection. While the CyberGhost client does support IPv6 and therefor prevent IPv6 leaks, users of native VPN protocols need to deactivate the IPv6 Internet protocol manually. This can be done either directly in your DSL router or in the Windows network settings.
 If using both, the CyberGhost client and a native OpenVPN connection, please be aware, that OpenVPN uses the same adapter as the CyberGhost Windows client does. Since CyberGhost forces the adapter to activate IPv6 support, it might happen that data leaks when using the native protocol connection, if a server doesn't support IPv6 (the firewall just handles client controlled connections).

If that is the case, please open the Windows registry, search for 'CyberGhost' and set the entry 'DisableIpv6Protocol' to true. Make sure you closed CyberGhost completely before changing the setting.
Step 1
Visit your CyberGhost VPN online account.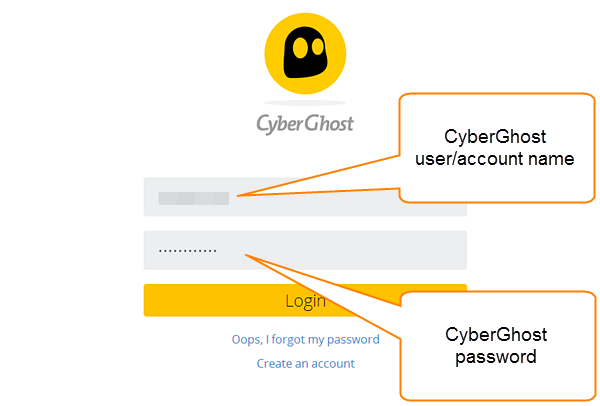 Click on the menu entry 'My Devices' and then on button 'Add Device'.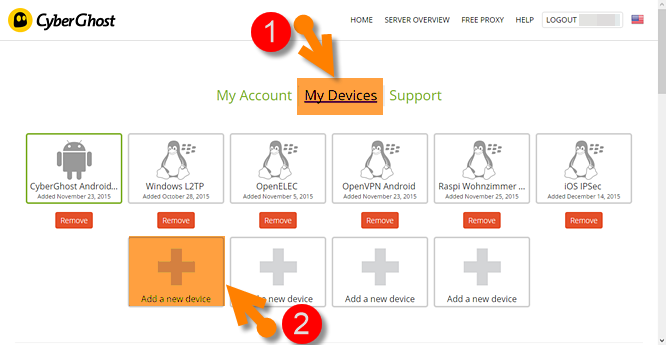 In the list of Operating Systems you can CyberGhost use with, please click on 'Other' to be able to setup all necessary options for the OpenVPN protocol. When done the screen extends and gives way to 'Create new credentials'. Do it by clicking on the respective button.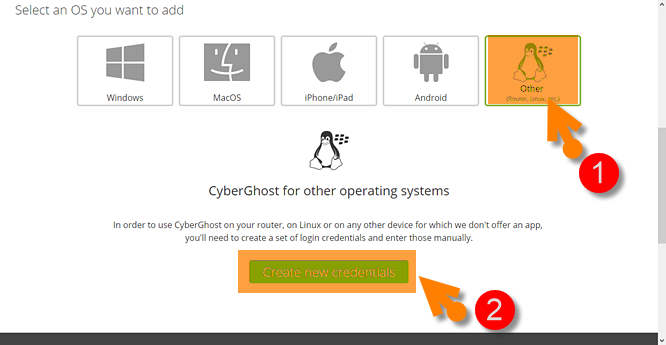 Scroll up the page. As you see, the placeholder for a new device is now replaced by 'Linux, Router, etc.'. Click on that button: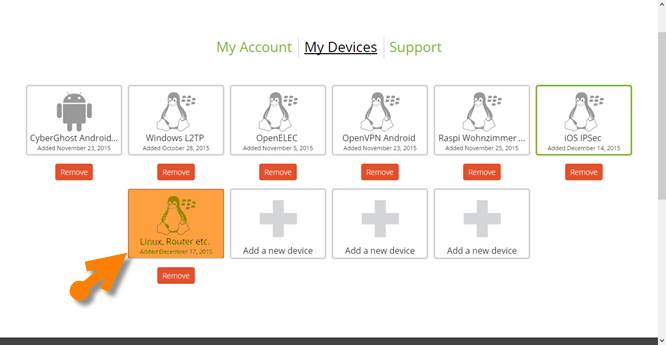 Type a name for your new device and activate the wanted extra features, provided with each regular subscription:
Scroll down and generate the login and configuration data for the OpenVPN protocol: 
Protocol: Choose the OpenVPN protocol you want to use:
OpenVPN (UDP): UDP allows higher speed than the TCP version, but can result in broken downloads in some cases. This is the default setting.
OpenVPN (TCP): TCP allows more stable connections than the UDP version, but is a bit slower. Choose this version, if you have recurrent connection issues such as sudden disconnections.

Country:

 Since native protocol connections may only be used with exactly one server you now have to choose the country you want to surf from; the server to be used in this country will be chosen by CyberGhost automatically. (If you want or need different PPTP, L2TP or OpenVPN connections in different countries, repeat all steps for every country.)

Server group: Depending on the chosen country as well as the availability of different server types as an attribute of your current plan you can also define a server group to use:
Standard and Premium Server: This is the group of all paid service servers of the country chosen. Subscribers of a Special Edition with limited access can't use regular Premium servers.
NoSpy Server: This is the group of all exclusive NoSpy servers of the country chosen. These servers can only be accessed by those subscribers, who opt for them as an additional feature

.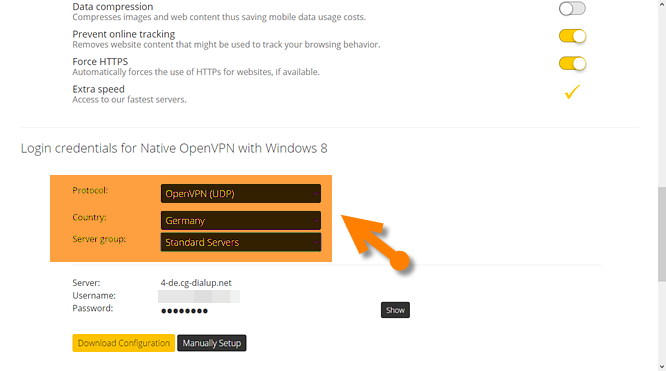 After setting up your connection wishes please note down the following data sets. You will need them to configure your device:
Server: This is the address of the country (server) you want to be connected with, e.g. '

1-ro.cg-dialup.net

'. Note: This address changes with every country you have chosen in the step before. The actual single server to be used will be chosen automatically by CyberGhost.
User name: A solely for protocol usage generated user name. This is NOT your regular CyberGhost account user name.
Password: A solely for protocol usage generated password. This is NOT your regular CyberGhost account password.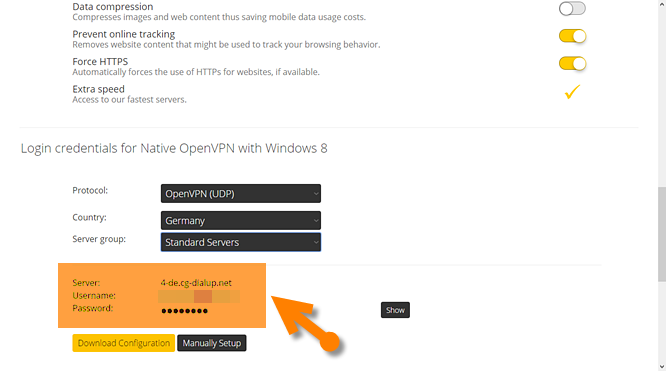 Once done, please download the configuration file. For that please click on 'Download Configuration' and save the file on your computer. It's a ZIP file, which contains the following single configuration files:
ca.crt: This is the certificate of the certification authority

client.crt: This is the user certification file 
client.key: This is your private key file
openvpn.ovpn: This is your OpenVPN configuration file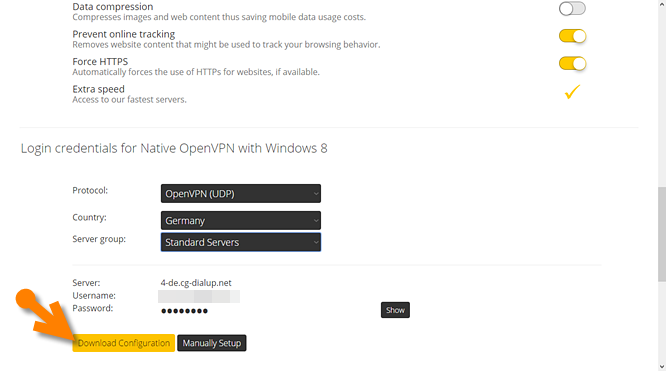 Step 2
OpenVPN is a third party software which is not built into Windows and therefore needs to be downloaded from its homepage. Please be aware you need to download the version that fits your Windows operating system:
For 32 Bit Windows Vista and newer: openvpn-install-x.x.x-I603-i686.exe
For 64 Bit Windows Vista and newer: openvpn-install-x.x.x-I603-x86_64.exe
Save the respective installation file ('openvpn-install...') on your computer and start installation. When it comes to choosing single components leave all settings as you found them and click on 'Next'.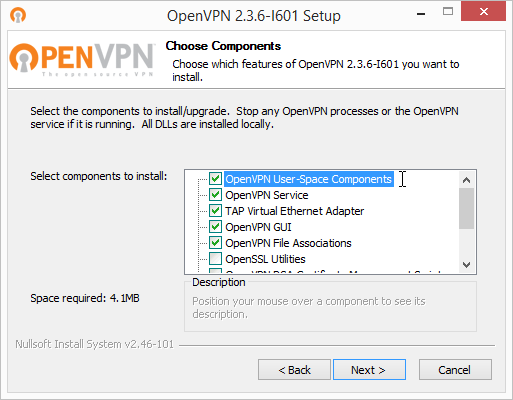 Define the folder to save to and click on 'Install'. Remember the path, for you will need it later on.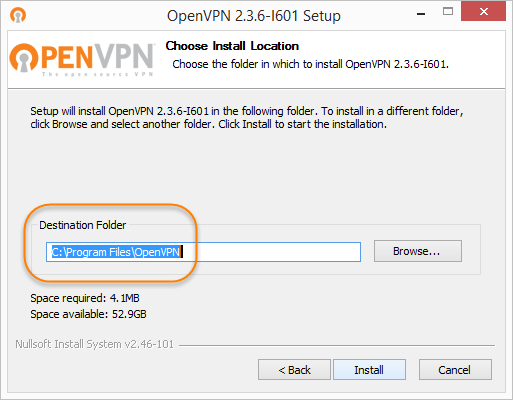 A warning message, claiming a TAP network adapter will be installed, needs to be confirmed by clicking on 'Yes'. After that click one more time on 'Next' and then on 'Finish'.
Step 3
Move to the OpenVPN installation folder and unzip all single files of your downloaded configuration file into the sub-folder 'config', in detail:  'ca.crt', 'client.crt', 'client.key' und 'openvpn.ovpn'.
If you want to surf from different countries, rename the unzipped OpenVPN configuration file from 'openvpn.ovpn' to e.g. 'CG_RO_NoSpy.ovpn' (or whatever location/server group combination you have chosen while setting up the configuration file in your account management). Choose then a different location and a different server group (if available) and download the next zipped configuration file. Unzip it, rename the containing 'OpenVPN.ovpn' as well und copy it inside the 'config' sub-folder. The inside the ZIP file remaining certificate and key files do not need to be copied again, for you already have them from the first download. 

For two different countries you need for example do the following steps:

Specify device, protocol and operating system

Choose a country, e.g. USA

Download the zipped configuration file with certificates, key and OpenVPN configuration file

Unzip the downloaded file and copy all files into the 'config' sub-folder inside your OpenVPN program folder

Rename the OpenVPN configuration file from 'openvpn.ovpn' to 'CG_USA.ovpn'.

Choose the next country, e.g. Romania

Download the next zipped configuration file

Unzip the downloaded file and copy just the file 'openvpn.ovpn' into the 'config' sub-folder inside your OpenVPN program folder

Rename it to 'CG_RO.ovpn'.

etc. ...

The sub-folder 'config' now consists of the following files (regarding the example above):

ca.crt

client.crt

client.key

CG_USA.ovpn

CG_RO.ovpn

xxx.ovpn

Note: The server address (e. g. '1-ro.cg-dialup.net') contains information about your plan, the server group chosen and the domain name in general, but the actual server choice in the respective country will take place automatically to ensure you will be assigned to the best server available. Given you want to get assigned to a certain server in e. g. Vienna you need to adapt the server address right inside the OpenVPN configuration file manually (e. g. from '1-au.cg-dialup.net' to 'Vienna-S01-I01.cg-dialup.net'). 
Step 4
Start the 'OpenVPN GUI' with administration rights, which is necessary for all Windows Vista, Windows 7 and Windows 8 installations.
To do this, right click on the OpenVPN icon on your desktop or inside your start menu and activate OpenVPN via the context menu entry 'Start as administrator'.
Don't forget to start OpenVPN as an administrator. Otherwise it might happen, that you get connected without being anonymized!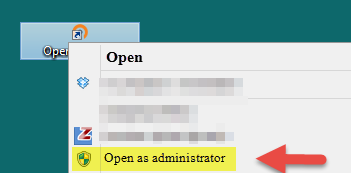 After OpenVPN started you can locate its icon in the system tray. Right click on that icon, choose the entry with the respective CyberGhost connection and click on 'Connect'.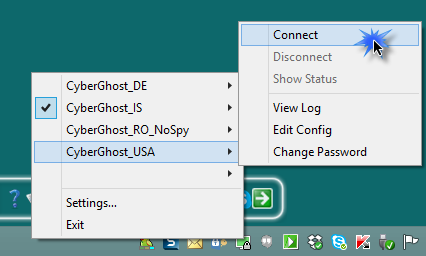 Enter your credentials which consist of 1) the user name created in step 1, and 2) the password, also created in step 1. DO NOT use your regular CyberGhost user name and password, which you use to login in the client and your account management!
As soon as the icon changes its color from gray to green you're good to go.