What is a proxy server ?
You can think of proxy servers as an intermediary between you and the web pages you want to access. You give this anonymous web proxy a request, and it will perform it on your behalf.
For example, you can use a proxy to get internet access to a streaming video that's usually blocked in your country.
Once you give this request, your IP address (which acts as your identity) gets replaced with an IP provided by the proxy server. This makes it possible for you to access blocked websites.
Because your proxy server uses an IP address allocated to a country where the content you want to access is not geo-blocked or restricted, you will be able to gain access to that content now.
CyberGhost offers a solution for both ends of the spectrum. For those looking for a proxy solution they can trust, we offer our dedicated browser extensions.
Proxy vs. VPN
There's one significant difference when it comes to proxies and VPNs. And that's encryption.
A proxy can only hide your real IP and give you another address to unblock sites or social media platforms, but your internet activity is not anonymous. The reason is simple: there is no encryption in place.
Things are different with a VPN.
With a virtual private network, you hide your IP and swap it for a different one. You're also protected by an encrypted tunnel connecting you to the web page you want to visit.
And since VPNs also deploy security protocols like IP or DNS leak protection, you'll be able to access even restricted content from streaming services like Netflix US, Hulu, Sling, and plenty of others.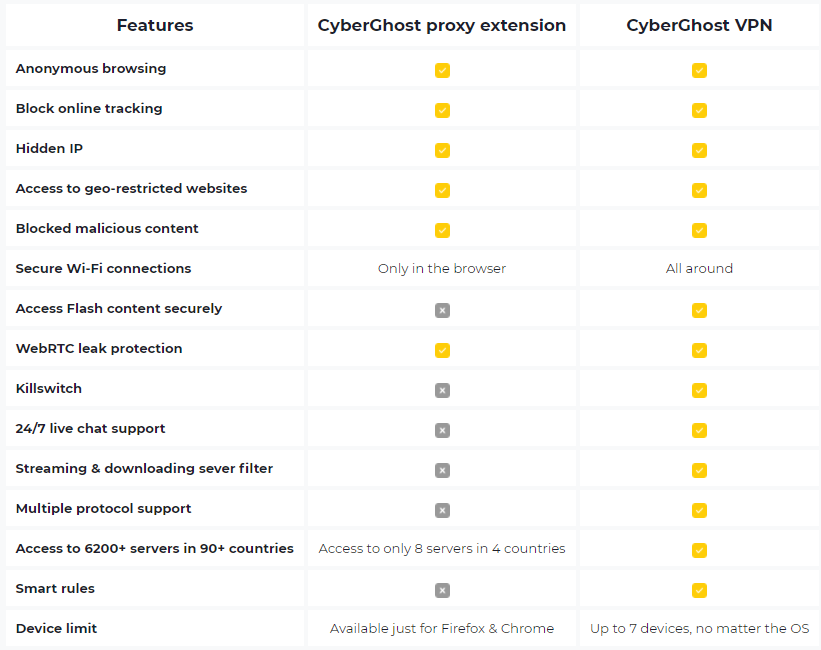 To get all-round protection, CyberGhost VPN is your safest bet.