Prepaid and promotion keys (e.g. through a campaign, special sale, a promotion or a Bitcoin or offline sale) must be entered manually into your CyberGhost account.
Prepaid keys are just available in cases described above. Regular CyberGhost subscriptions are activated automatically when purchasing and are purchased on-line.
In case you don't have a CyberGhost account yet, please create one, for free. Find out here how to do that.
Enter activation key
To enter an activation key, first open the CyberGhost account management page directly from your preferred browser.
Log in your CyberGhost account and activate the tab 'My Subscriptions'. Tap on "Use your activation key" located in the right-side are of 'My subscriptions'.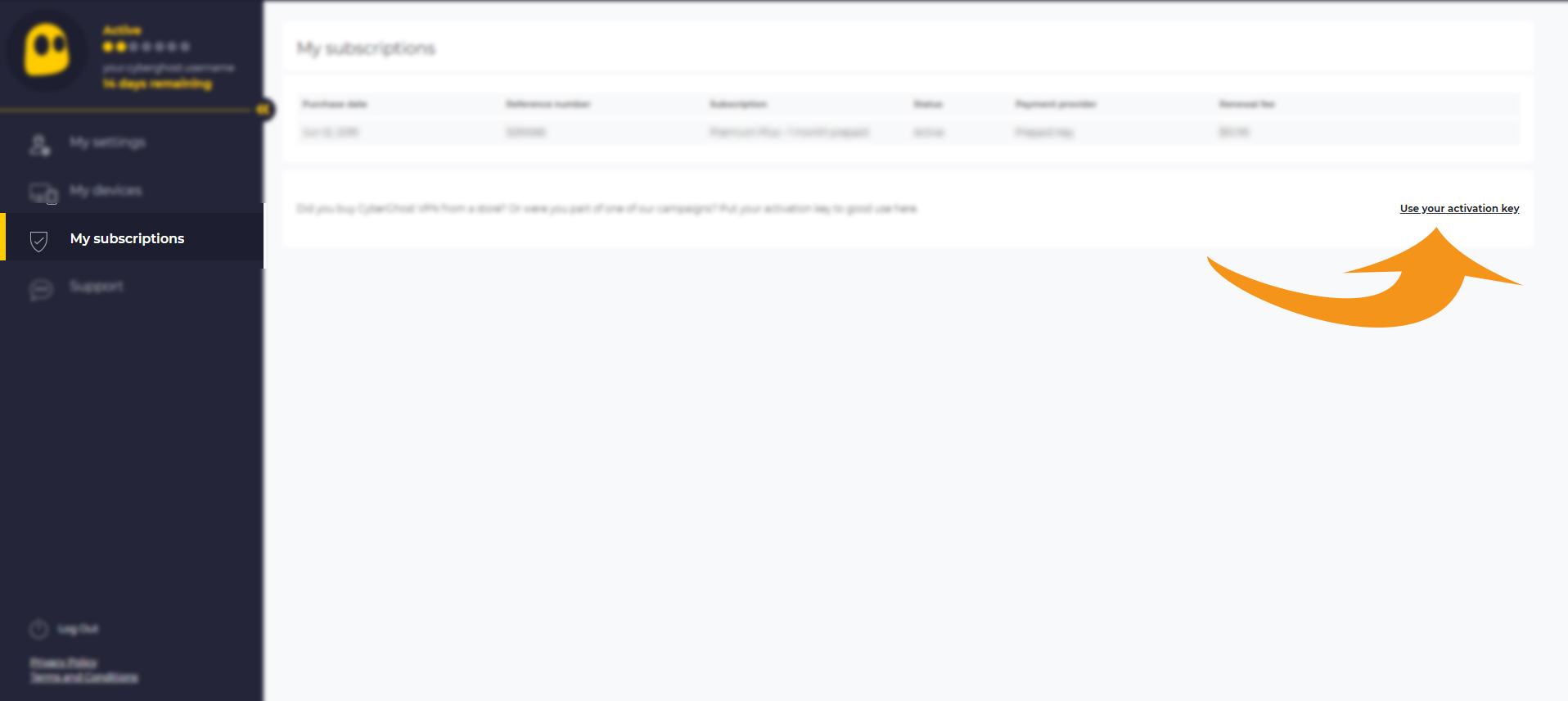 Enter the key. Please, note the following pre-conditions:
Note validity: The key must not have been used before (a single activation key is only valid once) and to use the same key on other devices, simply log in your CyberGhost account on other devices with the chosen Username(alias) or password.
Note time frame: The key must not be expired. Note that some promotion campaigns include an expiration date, this means you must activate the key before a due date, otherwise the key expires.
No downgrades: No subscription of a higher value can be replaced by a subscription of a lower value. A downgrade is not possible!
No mixture of subscriptions:A prepaid activation key must not be entered in an account with a regular recurrent CyberGhost subscription. If you want to force it, you must cancel your old subscription before and request a refund. Note: The remaining run-time of the old subscription will be lost.
Promotions: Promotion subscriptions usually can't be extended by a prepaid activation key. Instead they will replace an existing subscription of that type and remaining run time will be lost.
For subscription activation please click on, well, 'Activate'. The respective subscription will be activated immediately on the recent account.
After entering the key please note respective messages about the remaining run time of your old subscription. Depending on the difference between the types of subscriptions (your old and your new one) it might be that you get an extended run time or loose remaining days. If the latter is the case cancel the activation for now and wait until your current subscription runs out - but please be aware of possible time frames of activating a subscription might come with. Promotions for example can only be activated until a certain date.