Start the CyberGhost VPN client by tapping on its icon. The app will open with the main screen, stating you are not connected to the VPN network yet.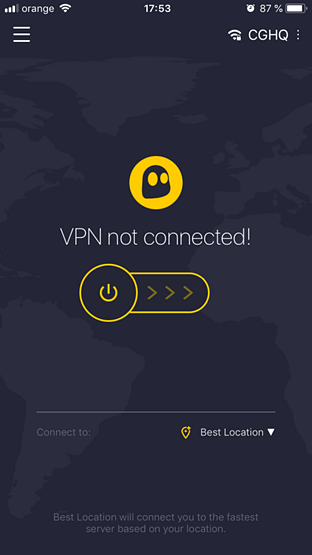 To make sure, everything is working as it should, or if you are not sure, your Internet connection works properly, please use the CyberGhost Connection Checker, a tool that analyzes connection issues. You find it via 'Settings > Connection' (for more details please consult this passage).
To activate your VPN tap on the yellow power button (while the connection mode is in 'Best Location').
Alternatively choose a country by tapping on the little downwards showing arrow, which opens a country list.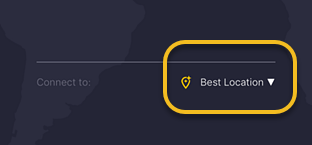 Go for any country, return to the main screen and fire up your connection now. It will be established immediately.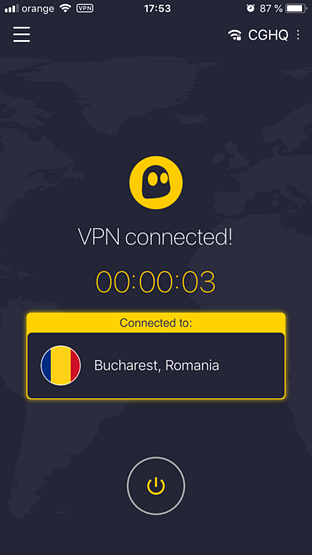 If you choose 'Best Location' as your connection mode, CyberGhost automatically connects to the best suited server, which provides the best performance in accordance with your current location (meaning the server with the most optimal settings in terms of speed and user load).
If you choose a specific country, CyberGhost automatically connects to the best suited server in this country. Only if you also specify a specific server in a country the automatic load balancing system will be deactivated completely and you get connected directly to a server. Please consult this article on how to choose a single server manually.
Note: To quickly return from any chosen country (or single server) back to 'Best Location' as the default connection type, a 'Best Location' button will be shown in the main screen, if the 'Connect to' line displays a specific country and/or single server.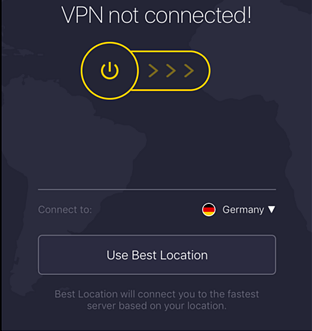 iWidget & iWatch
The CyberGhost widget allows you to directly start the current valid connection type, meaning either 'Best Location', the last specified country, or the last specified single server. For that just tap on the CyberGhost symbol.
Another tap on the CyberGhost widget will stop the current connection.
The same way, namely as a remote control to activate, resp. deactivate a VPN connection, works the CyberGhost iWatch Widget.