Through to the Account Dashboard - Smart DNS needs to be enabled.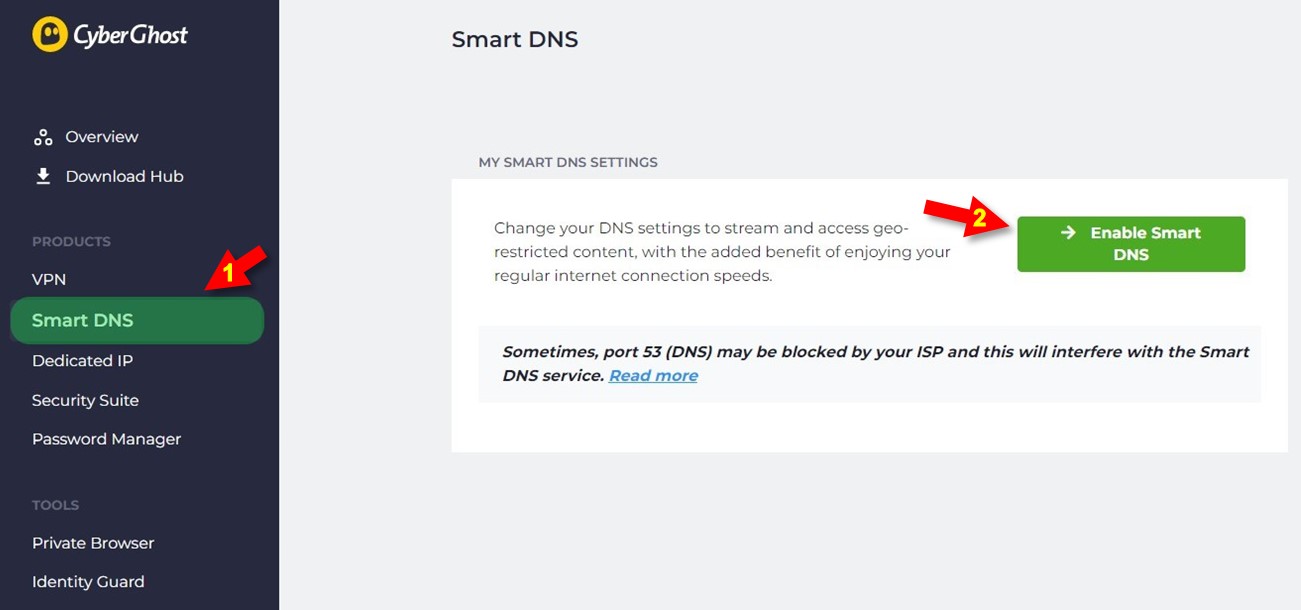 Completing the only requirement as described above, now head over to your PlayStation 3. The below steps are presented for you which will help you apply the CyberGhost Smart DNS via PlayStation 3:
Step 1 of 13: From the main menu of your Play Station 3 – choose Settings
Step 2 of 13: Choose Network Settings
Step 3 of 13: Internet Connection Settings is the option which must be chosen from the available choices and click "OK" at any pop-up(if any) where one may appear if using an Ethernet cable
Step 4 of 13: When prompted "Select a setting method." – choose Custom
Step 5 of 13: When asked "Select a connection method" choose the method through which your Play Station 3 is connected to the Internet:
Wired Connection
Wireless*
*The case presented is displayed for Wireless method
Step 6 of 13: After being prompted for "WLAN Settings" - choose Scan*.
*This will scan all Wi-Fi networks and ensure that there is no mistake with the Wi-Fi used.
Step 7 of 13: Choose the respective Wi-Fi through which your Play Station 3 is connected to the Internet
Step 8 of 13: WLAN Security Setting - choose WPA-PSK / WPA2-PSK and enter the password* for the Wi-Fi that the connection is made through
*this is the password that is used for your Wi-Fi
Step 9 of 13: Set the DHCP Hostname* - Do not Set is the appropriate choice
*In most cases this setting does not need to be changed.
Step 10 of 13: DNS Setting is set to Manual:
Primary DNS – found in your Account Dashboard under My Smart DNS tab
Secondary DNS – can be left blank
Step 11 of 13: Between Automatic or Manual – choose Automatic for MTU Settings
Step 12 of 13: Proxy Server – The appropriate choice to make is Do Not Use
Step 13 of 13: UPnP – The appropriate choice to make is Enable

- Save completed -
After prompted with Save Completed - Test connection will be a good way to obtain results about the settings above. This step is not mandatory but can be requested by Support for troubleshooting purposes.
*Head to Quick Menu of your Play Station 3 and choose Power. Restart Play Station 3.
-------
For any additional information or concerns - it is best to approach the Support Department:
via e-mail: support@cyberghost.ro
via on-line request: https://support.cyberghostvpn.com/hc/en-us/requests/new
via 24/7 Live! Chat Sessions on our website