To specify the way how CyberGhost's automatic Wi-Fi protection should set in you can define the general reaction of CyberGhost to Wi-Fi networks as well as a specific reaction to a specific WiFi.
Set up the general reaction to new / unknown Wi-Fi networks
1. Open the app settings with a single finger tap on the gear symbol :
2. In the app settings page first make sure that the Wi-Fi Auto-Protect option is enabled.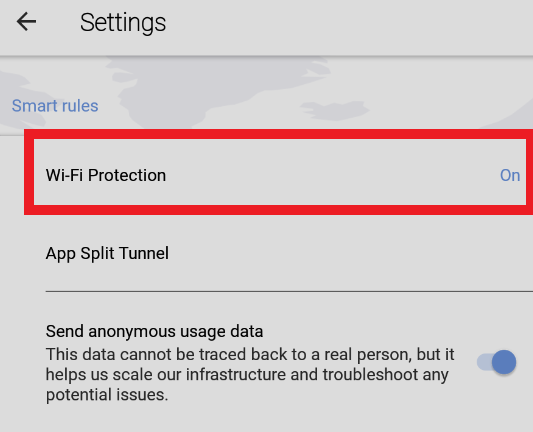 3. Now specify how you want CyberGhost to react in general, when joining a Wi-Fi network. This can be done separately for Secure Wi-Fi (password-protected Wi-Fi networks) and Open Wi-Fi (free access networks) by simply tapping on the respective entry and then chose one of the following actions:
Ask: Every time your device detects a secure/open Wi-Fi network, CyberGhost asks you if you want to be protected.

Protect : Every time your device detects a secure/open Wi-Fi network, CyberGhost automatically starts a VPN connection.
Disable protection : If you already have a VPN connection running and you enter a secure/open Wi-Fi network, CyberGhost will disable the VPN connection.
Ignore : By choosing this option, CyberGhost will ignore secure/open Wi-Fi networks.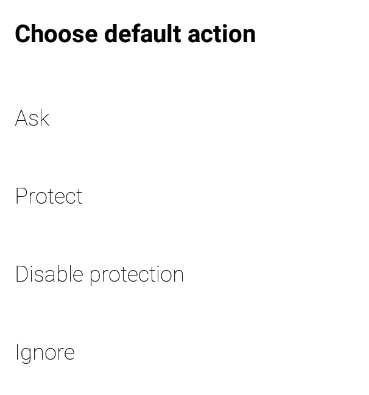 Adjust specific reaction to known Wi-Fi networks
In case you want to change the reaction type for a specific known network, please open the app settings again and search for the network you want to assign a different reaction to and tap on it. The options are the same as described above.
About the interaction of CyberGhost with known and unknown networks
The moment you enter a free or password-protected Wi-Fi, CyberGhost recognizes, if it's a known or unknown network. If unknown, the app reacts the way you defined in the general Wi-Fi settings, that is, either asks, protects, or ignores. If a network is already known, CyberGhost remembers how you wanted this single network to be treated the last time you visited, e. g. protect your device automatically.