There is a couple of additional connection features coming with CyberGhost 8 for Windows, all meant to enhance your security, respective your browsing, Internet, and CyberGhost experience.
All features are server-based, meaning running directly on a CyberGhost server, thus saving you bandwidth and processing time. The client itself doesn't provide any of these features, it solely works as a remote control.
1. To activate a feature first expand the main page...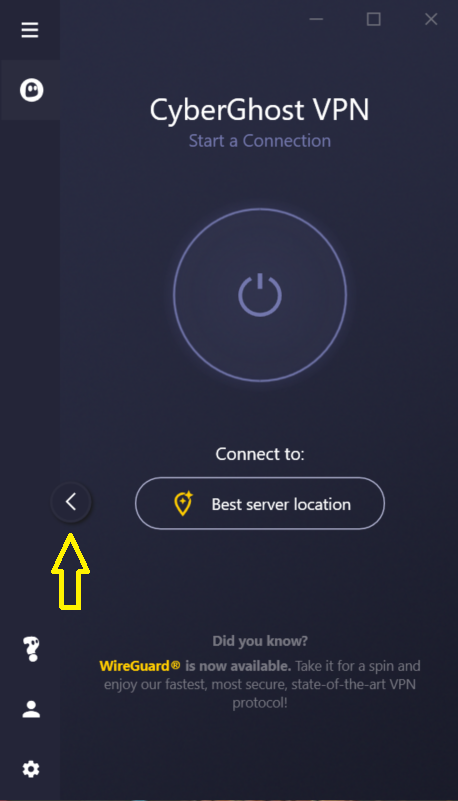 2. Mark the menu entry 'Connection features'. Then click on the respective button of the feature you want to activate: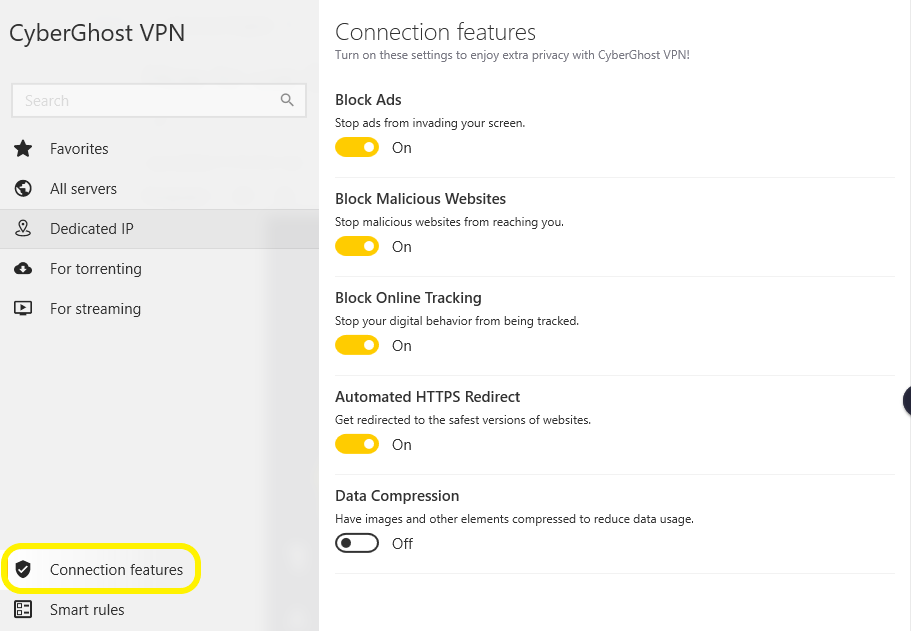 Block Ads: Improves your Internet experience by filtering annoying ads. Web pages can be loaded faster and read better. Furthermore your online security profits, since some malware gets distributed by ad networks. On mobile data connections, this feature can help saving money (fewer data to transfer) and battery (fewer data to process).

Block Malicious Websites: Extends your Internet security by detection and blockage of potentially dangerous websites. A deactivation can raise surfing speeds.

Block Online Tracking: Prevents monitoring, recording, and analyzing of your surfing behaviors. A deactivation can raise surfing speeds.

Automated HTTPS Redirect: Prefers encrypted HTTPS connections instead of unencrypted HTTP connections to websites (if supported by the respective website).
Data Compression: Compresses images and web content. Inside home networks, the data compression feature is usually deactivated, for obvious reasons, but if on the road and dependent on mobile connections, one can save money on reducing the amount of data through compression.
Once a feature is activated, it will be processed as soon as a VPN connection is established. To deactivate a feature, simply return to this page and undo the activation by clicking on the same button.