The deletion of an account doesn't have an impact on your subscription payments. For that, you also need to cancel your subscription or request a refund as well.
To delete your account, you first have to log in to it here, expand the menu by clicking on the profile logo and select Account Settings. In the next screens, you will notice a "Delete my account" button, which you simply have to press and then confirm on the following page to complete the process.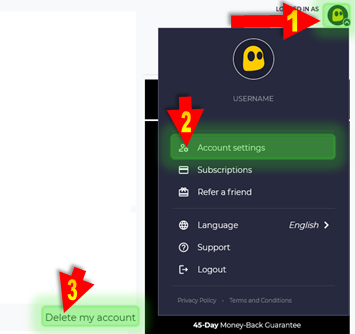 An account deletion can't be undone. It's final, meaning you can't ever recreate it again.
Please note, deleting your account doesn't result in any refunds as it is a separate event that is only triggered by the Support Department.
For any additional information or concerns - it is best to approach the Support Department:
via e-mail: support@cyberghost.ro
via on-line request: https://support.cyberghostvpn.com/hc/en-us/requests/new
via 24/7 Live! Chat Sessions on our website