If you use a Kodi Media Center based on Windows Vista, 7, 8, or 10, you need to decide how you want to establish your VPN connections:
Using the CyberGhost client (recommended): see below
Starting a connection from within Kodi with the VPN Manager Add-on and OpenVPN: see here
If your Kodi Media Center doesn't start automatically when booting up Windows, simply start CyberGhost before Kodi and activate the profile 'Choose my VPN server' to start a custom connection. Of course you can also use any other profile as well. Once a connection is established, connections from Kodi will be forced into the VPN tunnel just like any other program. This also goes for the Windows 10 Kodi app from the Windows app store.  
For a custom connection please simply choose a country to connect to or a single server. For that just mark the respective entry in the server list:
Country/location: To choose a country, mark the respective country entry. CyberGhost will choose the best performing server in this country automatically.
Single server: To choose a single server, click on the little arrow left of the country entry. This opens the list of servers in this country. Consequently mark the wanted single server.

As additional help for deciding on a server, the list contains an upper menu and columns with values. The menu allows you to filter the extensive list and make it more transparent:

All servers: Shows all available and working servers.
Fewest users: Only shows servers that are not much frequented at the current time. Servers with few users can be faster, while servers with many users provide a higher additional anonymity level (since they all share one IP address).
Most users: Only shows servers that are highly frequented at the current time. Servers with many users can be slower, but provide a higher additional anonymity level (since all users share one IP address).
Fastest servers: Only shows the fastest servers at the current time.
NoSpy server: Only shows servers of CyberGhost's own data center. These servers are directly managed by CyberGhost, but need a special subscription to be available.
Torrent: Only shows P2P compatible servers.
Favorites: Only shows the servers you marked as favorite.
The columns provide additional information to a server, allowing a better estimation of a certain server's current attributes:
User load: Shows the current user load on a server, caused by the amount of people using that server (in percent). A high value equals a strong frequented server, which might be slower, but provides a higher additional anonymity level (since all users share one IP address). A low level equals a faster server. 
Torrent: Marks the respective server as P2P compatible (or not).
Ping: The ping value illustrates the time a server needs to answer a request. The lower the ping, the faster the server can be addressed. Note: The ping value doesn't correspond to the server speed, which can be very high, even though the ping is also high. It's a value more useful for online gamers who need delay-free connections.
Favorites: If you want to add a server to your personal favorite list, just click on the dark star in this column.
Adjustable Settings
In case you want to activate or deactivate additional functions for your custom connection, click in the menu on the entry 'Settings' and adjust the available features:

Block malicious websites: Extends your Internet security by detection and blockage of potential dangerous websites. A deactivation can raise surfing speeds.
Block ads: Improves your Internet experience by filtering annoying ads. Web pages can be loaded faster and read better. Furthermore your online security profits a lot since some malware gets distributed by ad networks. Also on mobile data connections you save up on money (less transfer) and battery (less data to process).
Block Online Tracking: Prevents monitoring, recording, and analyzing of your surfing behaviors. A deactivation can raise surfing speeds.
Data compression: Inside home networks the data compression feature is usually deactivated, for obvious reasons, but if on the road and dependent on mobile connections, one can save money on reducing the amount of data through compression.
Automated HTTPS redirect: Prefers encrypted HTTPS connections instead unencrypted HTTP connections to websites (if supported by the respective website).
Extra Speed: Regular subscribers are entitled to use the fastest servers of the CyberGhost server pool. This setting can't be deactivated.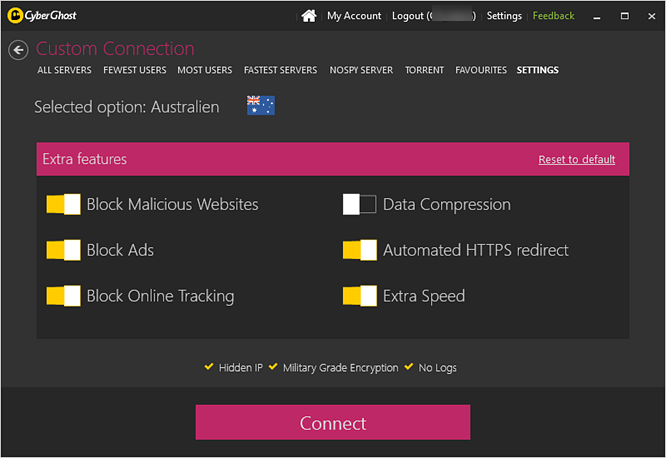 After changing options you can always undo any changes and restore the original settings by clicking on 'Reset to default'.
Now click on 'Connect' and start your Kodi Media Center. Of course you also can advise CyberGhost to start automatically with Windows and establish a VPN connection without user interference. For that:
Click in the main menu on 'Settings'

In the tab 'General' activate the option 'Automatically run at system startup'

Also activate 'Run this profile at startup'

Choose the profile to be run

Place Kodi inside the Windows auto-run section, if you want the media center also to be started automatically

Alternatively you can define Kodi as a program bound to CyberGhost in the tab 'App Protection'. For that activate the option 'Enable App Protection', select the Kodi exe-file via the button 'Add App' and define a connection profile. (This function is not available for the Windows 10 Kodi app from the Windows App Store.)
Using Kodi with VPN Manager Add-on 
Before you start, please note:
Disclaimer: Please keep in mind that, although the technical process is as thoroughly documented as possible, you need to have at least some technical understanding. There's always a chance for an overseen mistake and/or things have changed and the article is not updated yet. 
Step 1: Configure a OpenVPN connection
Visit your CyberGhost VPN online account.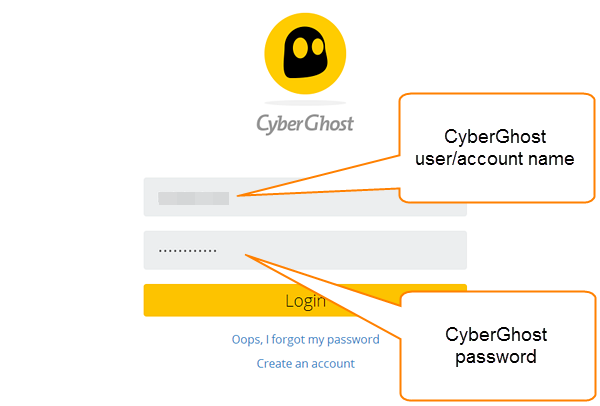 Click on the menu entry 'My Devices' and then on 'Add Device'.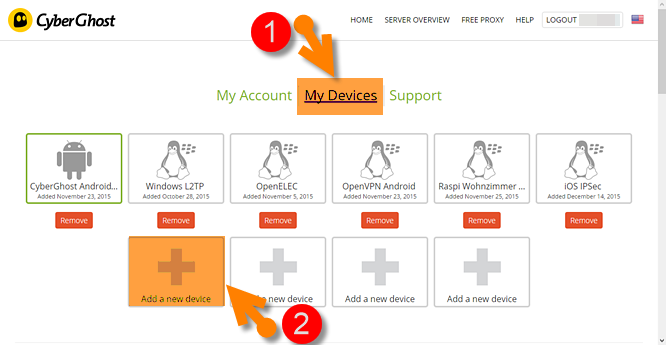 In the list of Operating Systems you can use CyberGhost with, please click on 'Other' to be able to setup all necessary options for the OpenVPN protocol. When done the screen extends and gives way to 'Create new credentials'. Do it by clicking on the respective button.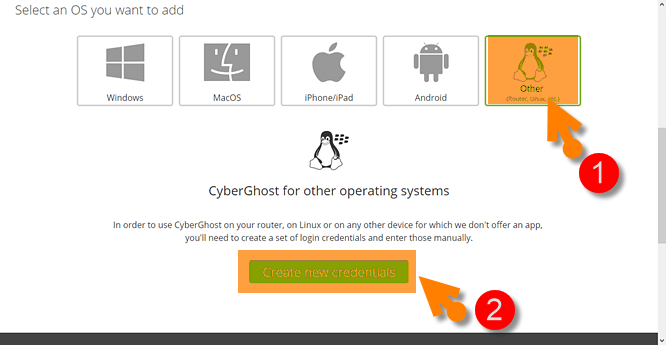 Scroll up the page. As you see, the placeholder for a new device is now replaced by 'Linux, Router, etc.'. Click on that button: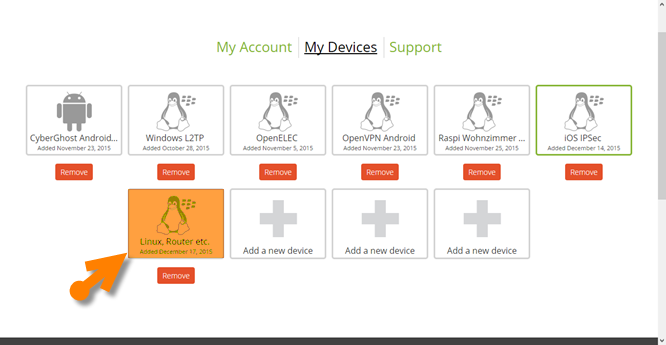 Type a name for your new device and activate the wanted extra features, provided with each regular subscription: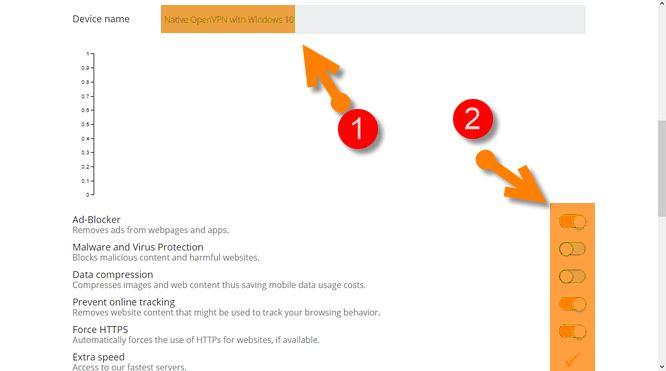 Scroll down and generate the login and configuration data for the OpenVPN protocol, which will be implemented into the needed configuration file: 
Protocol: Choose the OpenVPN protocol you want to use:

OpenVPN (UDP): UDP allows higher speed than the TCP version, but can result in broken downloads in some cases. This is the default setting.
OpenVPN (TCP): TCP allows more stable connections than the UDP version, but is a bit slower. Choose this version, if you have recurrent connection issues such as sudden disconnections.


Country: The country you select here is of no importance because the VPN Manager for Kodi will do this job later on. For now it's just for the proper generation of the configuration file.
Server group: The group you select here is also of no importance for the VPN Manager for Kodi but is crucial for the proper generation of the configuration file.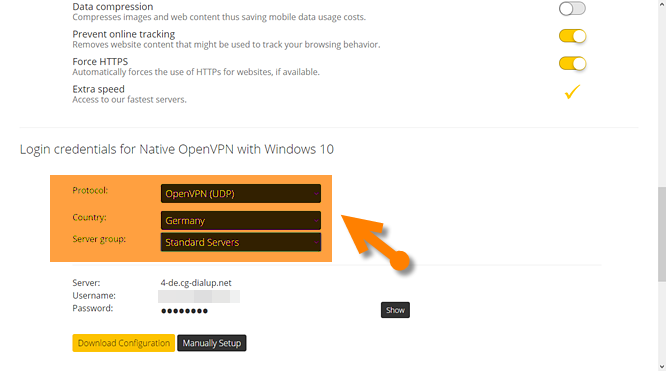 After setting up your connection preferences, note down the following data sets (you will need them in order to configure your device):
User name: This is solely generated for protocol usage. This is NOT your regular CyberGhost account user name.
Password: A password solely generated for protocol usage. This is NOT your regular CyberGhost account password.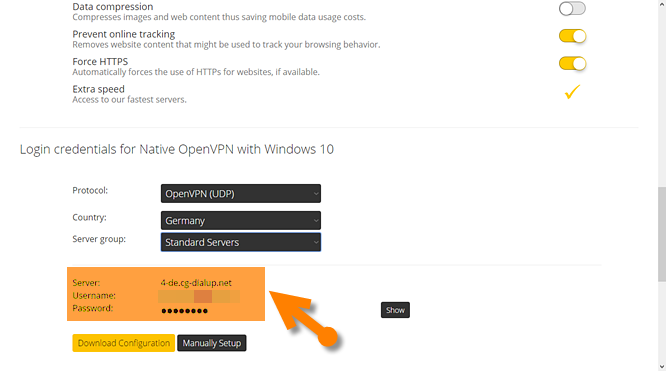 Once done, please download the configuration file. For that please click on 'Download Configuration' and save the file on your computer. It's a ZIP file, which contains the following single configuration files:
client.crt: This is the user certification file 
client.key: This is your private key file
openvpn.ovpn: This is your OpenVPN configuration file
ca.crt: This is the certificate of the certification authority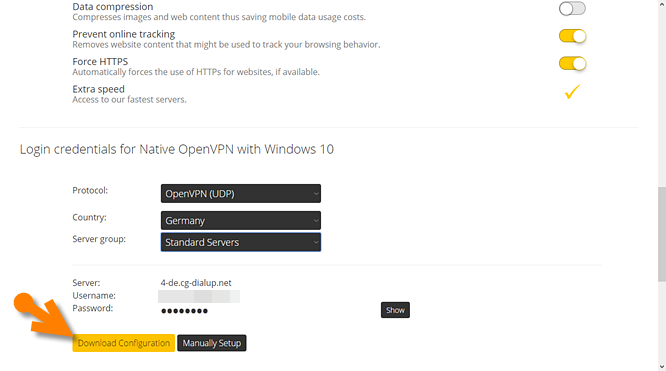 Step 2: Get and install OpenVPN
OpenVPN is a third party software which is not built into Windows and therefore needs to be downloaded from its homepage.
Save the installation file on your computer and start installation. When it comes to choosing single components leave all settings as you found them (it's important that OpenVPN will be added to the PATH) and click on 'Next'.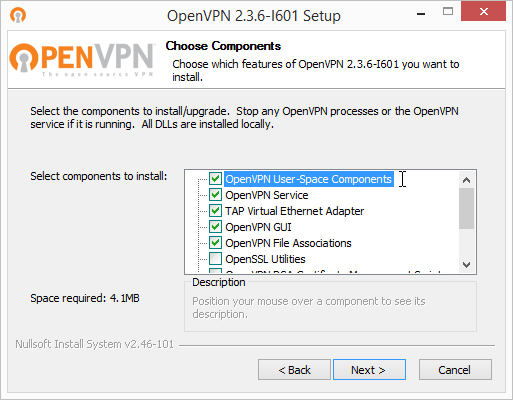 Define the folder to save to and click on 'Install'.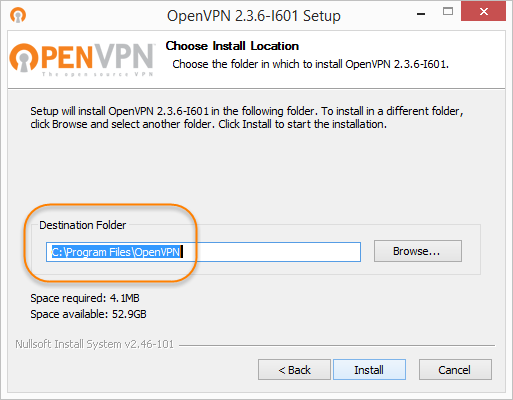 A possible warning message, claiming a TAP network adapter will be installed, needs to be confirmed by clicking on 'Yes'. After that click one more time on 'Next' and then on 'Finish'.
Step 3: Get VPN Manager for OpenVPN and copy files
Download the complete repository for the Kodi VPN Manager (so the VPN Manager will be updated properly, if a new version is published) and leave it unzipped, while the zipped configuration file should be unzipped to an external drive or a folder accessible from within Kodi. 
Step 4: Install VPN Manager for OpenVPN 
Start Kodi, move to the add-on section and click on 'Install from zip file'. Select the path to the folder where you copied the repository to, mark it and click 'OK'.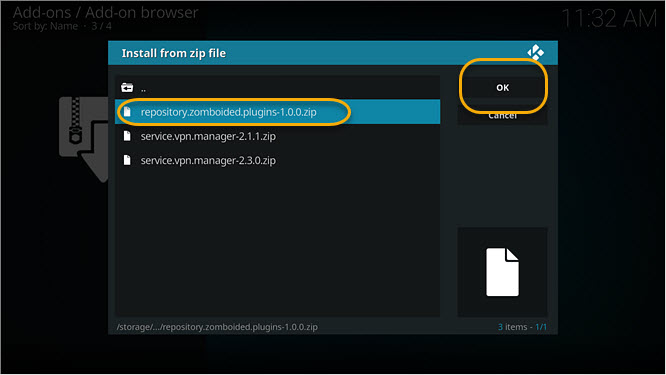 After the repository gets installed, click on 'Install from repository', choose the 'Zomboided Add-on Repository', click on 'Services', then on 'VPN Manager for OpenVPN' and lastly, click 'Install'.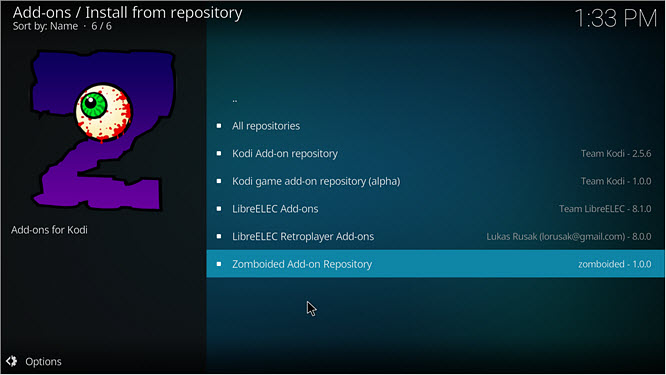 Step 5: Configure VPN Manager for OpenVPN
 After installation move to 'My add-ons' and open the entry 'Services':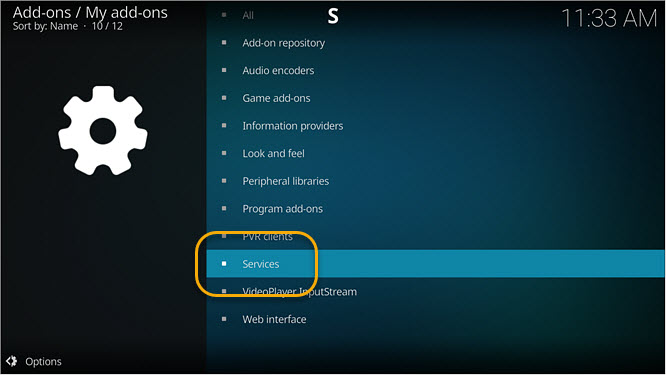 Open 'VPN Manager for OpenVPN' and click on 'Configure'. You can use the Wizard or do it manually, like we do it here (although the steps are the same). In the tab 'VPN Configuration' choose 'CyberGhost' as the 'VPN Provider' and enter the user name and the password you noted in step 1. DO NOT use your regular CyberGhost credentials.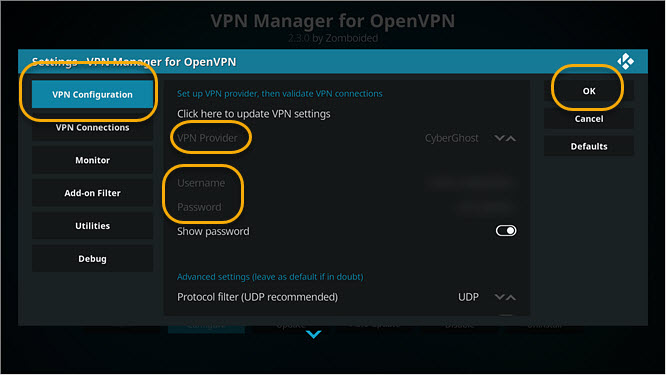 Click on 'OK' and select the connection profile, which fits your subscription: 'Premium and Premium Plus Account' or 'Promo Account':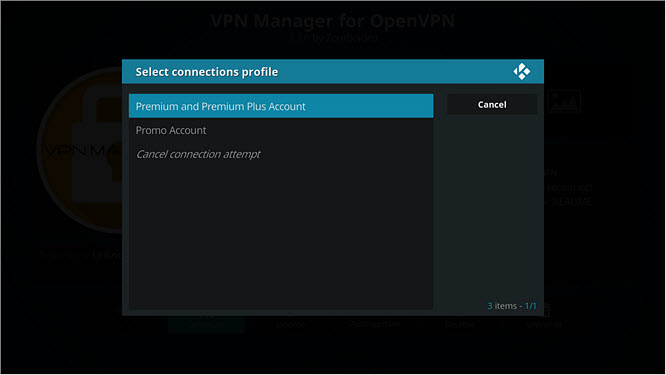 For the next step we will need the unzipped files from the configuration file you saved somewhere on your external device.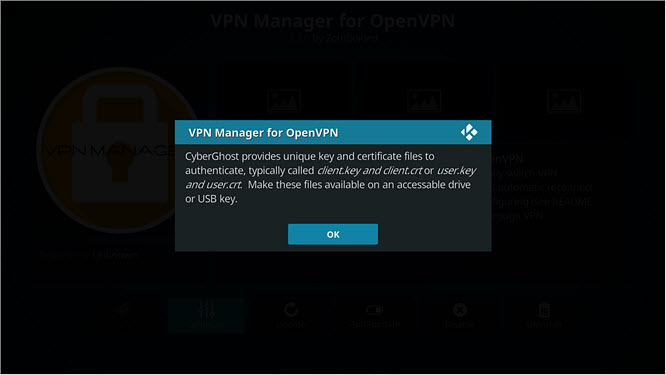 Click on 'OK' and then select the user certificate ('client.crt') and the user key ('client.key'). Once done, the VPN Manager will connect to your first VPN. If not, click on the 'VPN connection' tab and start your 'first connection' (which is highlighted).