Please note:
This instruction covers Kodi installations with OpenELEC 5 and 7 as well as LibreELEC 7 final, LibreELEC 8 Alpha and LibreELEC 9 with the 'VPN Manager for OpenVPN'. OpenELEC 6 doesn't support OpenVPN and will be covered in a separate article.
Disclaimer: Please keep in mind that, although the technical process is as thoroughly documented as possible, you need to have at least some technical understanding. There's always a chance for an overseen mistake and/or things have changed and the article is not updated yet.
Step 1 : Create the VPN Configuration files
Visit your CyberGhost VPN online account and login with your Premium Username and Password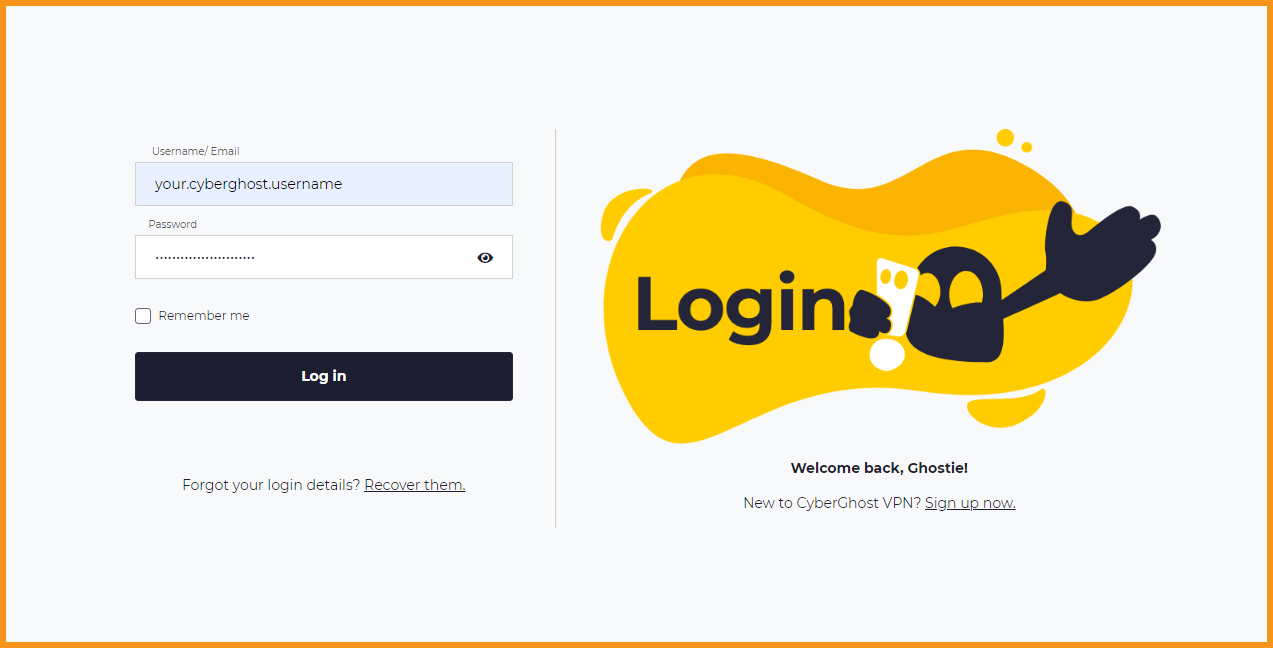 Click on section 'VPN' from the left-side menu, scroll down the page and click 'Configure Device'.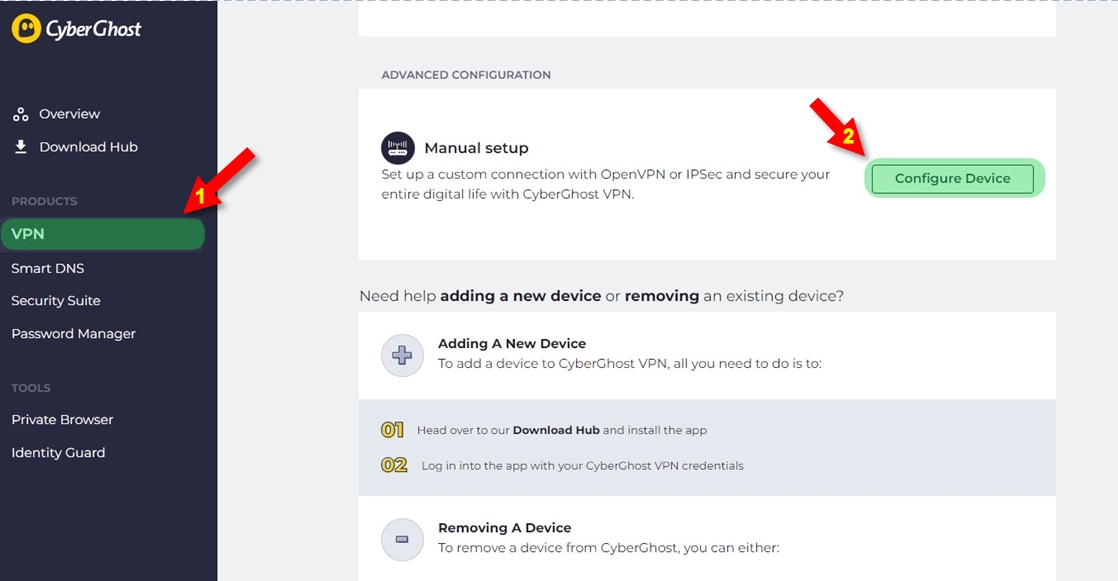 Choose your desired protocol, in our example: OpenVPN and your preferred country and server group, as described below.
Also, type in a Device name to assign to your device, then configure the parameters for the new device.
Country: Since native protocol connections may only be used with exactly one server you now have to choose the country you want to surf from; the server to be used in this country will be chosen by CyberGhost automatically.
Server group: Choose the server group and the OpenVPN protocol (UDP or TCP) you want to use:
UDP allows higher speed than the TCP version, but can result in broken downloads in some cases. This is the default setting.
TCP allows more stable connections than the UDP version, but is a bit slower. Choose this version, if you have recurrent connection issues such as sudden disconnections.
Once the desired parameters are chosen, save them with « Save Configuration »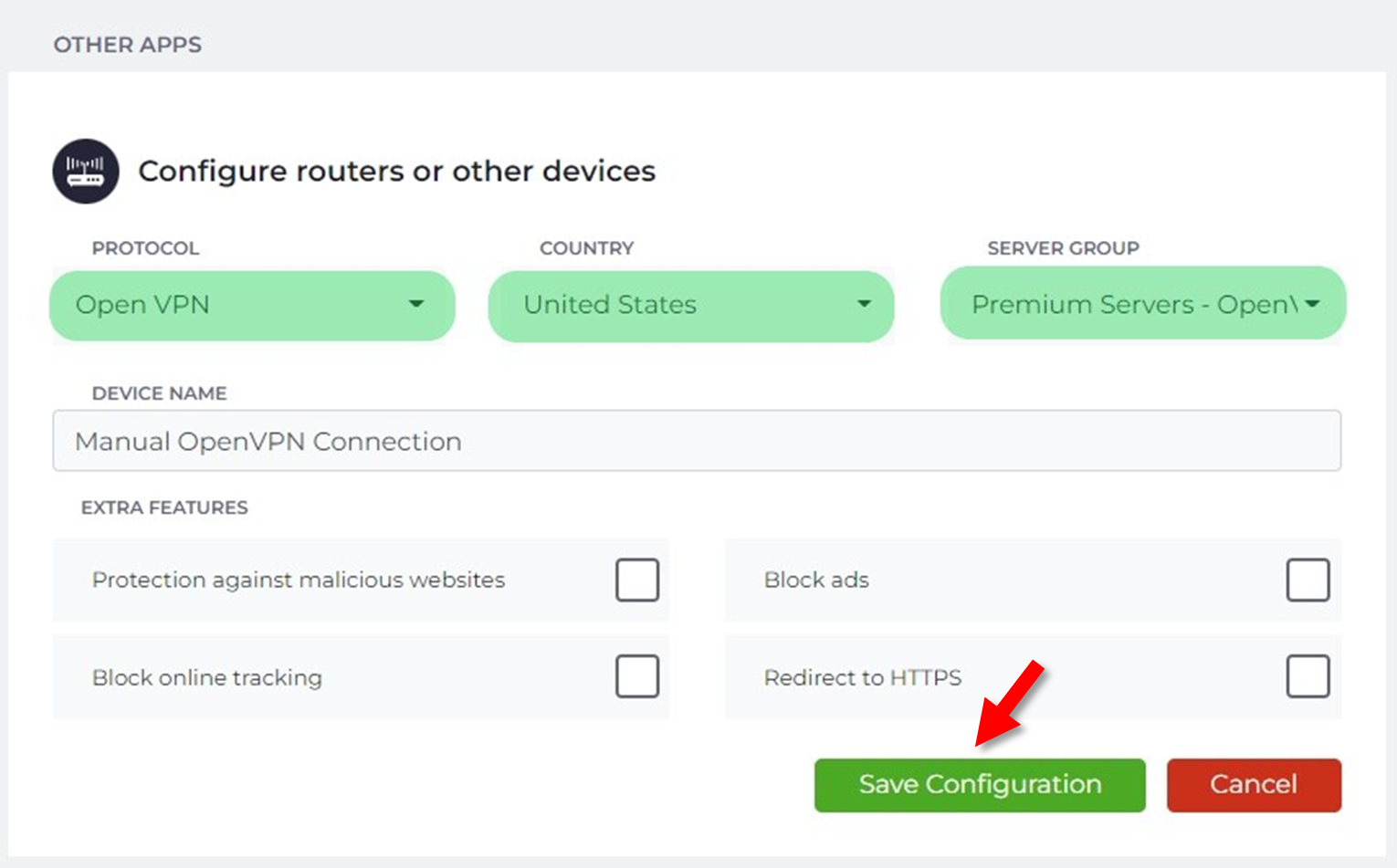 To view the OpenVPN credentials that are generated for you on the configuration dashboard, press 'View'.

Once the new page is opened, your connection credentials are generated for you but make note of the following information:
Server group: This is the address of the country (server) you want to be connected with, e.g. '12345-1-ca.cg-dialup.net'. Note: This address changes with every country you have chosen in the step before. The actual single server to be used will be chosen automatically by CyberGhost.
User name: A solely for this protocol generated user name. This is NOT your regular CyberGhost account user name, it's used only to authenticate with our servers via Manual Configurations.
Password (you need to check the "Show Password" option in order to see it): A solely for protocol usage generated password. This is NOT your regular CyberGhost account Password, it's used only to authenticate with our servers via Manual Configurations.
Pre-Shared Key
Please download the configuration file. For that please click on 'Download Configuration' and download the config file to your computer (it's recommended that you create a special folder for the config, somewhere accessible like your Desktop and Extract/Copy the contents of the .zip file there).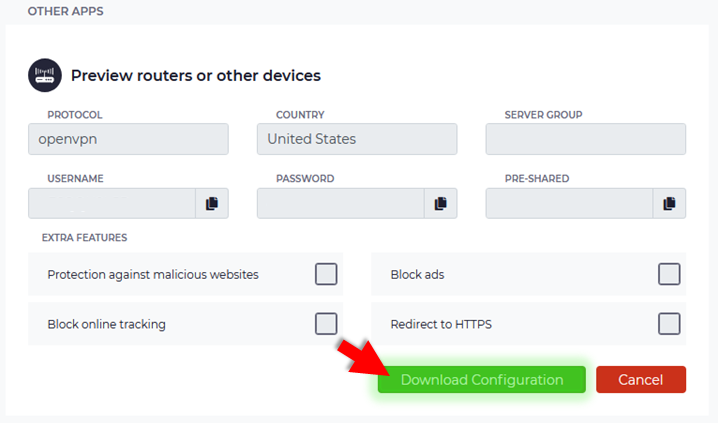 Important: please keep your username and password obtained during the configuration process at hand, you will need them later in the setup.
Now, the saved config is a ZIP file, which contains the following single files:
ca.crt: This is the certificate of the certification authority (THIS WILL NOT BE NEEDED FOR THIS TYPE OF CONFIGURATION)

client.crt: This is the user certification file
client.key: This is your private key file
openvpn.ovpn: This is your OpenVPN configuration file (THIS WILL NOT BE NEEDED FOR THIS TYPE OF CONFIGURATION)
If you need to change the country you connect to, you must re-configure the location to use in your account management and download the new zipped config file.
Only copy the the 'client.crt' and 'client.key' files from the zipped configuration file to a folder on your desktop.
Step 2:

Get VPN Manager for OpenVPN
To make sure, the VPN Manager gets updated properly, download the complete repository instead of just the single add-on and copy the unzipped file to the folder with the certificate and the key.
Now copy all files to your device. For that, you need access to the file system on your OpenELEC/LibreELEC device. The easiest way is by using a FTP client like Filezilla:
First check for the OpenELEC/LibreELEC network IP address, usually something like '192.168.178.XXX' and note it. If you don't know how to find it, have a look at 'System > System info > Summary > IP address' in your Kodi media center


Start Filezilla, click on 'File > Site manager' > New Site > Name it 'Kodi' (or whatever you wish) :

Enter the 'Server' address (this is the network address of your OpenELEC/LibreELEC device), e.g. '192.168.186.128'

Choose 'SFTP' as the 'Protocol'

Choose 'Normal' as 'Connection type'

Enter the 'User name' of OpenELEC/LibreELEC, usually 'root'
Enter 'Password' for OpenELEC (usually 'openelec'), resp LibreELEC (usually 'libreelec') - you can set a personalized password in SETTINGS > LIbreElec> Services > SSH section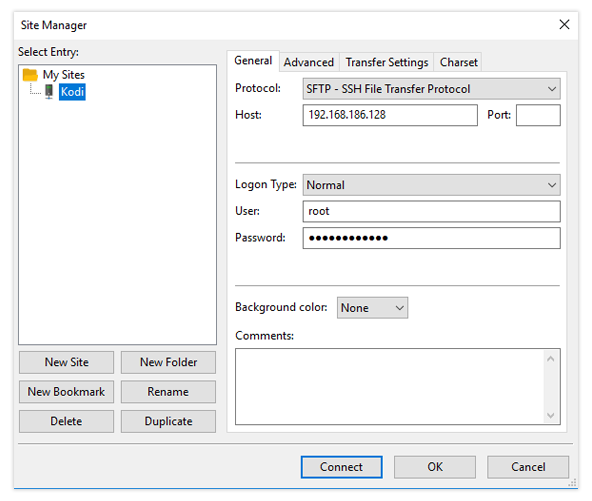 Click on 'Connect'
Filezilla opens the file system of your Kodi installation right inside the folder 'storage'. Create a new folder called 'downloads' or 'VPN' or whatever you want to call it.
Open the newly created download folder and copy all files into it (namely the files 'client.crt', 'client.key', and the zipped repository file named 'repository.zomboided.plugins-1.0.0.zip' ).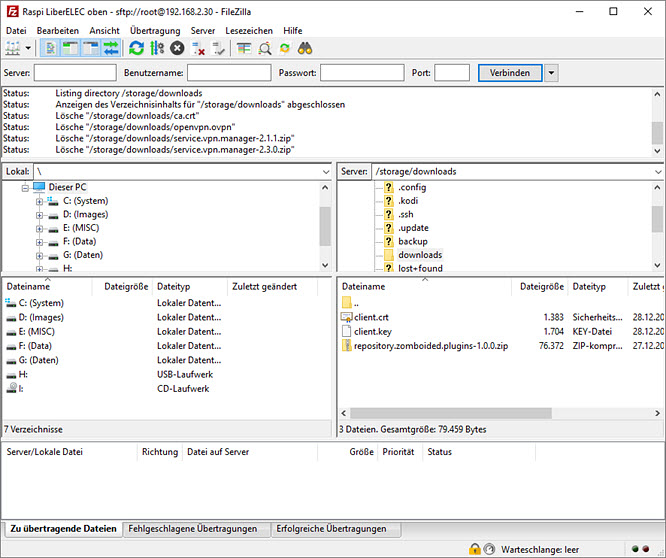 Step 3: Install VPN Manager for OpenVPN
1. Start your Kodi. Here we'll be using LibreELEC to illustrate the general method, so you might have to adapt some steps, but in essence, there are no big differences between the distributions and/or skins and when it comes to configuring the VPN Manager it's all over the same procedure.
In case the installation of apps from unknown sources is deactivated (which is the default setting), first go to SETTINGS > SYSTEM > 'Add-ons'. There you'll need to enable 'Unknown sources'.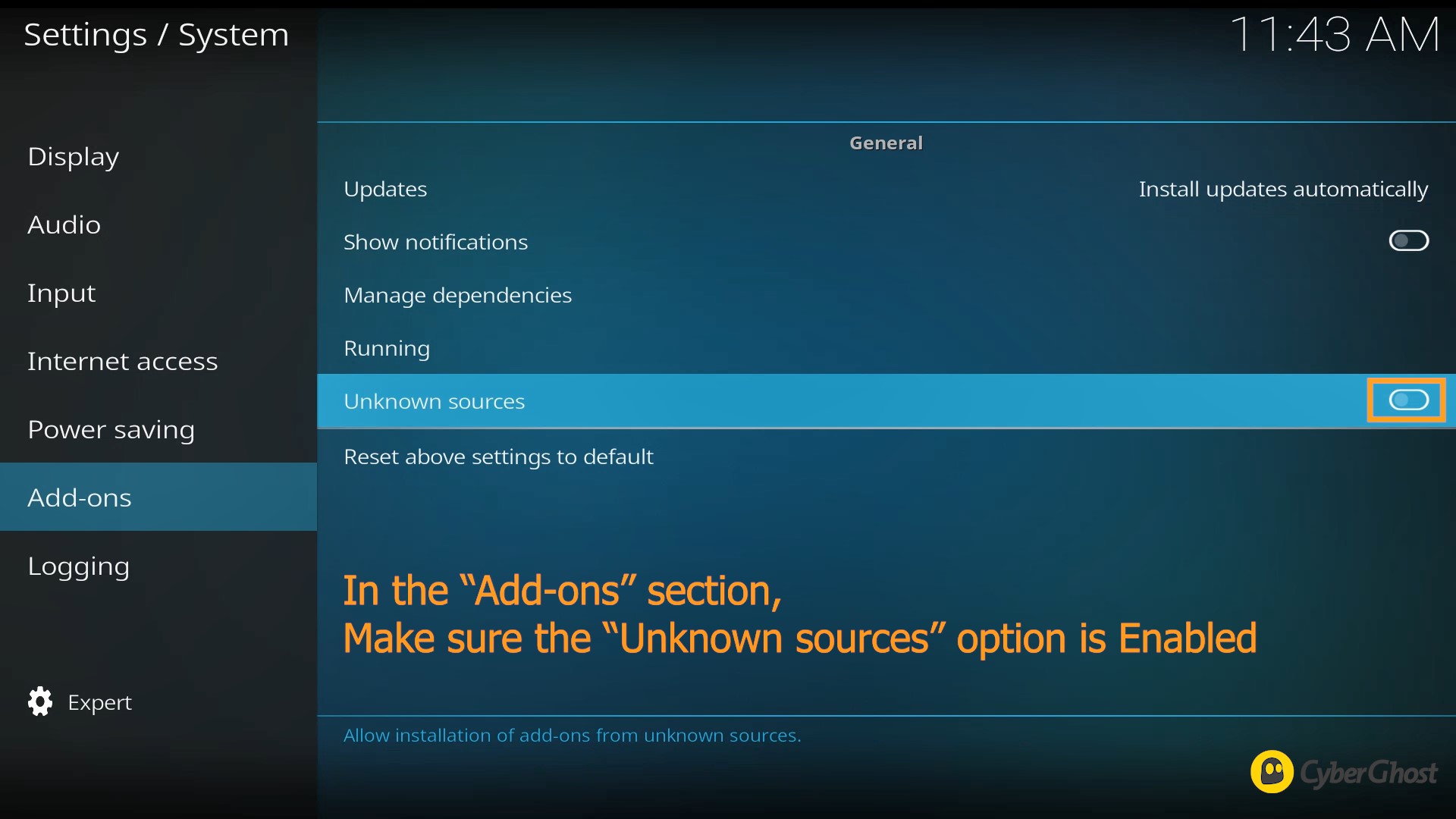 2. Now go back to the main screen > 'Add-ons > 'Install from zip file'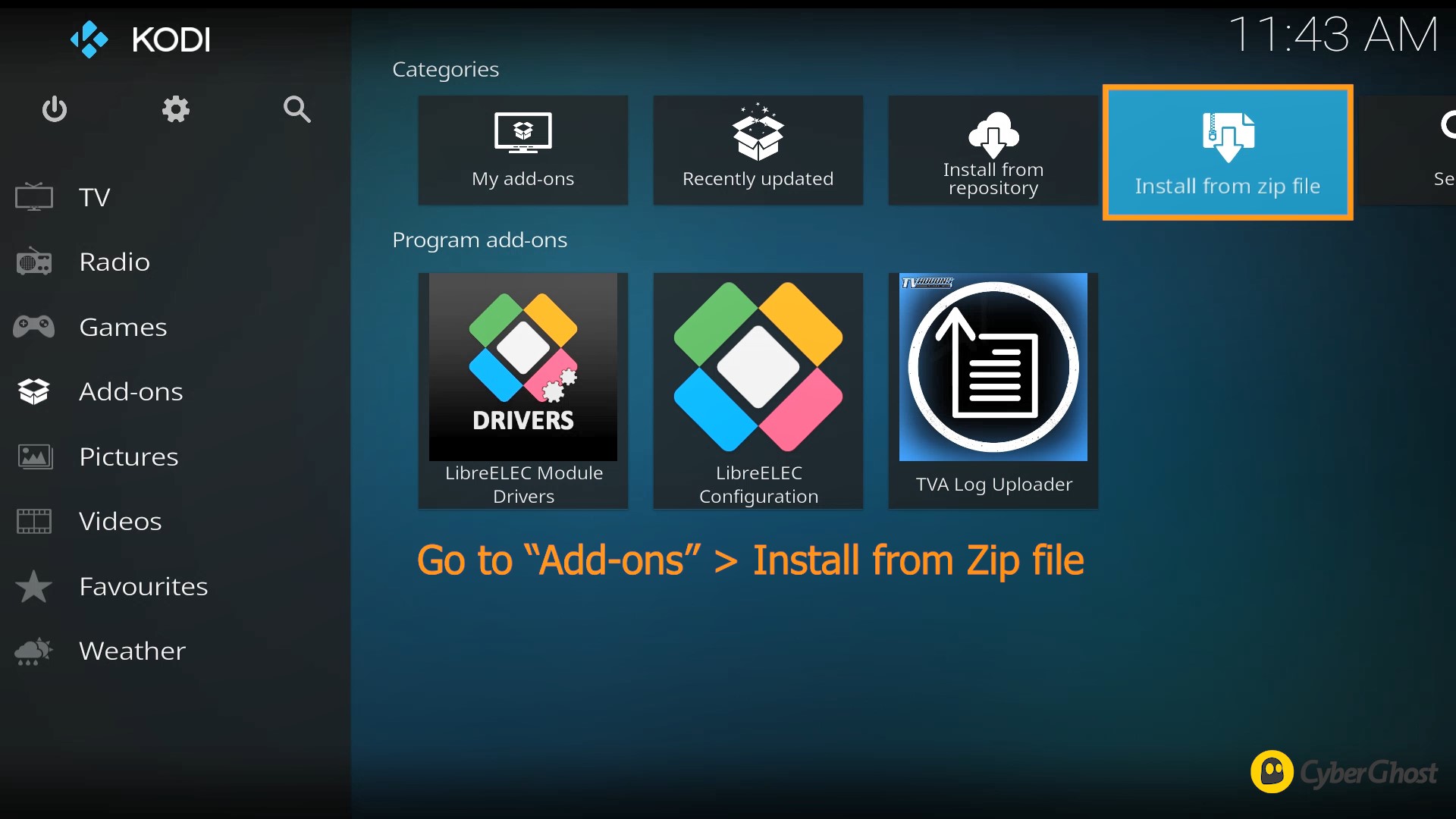 3. Navigate to the folder where you've copied the three files via FileZilla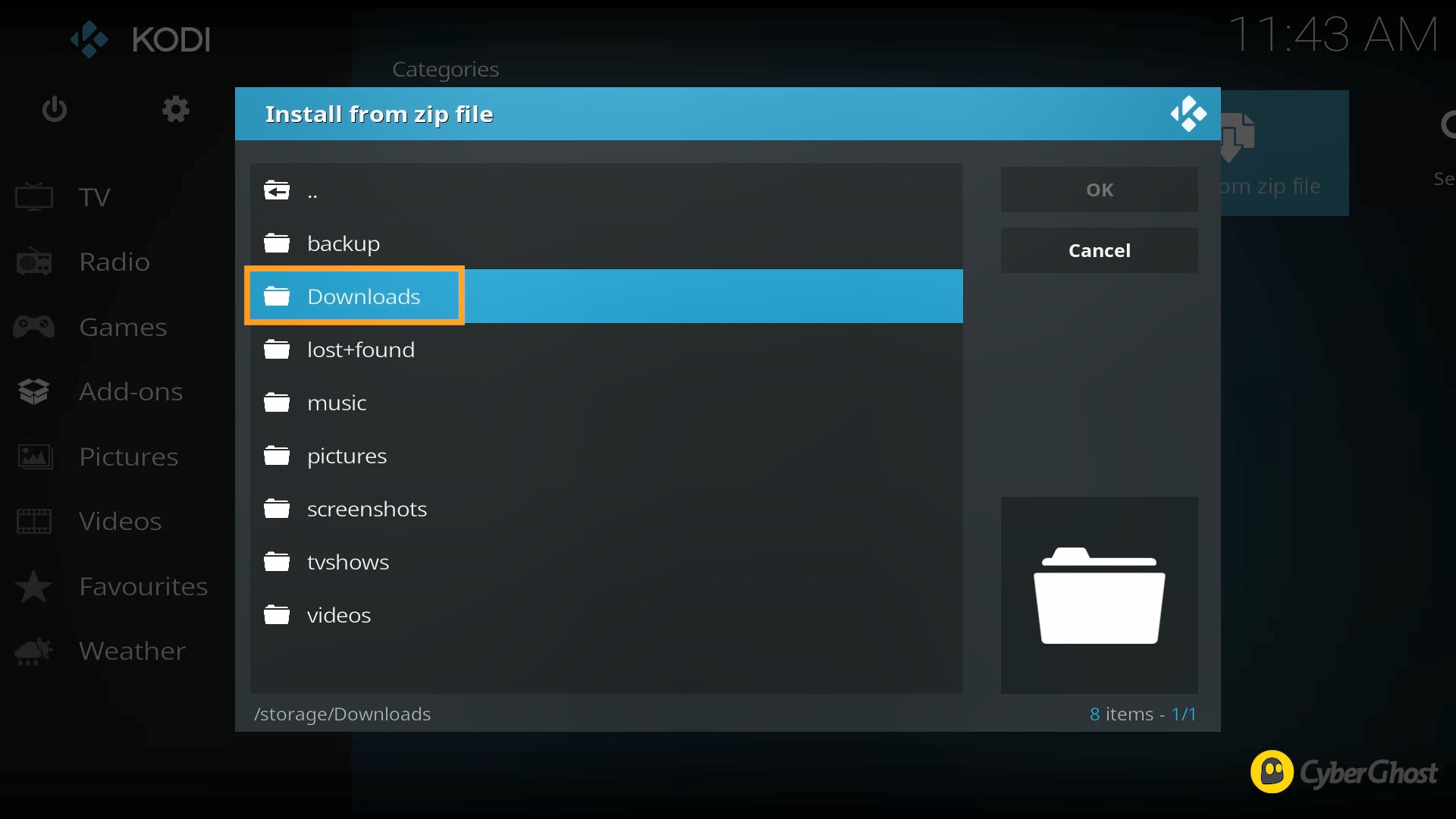 4. Select the Zomboided Repository zip file and click OK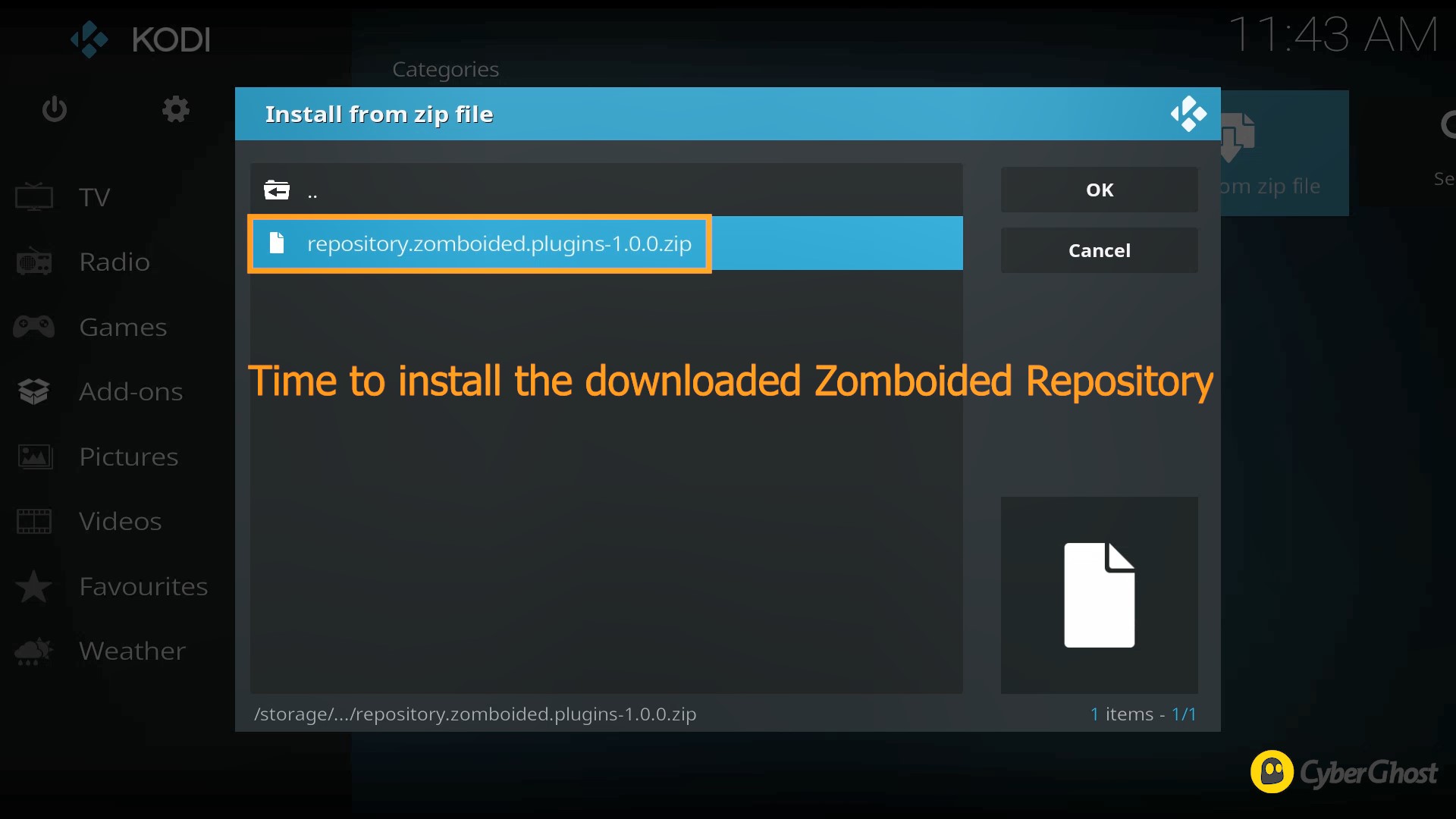 5. Now go back to Add-ons > My Add-ons > Zomboided Repository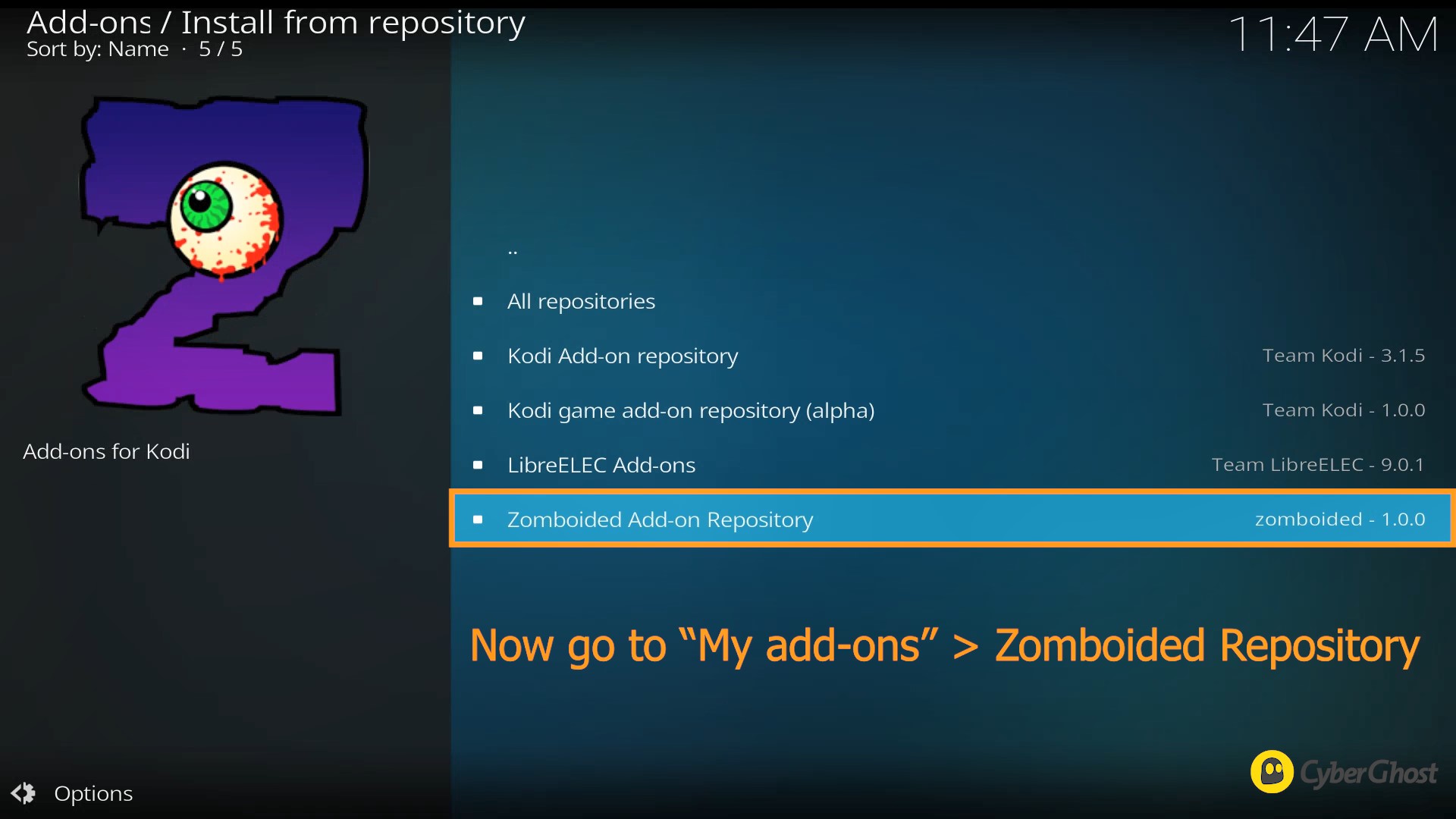 6. Click Services > VPN Manager for OpenVPN > then click INSTALL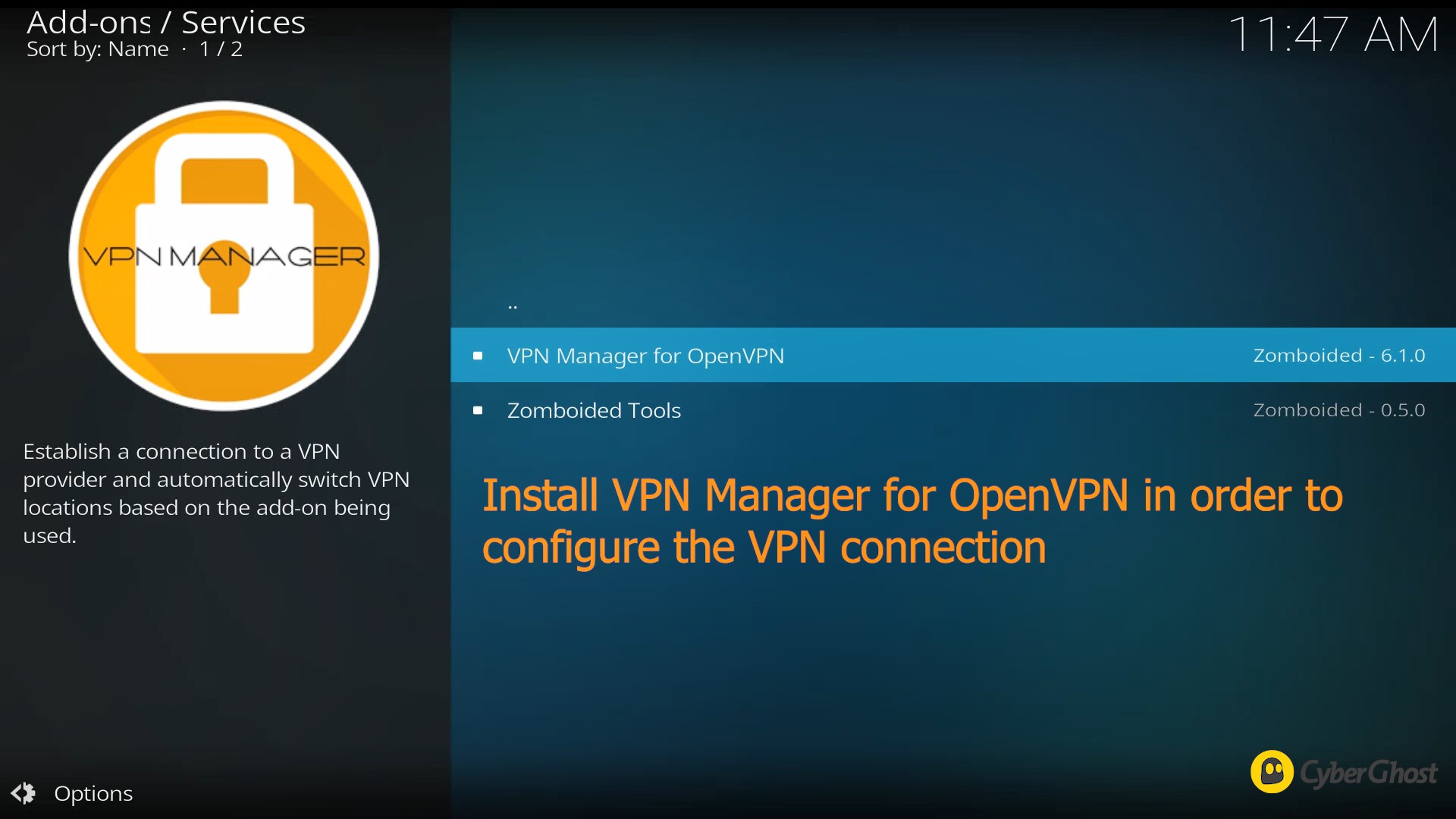 Step 4: Configure VPN Manager for OpenVPN
1. After installing the VPN Manager for OpenVPN, the VPN Manager setup Wizard should appear, you can use it to quickly configure the VPN connection.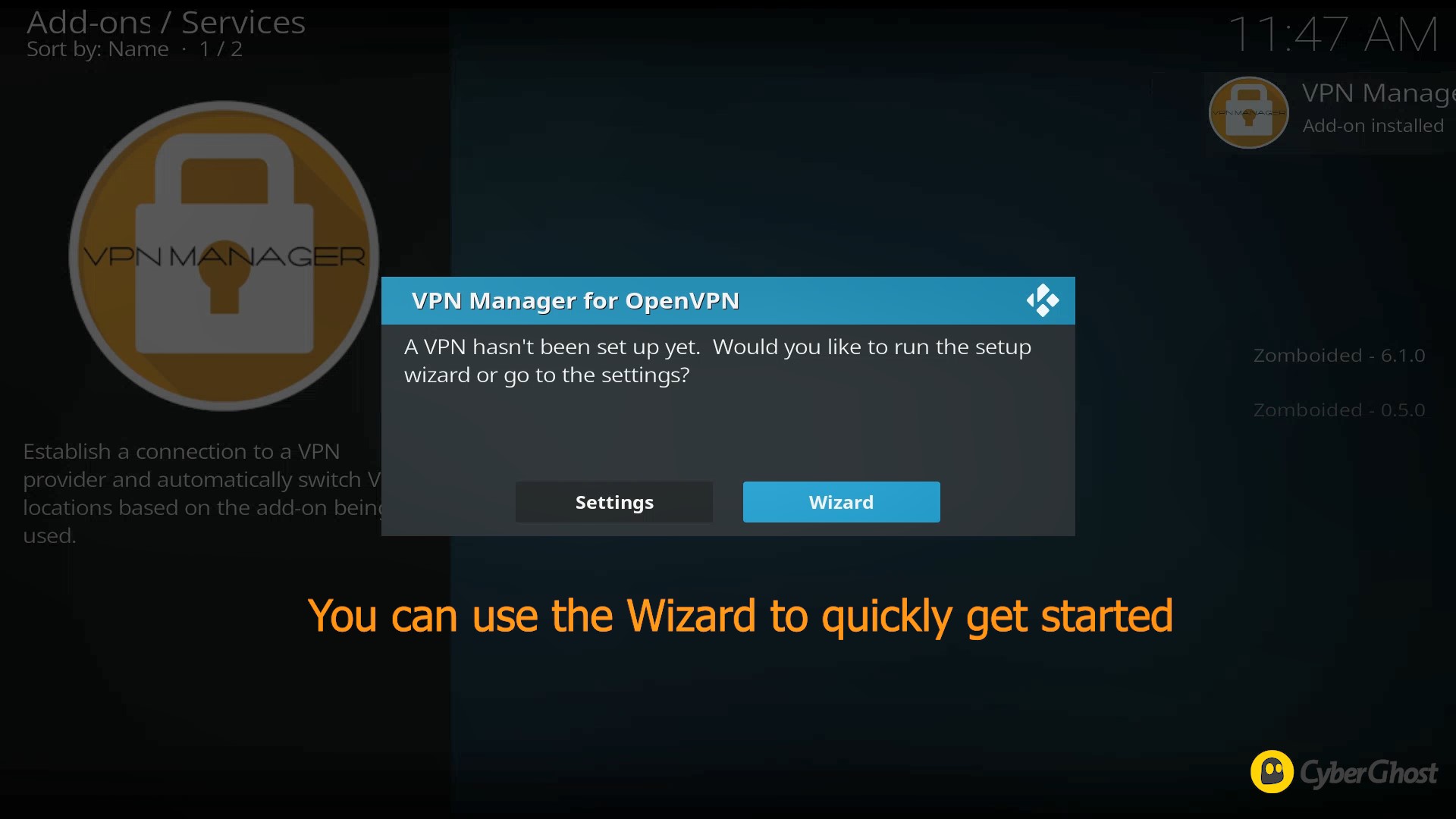 2. After selecting the "Wizard" > Choose CyberGhost as the VPN provider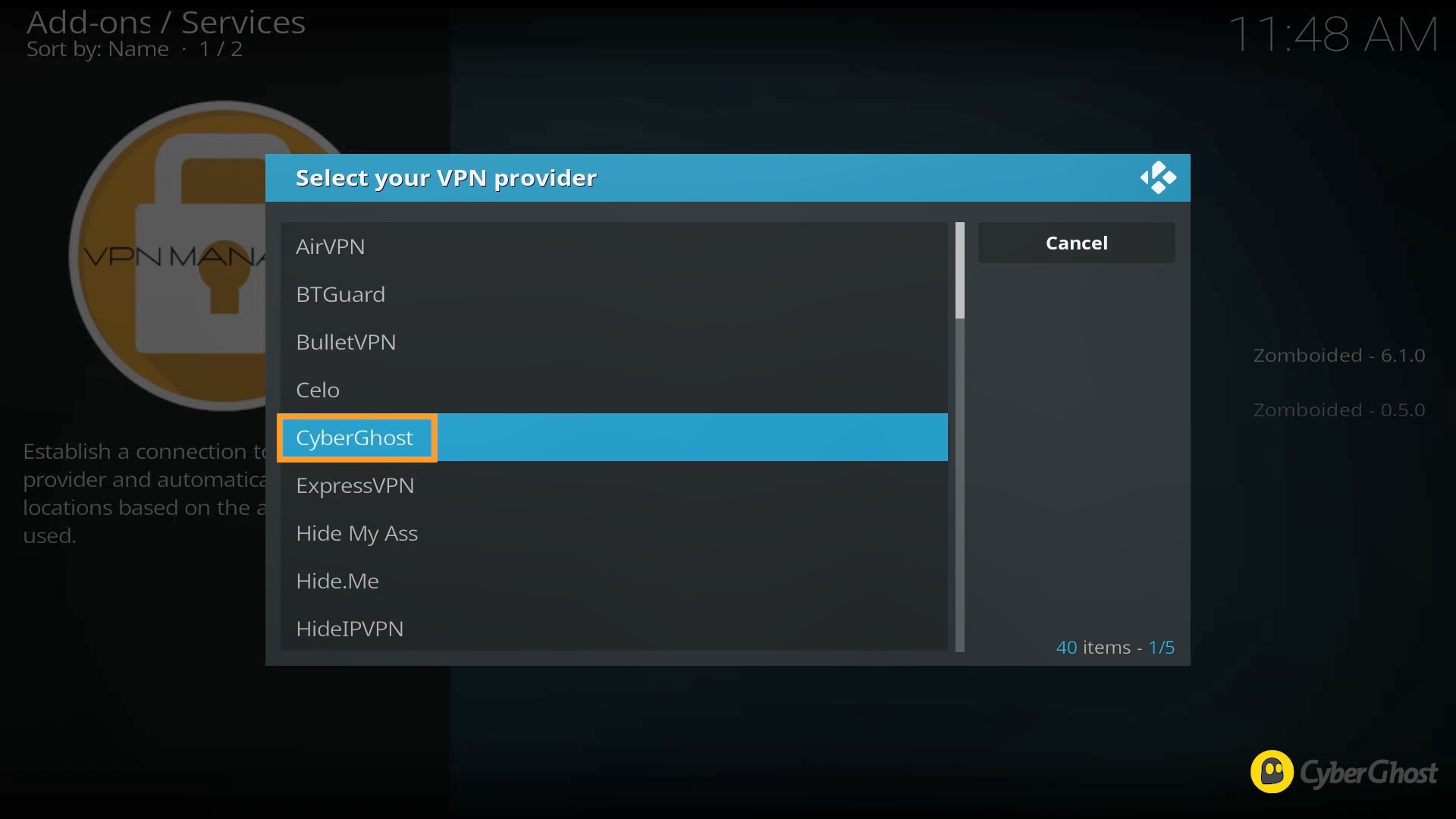 3. When asked for the Username and password, do NOT use your CyberGhost account credentials! > you need to use the OpenVPN generated Username and Password from step 1.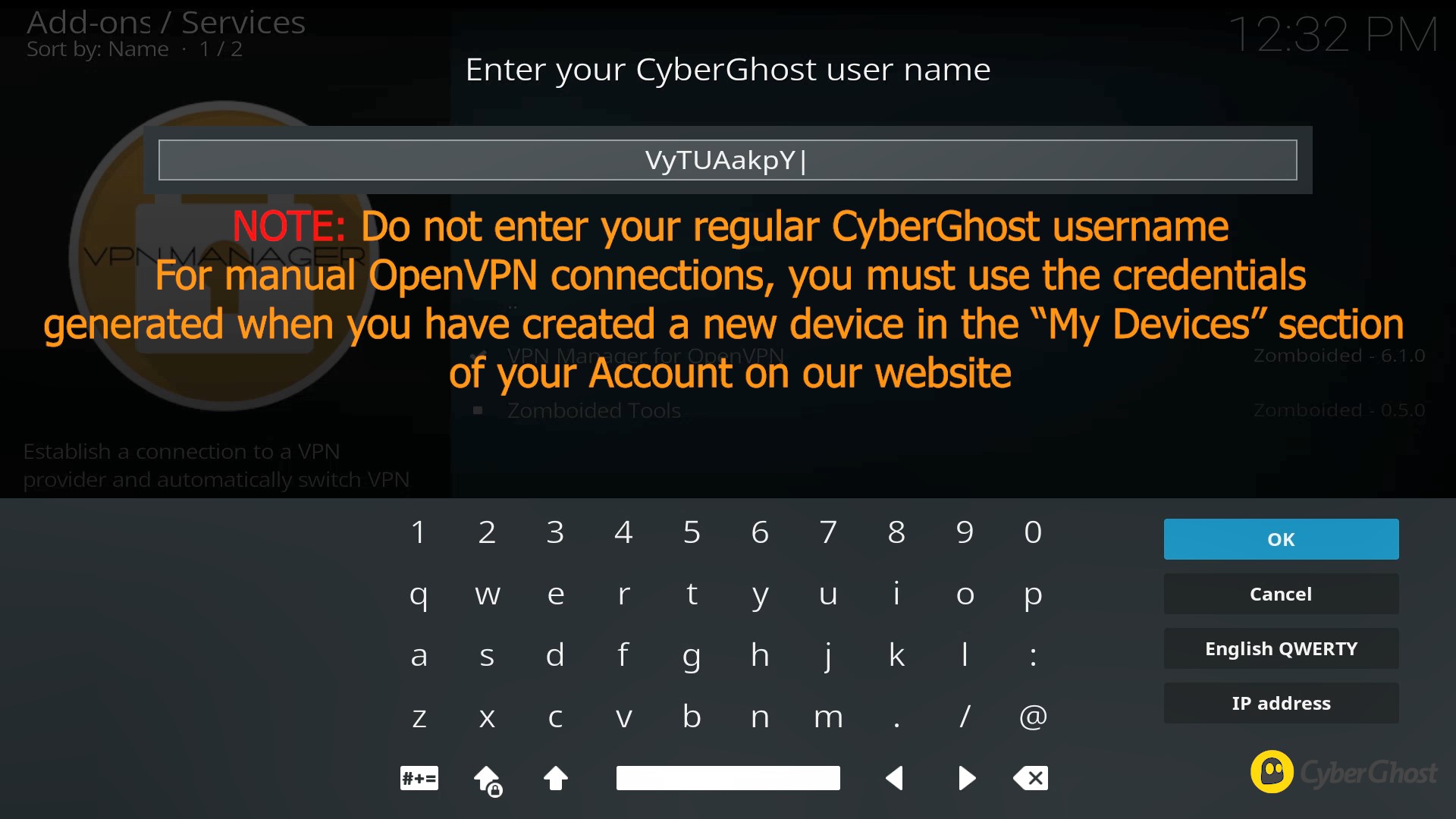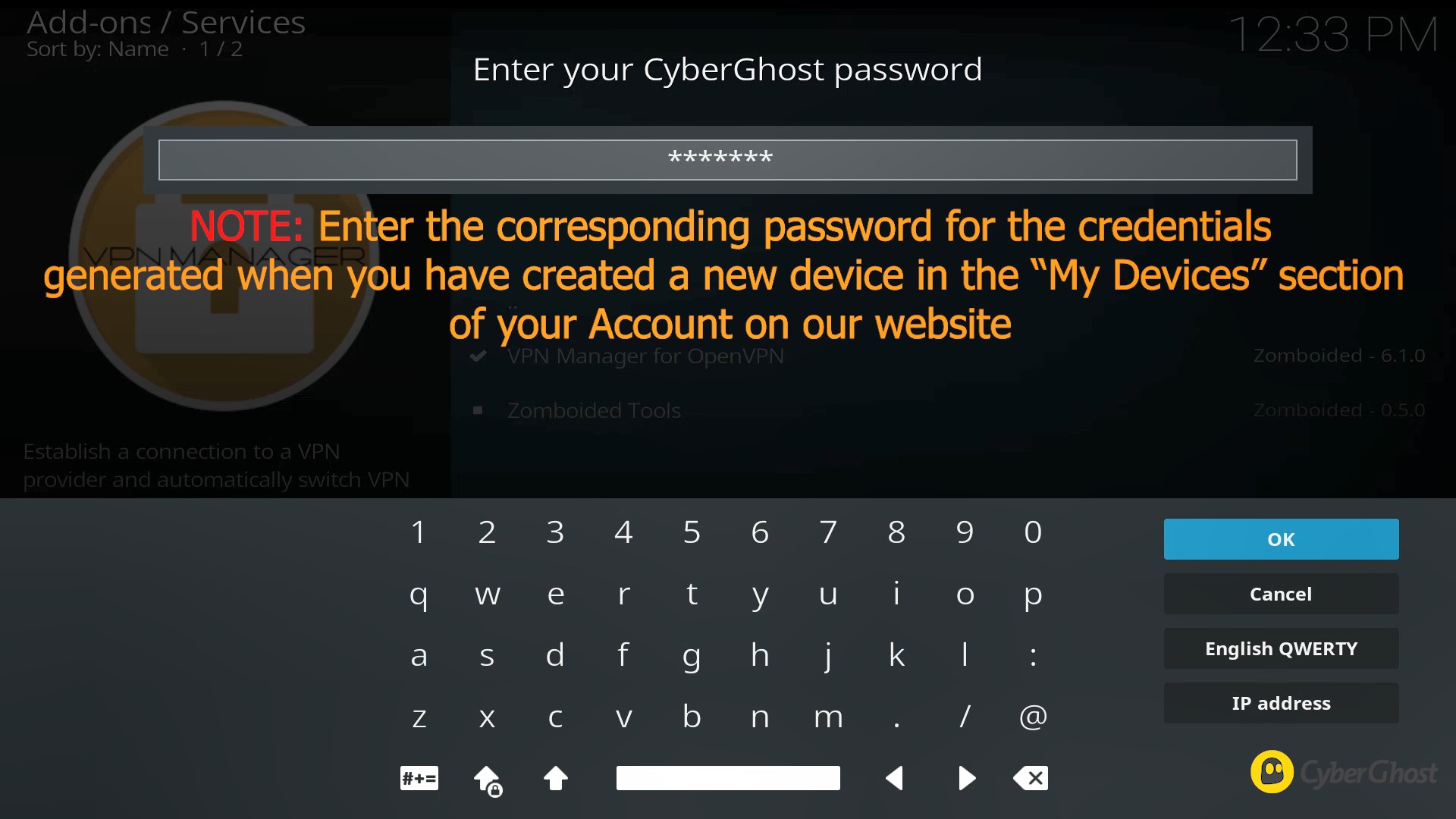 4. Click OK then you should be asked if you wish to connect to the VPN at Startup or manually initiate the connection whenever you need to.

5. Click on 'OK' once again to create the new connection.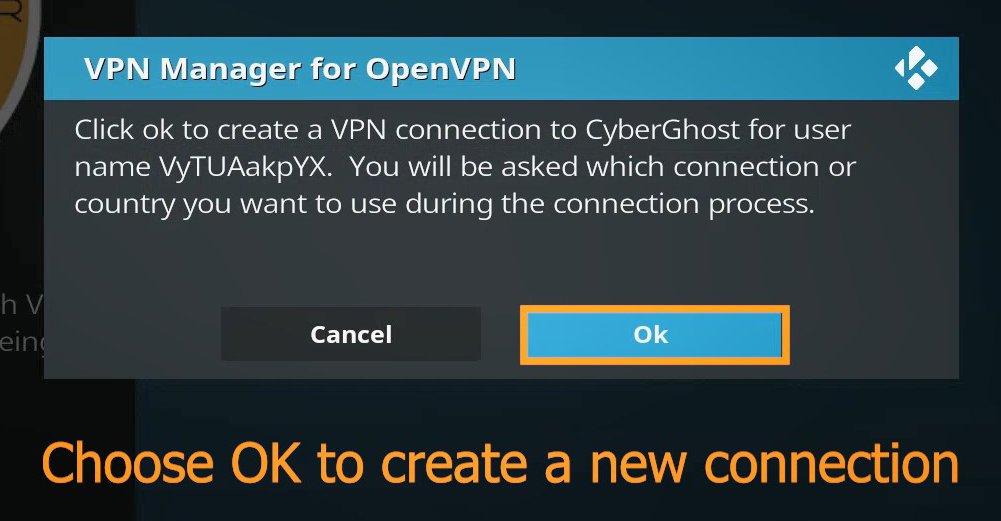 6. Last steps, now all you need to do is choose your desired VPN country and select the user certificate ('client.crt') and the user key ('client.key') you've copied to the Kodi machine in Step 2.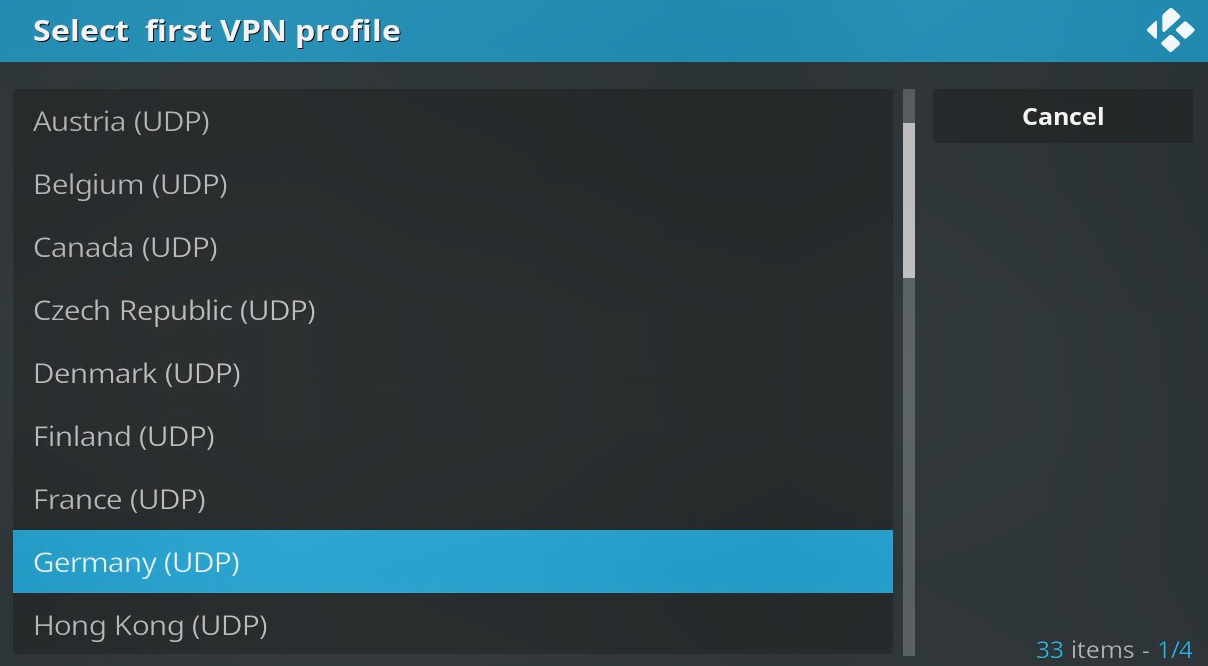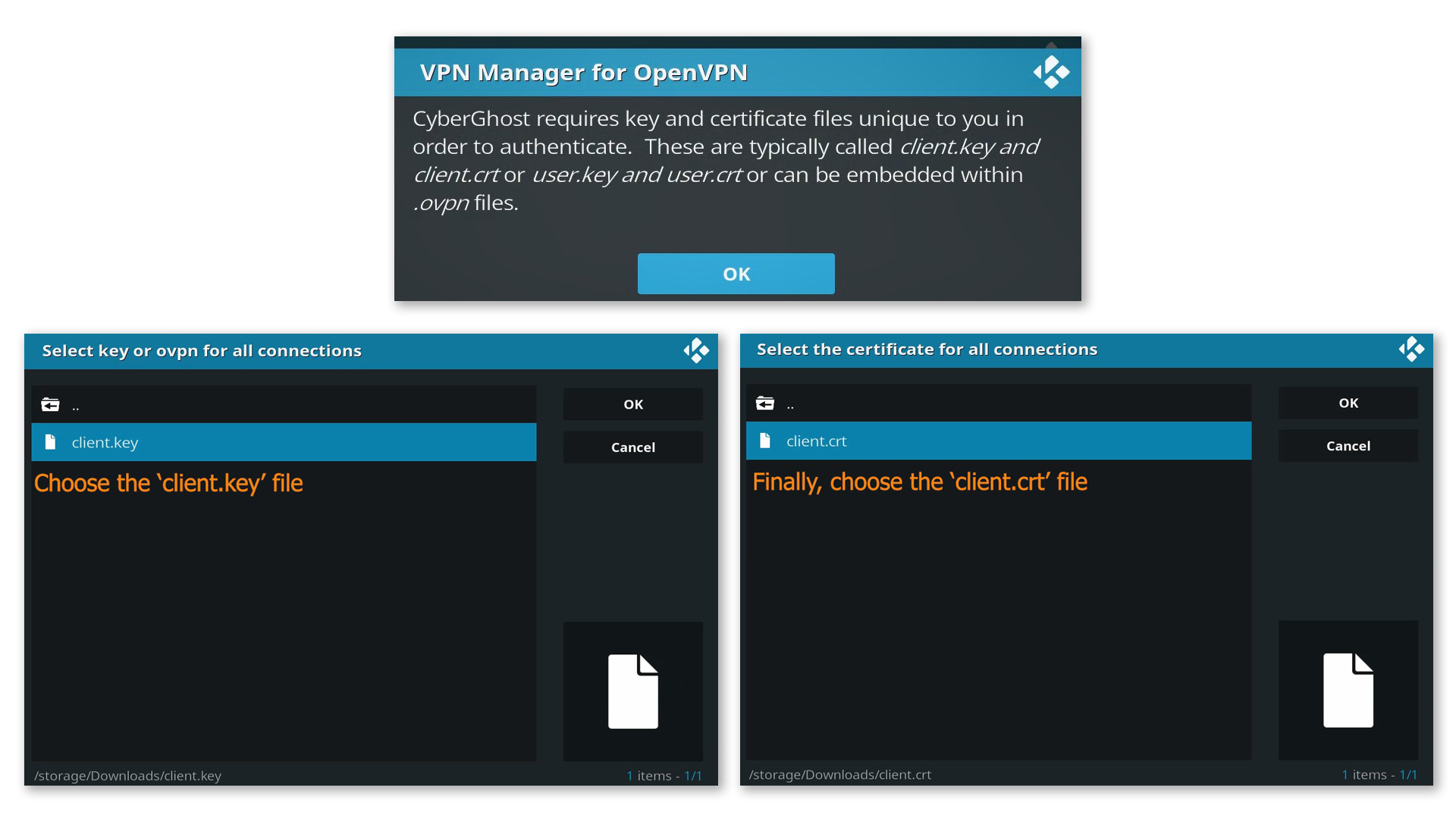 Once done, the VPN Manager will connect to the VPN service.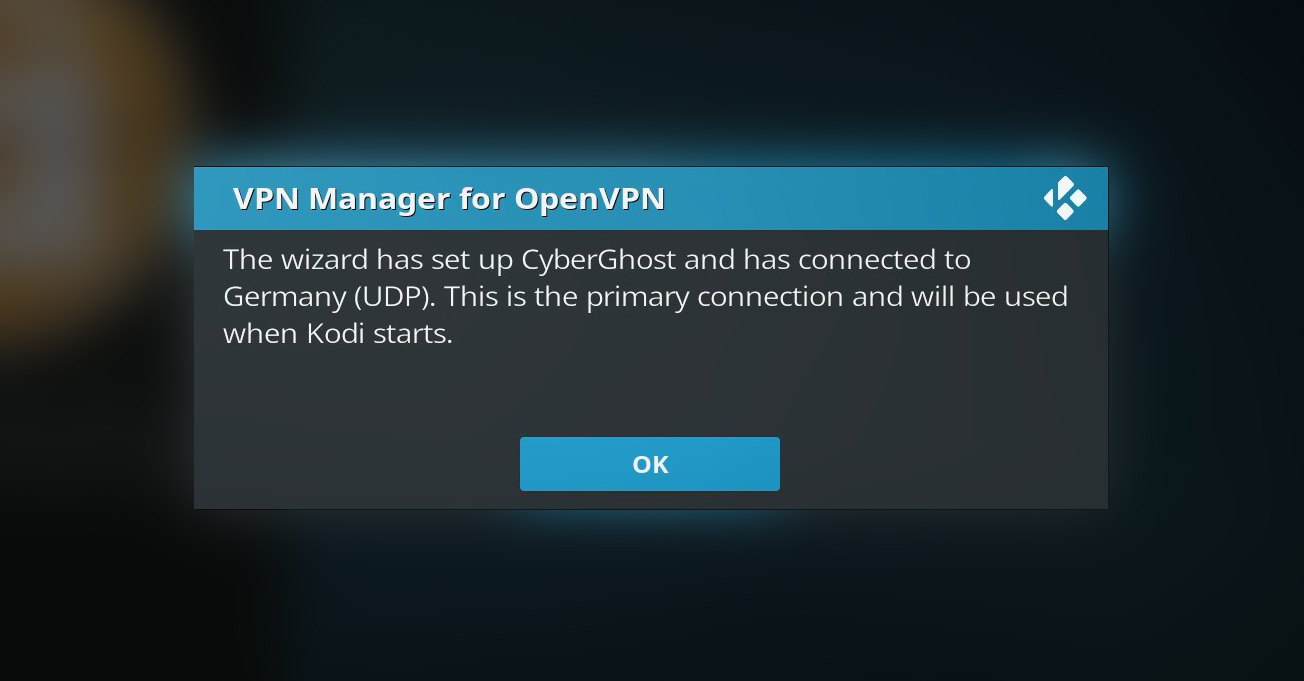 You may be asked if you wish to set-up additional VPN connections, to different countries. You can do so at any time via the SETTINGS menu of the VPN Manager for OpenVPN, the process is the same.
Finally, Kodi, by default may not show your External IP, in order to verify that you're indeed connected to the VPN, you'll need to install another plug-in, as illustrated in this quick article.