Please make sure the following requirements are met:
Step 1
Visit your CyberGhost VPN online account.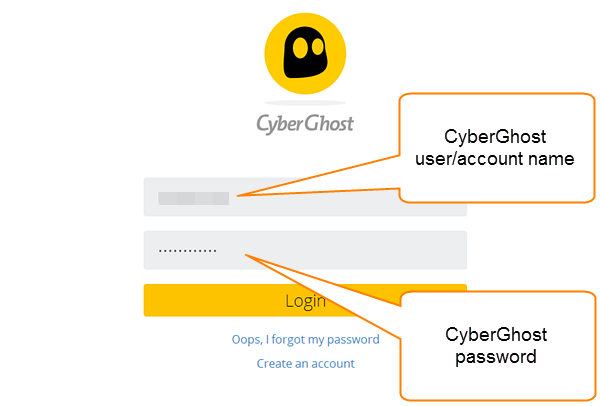 Click on the menu entry 'My Devices' and then on button 'Add Device'.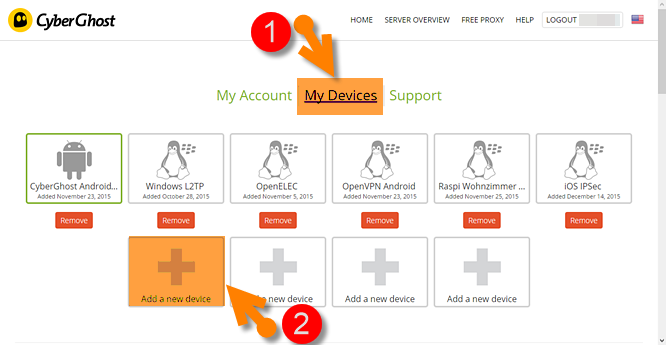 In the list of Operating Systems you can CyberGhost use with, please click on 'Other' to be able to setup all necessary options for the OpenVPN protocol. When done the screen extends and gives way to 'Create new credentials'. Do it by clicking on the respective button.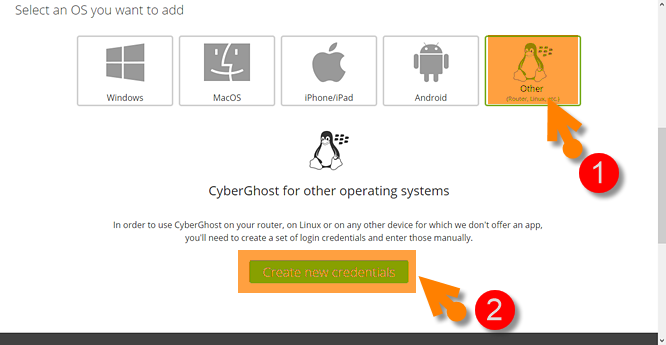 Scroll up the page. As you see, the placeholder for a new device is now replaced by 'Linux, Router, etc.'. Click on that button: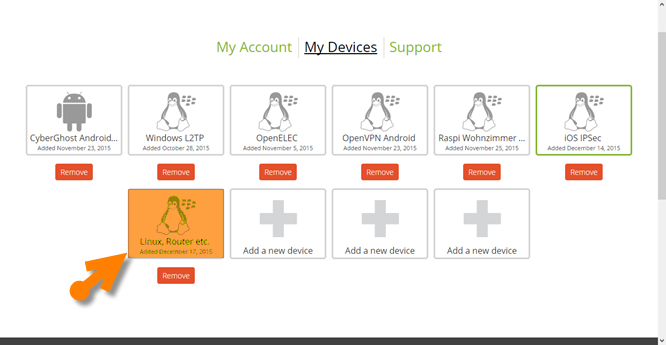 Type a name for your new device and activate the wanted extra features, provided with each regular subscription:
Scroll down and generate the login and configuration data for the OpenVPN protocol: 
Protocol: Choose the OpenVPN protocol you want to use:
OpenVPN (UDP): UDP allows higher speed than the TCP version, but can result in broken downloads in some cases. This is the default setting.
OpenVPN (TCP): TCP allows more stable connections than the UDP version, but is a bit slower. Choose this version, if you have recurrent connection issues such as sudden disconnections.

Country: Since native protocol connections may only be used with exactly one server you now have to choose the country you want to surf from; the server to be used in this country will be chosen by CyberGhost automatically. (If you want or need different PPTP, L2TP or OpenVPN connections in different countries, repeat all steps for every country.)
Server group: Depending on the chosen country as well as the availability of different server types as an attribute of your current plan you can also define a server group to use:
Standard and Premium Server: This is the group of all paid service servers of the country chosen.
NoSpy Server: This is the group of all exclusive NoSpy servers of the country chosen. These servers can only be accessed by those subscribers, who opt for them as an additional feature

.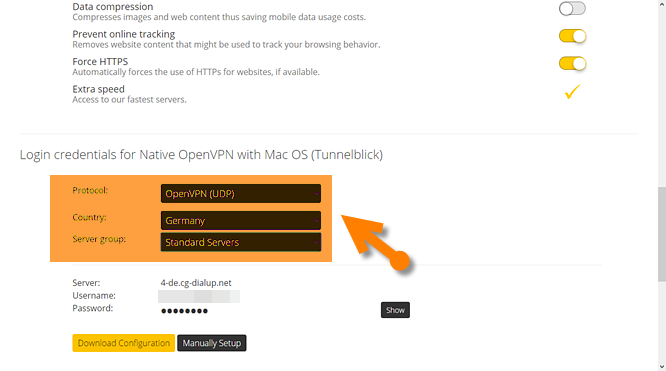 After setting up your connection wishes please note down the following data sets. You will need them to configure your device:
Server: This is the address of the country (server) you want to be connected with, e.g. '1-ro.cg-dialup.net'. Note: This address changes with every country you have chosen in the step before. The actual single server to be used will be chosen automatically by CyberGhost.
User name: A solely for protocol usage generated user name. This is NOT your regular CyberGhost account user name.
Password: A solely for protocol usage generated password. This is NOT your regular CyberGhost account password.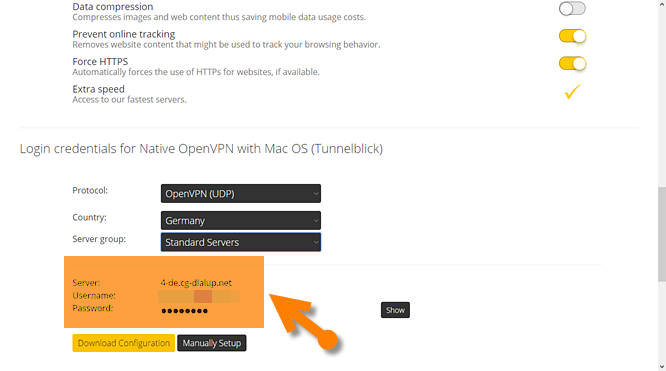 Once done, please download the configuration file. For that please click on 'Download Configuration' and save the file on your computer. It's a ZIP file, which contains the following single configuration files:
ca.crt: This is the certificate of the certification authority
client.crt: This is the user certification file 
client.key: This is your private key file
openvpn.ovpn: This is your OpenVPN configuration file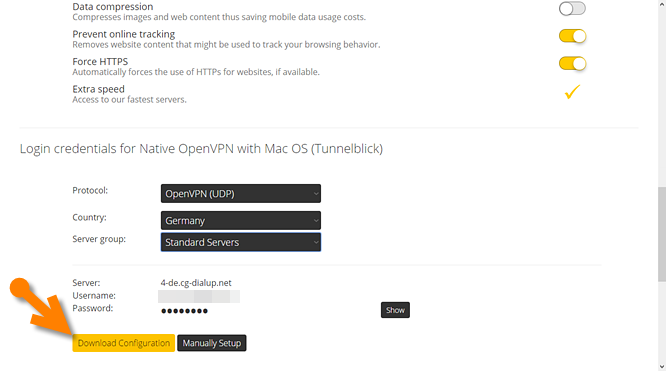 All included files will automatically be unzipped and copied into a sub-folder (usually 'CyberGhost') of your download folder.

Step 2
Now download and install 'Tunnelblick' to establish OpenVPN on your Mac OS X platform. Tunnelblick is an open source graphic user interface for OpenVPN, allowing control of OpenVPN clients and consists of all necessary binaries and drivers. You can find it here: Tunnelblick.
Click on 'Tunnelblick Stable Release', choose the version that fits to your system and download. It might happen, your Mac OS X is not supported by a stable Tunnelblick version. In that case go for a 'Tunnelblick Beta Release'.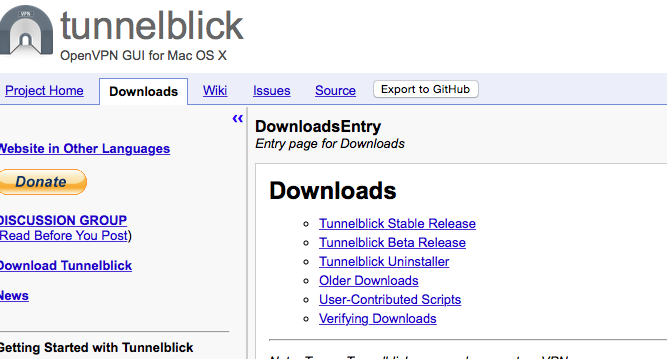 Download the DMG file and double-click on the file. For installation drag the left icon (Tunnelblick) in your program folder (Applications).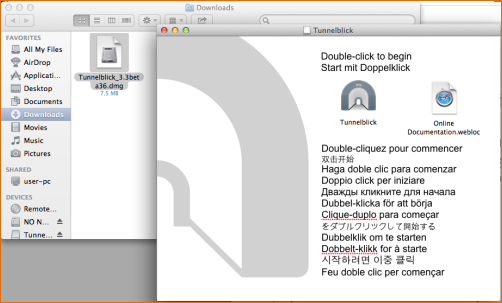 Step 3
Rename the automatically created folder with your downloaded configuration files to ''CyberGhost.tblk' and double click on it to load the configuration.
If you want to surf from different countries, rename the folder with your downloaded configuration files to e.g. 'CG_RO_NoSpy.tblk'. Choose then a different location and a different server group (if available) in your account management and download the next zipped configuration file. 

For two different countries you need for example do the following steps:

Specify device, protocol and operating system

Choose a country, e.g. USA

Download the zipped configuration file with certificates, key and OpenVPN configuration file, it will be extracted automatically in a sub-folder in your download folder

Rename the folder to 'CG_USA.tblk'

Load the configuration by double clicking on the 'CG_USA.tblk' folder

Choose the next country, e.g. Germany

Download the next zipped configuration file

Rename the folder to 'CG_DE.tblk' 

Load the configuration by double clicking on the 'CG_DE.tblk' folder.

etc. ...
Depending on your version, you may be asked whether or not to set Tunnelblick to check that the apparent public IP address of your computer changes when you connect to a VPN. Click on either button, according to your preference.
Step 4
From now on, when you start Tunnelblick, the Tunnelblick logo will appear in the upper right corner of your screen.

When you click on it, you can see a list of available connections. Select the desired one.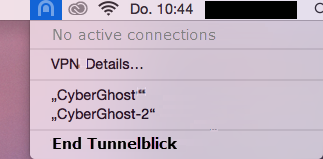 Enter your credentials which consist of 1) the user name created in step 1, and 2) the password, also created in step 1. DO NOT use your regular CyberGhost user name and password, which you use to login in the client and your account management!
Click on 'OK'.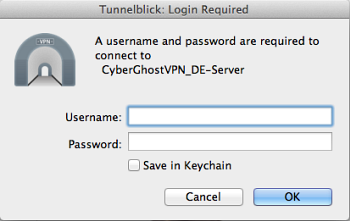 You are now connected to CyberGhost VPN.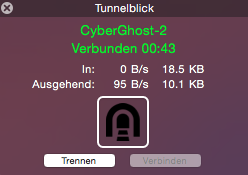 If you encounter problems or are still not sure how to setup Tunnelblick, the following links might be of some help:
How to install Tunnelblick on a Mac (Youtube video)
Tunnelblick for Mac OSX by Zerosehll.net 
Tunnelblick does not work on all systems with a CyberGhost configuration file. If that is the case with you, please use a L2TP or other supported protocol connection or the software 'Viscosity' as a replacement for Tunnelblick. 'Viscosity' is another OpenVPN client for Mac OS X (and Windows), but no Freeware (around $9.00). You can download a 30 days trial version from its maker's homepage, where you will also find a sufficient How To. Please note that we can't answer questions regarding Viscosity or Tunnelblick or can help you out with support for these software products.


And, not to forget, CyberGhost also provides you with a highly sophisticated Mac client, which can be downloaded and used cost free: https://www.cyberghostvpn.com/en_us/download/mac.