Tunneblick app is an alternative method of connecting to CyberGhost VPN servers that will be useful if the CyberGhost application cannot be installed on your Mac or if it does not work as expected.
Jump to...
Download OpenVPN configuration files
Install Tunnelblick and VPN configuration
Download OpenVPN configuration files
1. Visit your CyberGhost VPN online account and login with your CyberGhost Username and Password.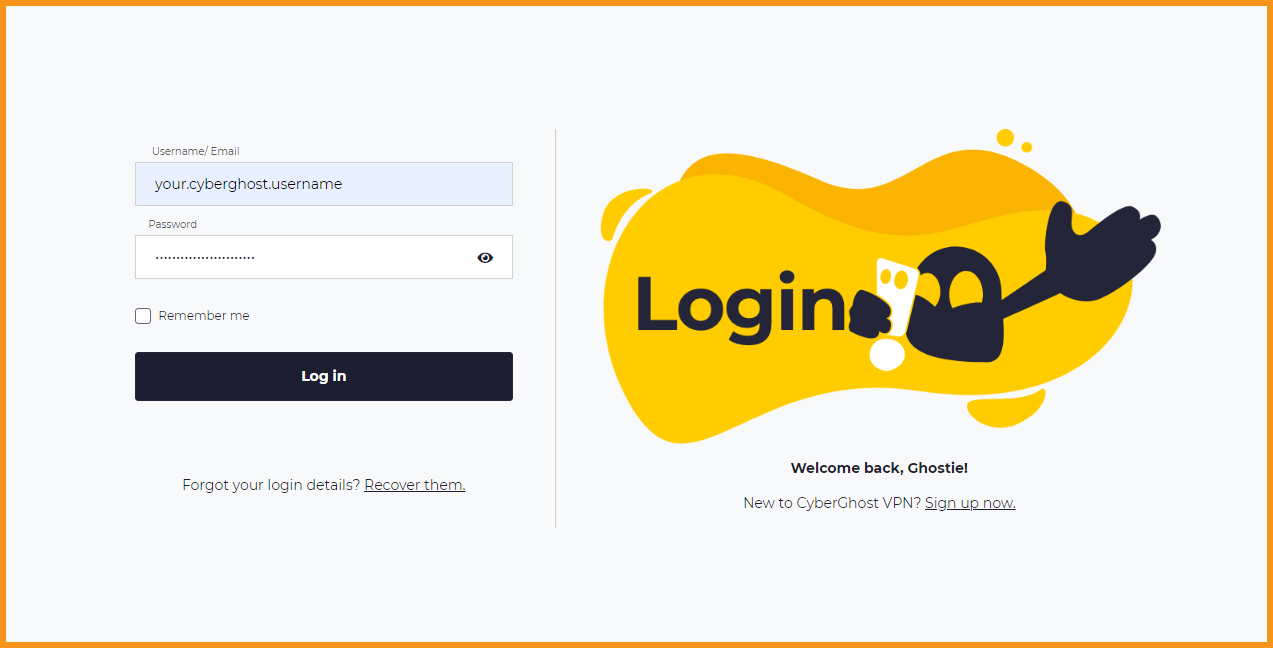 2. Click on section 'VPN' from the left-side menu, scroll down the page and click 'Configure Device'.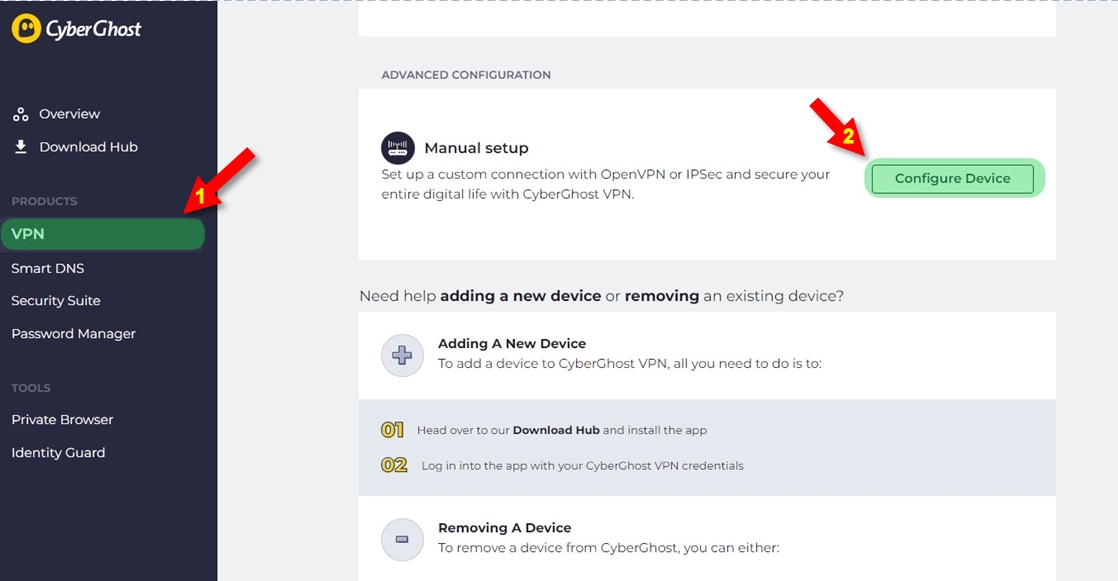 3. Each server has a configuration file that you will need to create in order to connect to the VPN server. You can download all the configuration files after creating them.
Choose OpenVPN and your preferred Country and Server Group, as described below.
Also, type in a Device name to assign to your device, then configure the parameters for the new device.
Country: Since native protocol connections may only be used with exactly one server you now have to choose the country you want to surf from; the server to be used in this country will be chosen by CyberGhost automatically.
Server group: Choose the server group and the OpenVPN protocol (UDP or TCP) you want to use:
UDP allows higher speed than the TCP version but can result in broken downloads in some cases. This is the default setting.
TCP allows more stable connections than the UDP version but is a bit slower. Choose this version, if you have recurrent connection issues such as sudden disconnections.
Once the desired parameters are chosen, save them with « Save Configuration »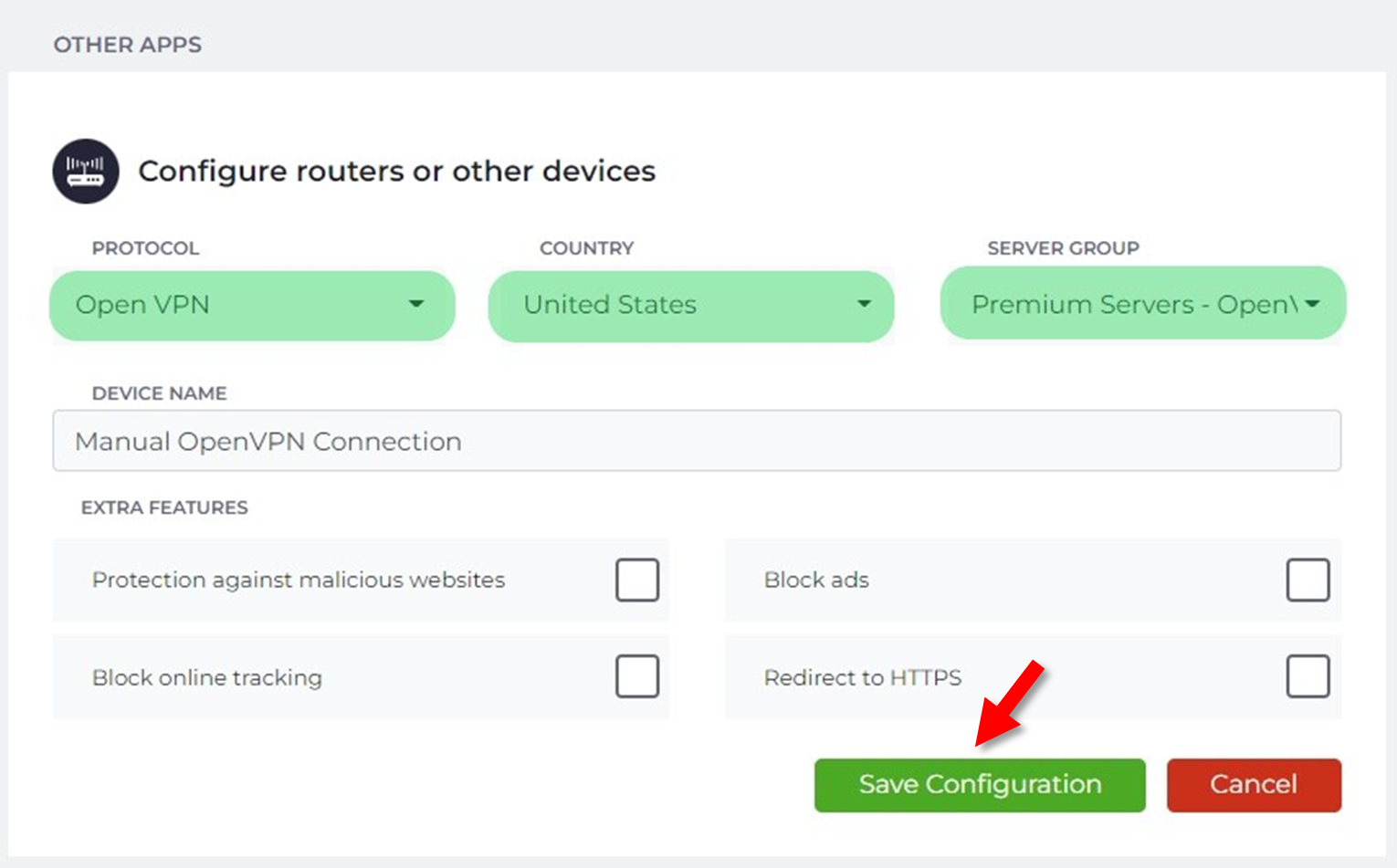 To view the OpenVPN credentials that are generated for you on the configuration dashboard, press 'View Configuration'.

Once the new page is opened, your connection credentials are generated for you but make note of the following information:
Server group: This is the address of the country (server) you want to be connected with, e.g. '12345-1-ca.cg-dialup.net'. Note This address changes with every country you have chosen in the step before. The actual single server to be used will be chosen automatically by CyberGhost.
User name: A solely for this protocol generated user name. This is NOT your regular CyberGhost account user name, it's used only to authenticate with our servers via Manual Configurations.
Password (you need to check the "Show Password" option in order to see it): A solely for protocol usage generated password. This is NOT your regular CyberGhost account Password, it's used only to authenticate with our servers via Manual Configurations.
Pre-Shared Key
Click on 'Download Configuration' (if the automatic download has not started) and download the config file to your Mac. It's recommended that you create a special folder for the config, somewhere accessible like your Desktop, and Extract / Copy the contents of the .zip file there.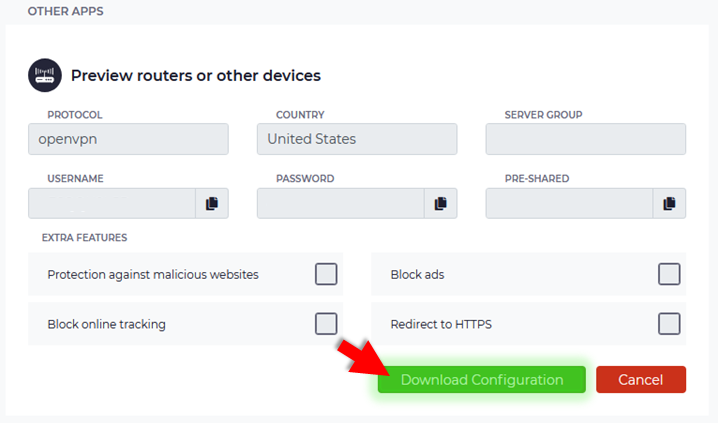 Now, the saved config is a ZIP file, which contains the following single files:
ca.crt: This is the certificate of the certification authority

client.crt: This is the user certification file
client.key: This is your private key file
openvpn.ovpn: This is your OpenVPN configuration file
If you need to change the country you connect to, you must re-configure the location to use in your account management and download the new zipped config file.
Download Tunnelblick
Now download 'Tunnelblick' to establish OpenVPN on your Mac OS X platform. Tunnelblick is an open-source graphic user interface for OpenVPN, allowing control of OpenVPN clients and consists of all necessary binaries and drivers.
1. Go to the official Tunnelblick website.
2. Click on the green arrow to download the latest version of Tunnelblick.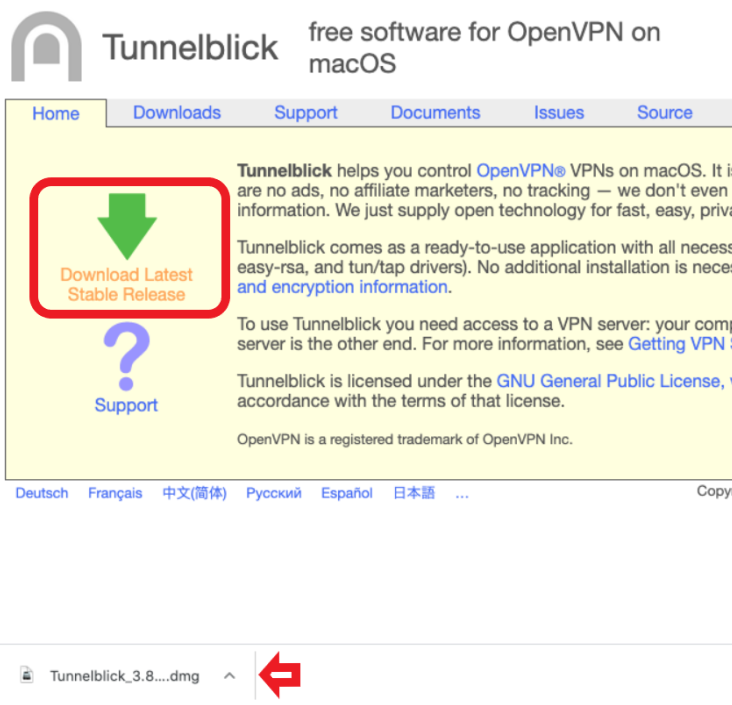 Install Tunnelblick App and Import VPN configuration
1. To start the installation process, double-click on the Tunnelblick installation package in your Downloads folder.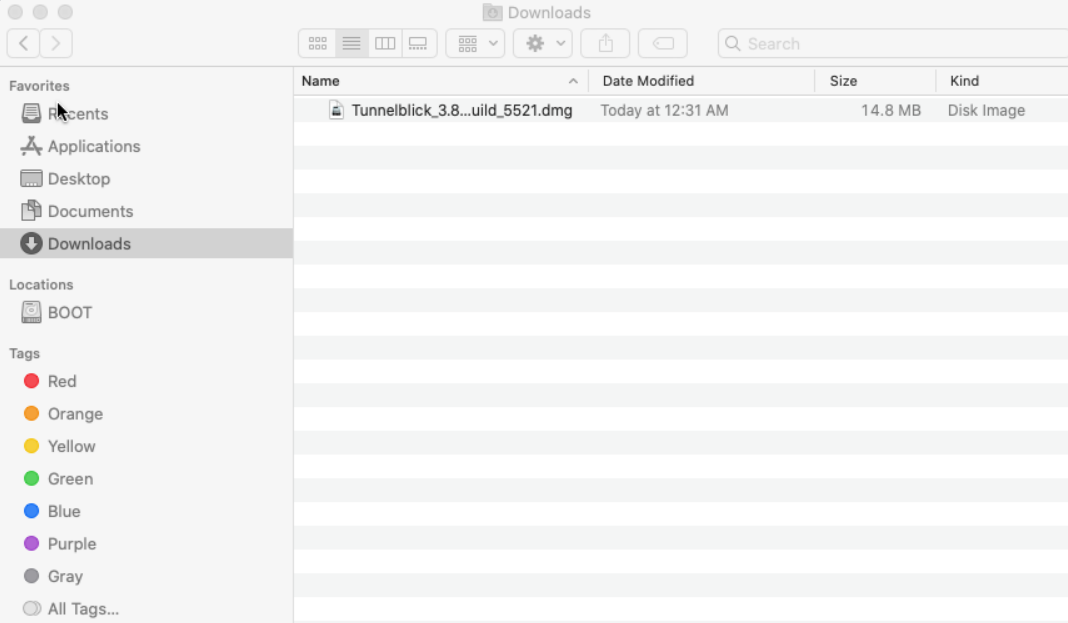 2. Double-click on the Tunnelblick icon in the next window.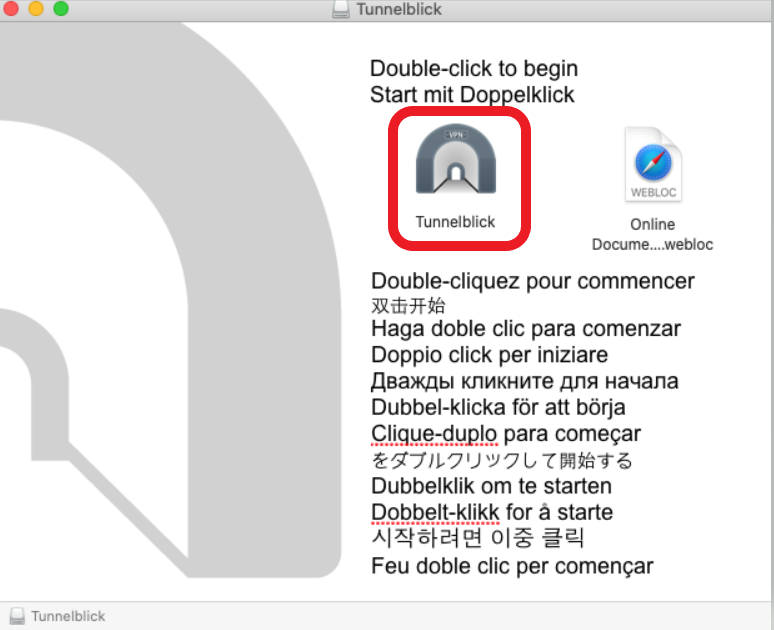 3. Press Open to confirm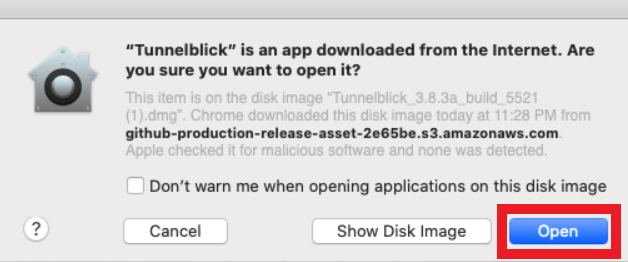 4. Define your preferences for the Tunnelblick application and click Continue.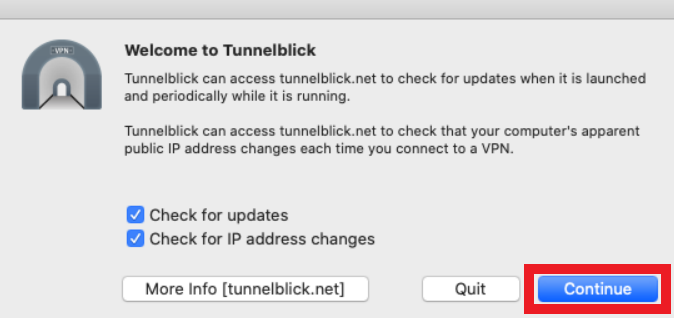 5. Select I have configuration files. These files were previously downloaded in the first part of this guide.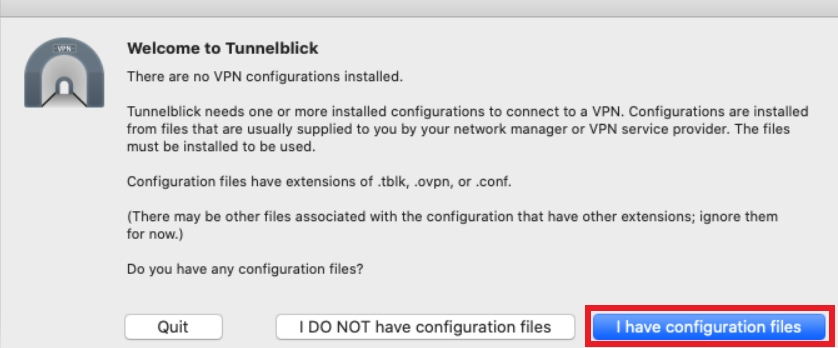 6. Select OK
7. Locate the created folder with your downloaded configuration files from Step 1.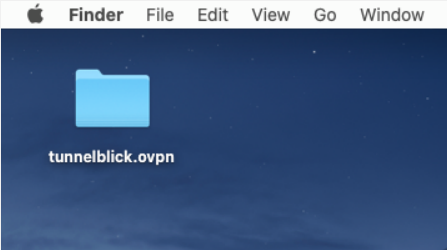 8. Rename the automatically created folder with your downloaded configuration files to 'tunnelblick.tblk'.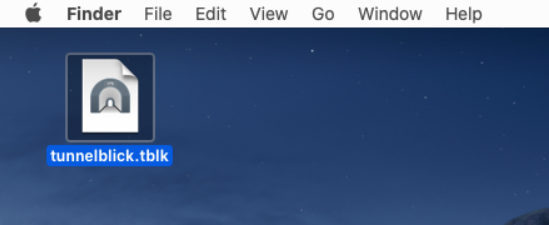 9. Double-click to load the configuration.
Select Only Me.

Note: You may need to enter your Admin credentials after this action.
10. You will see a pop-up message of VPN configuration successfully installed on your screen.

Your first VPN Connection
1. To connect to a VPN location, double-click on the Tunnelblick icon in the menu bar.

2. Click on the configuration file and press Connect.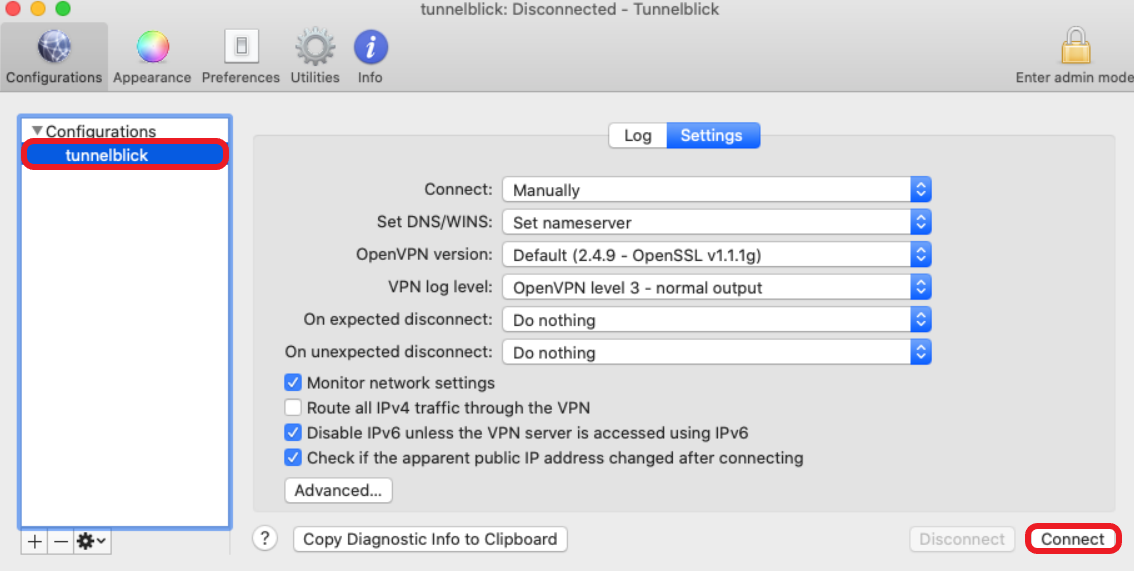 3. Enter your credentials which consist of :
If you want to save the service credentials for the next login, be sure to check both Save to Keychain checkboxes.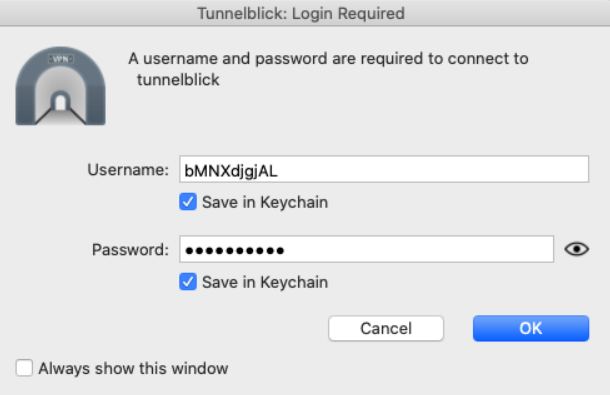 NOTE : DO NOT use your regular CyberGhost user name and password, which you use to login to the client and your account management!
4. In the upper right corner of your screen you will see a pop-up window indicating the connection status.
It will turn green once the connection is successful.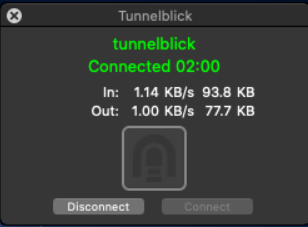 5. That's it ! You are now successfully connected to the VPN server using the Tunnelblick app. Your privacy is assured and your data is secure.
If you want to surf from different countries, rename the folder with your downloaded configuration files to e.g. 'CG_RO_NoSpy.tblk'. Choose then a different location and a different server group (if available) in your account management and download the next zipped configuration file.

For two different countries you need for example do the following steps:

Specify device, protocol and operating system

Choose a country, e.g. USA

Download the zipped configuration file with certificates, key and OpenVPN configuration file, it will be extracted automatically in a sub-folder in your download folder

Rename the folder to 'CG_USA.tblk'

Load the configuration by double clicking on the 'CG_USA.tblk' folder

Choose the next country, e.g. Germany

Download the next zipped configuration file

Rename the folder to 'CG_DE.tblk'

Load the configuration by double clicking on the 'CG_DE.tblk' folder.

etc. ...


For any additional information or concerns - it is best to approach the Support Department:

via e-mail: support@cyberghost.ro
via on-line request: https://support.cyberghostvpn.com/hc/en-us/requests/new
via 24/7 Live! Chat Sessions on our website