We allow P2P traffic via our P2P special servers. No further adjustments are required in our applications to securely connect to the P2P servers, as your P2P and normal traffic is already protected.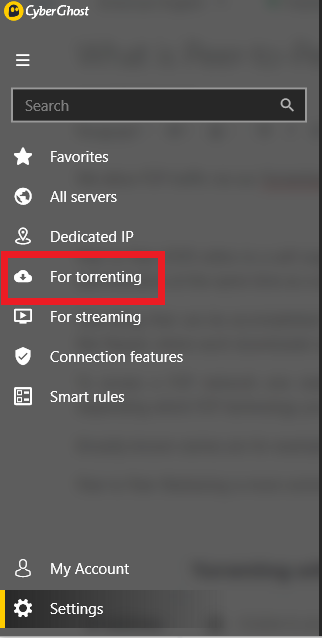 Peer to Peer (P2P) refers to a self organized network, in which each connected computer has equal rights and functions at the same time as a server and a client.
One thing that can be accomplished by such a network is file-sharing (another one is for example VoIP like Skype), where each downloader automatically turns into an uploader for other downloaders.
To access a P2P network one needs a dedicated application, based on different prior conditions, depending which P2P technology you decide to use.
Broadly known names are for example 'BitTorrent'' 'qBTorrent'' 'BitComet', uTorrent'' 'eMule' and Vuze.
Peer to Peer filesharing is most commonly known for its role in how Torrents work.

This type of file sharing can be is very effective, allowing for greater download speeds as opposed to downloading from a website (which usually stores files on an actual server).
Peer to Peer is not prone to being limited by any particular file hosting service and part of its efficiency has to do with the fact that each downloader can also be an uploader, even if they haven't finished downloading the entire file (they can instantly start uploading any parts of the download they already have).
However, Torrent Trackers can be blocked in certain countries and in some areas, even downloading Torrents (regardless of the nature of the file) is frowned upon.
CyberGhost offers a wide range of servers which support P2P traffic and allow you to Download Torrents with full Anonymity (your IP will be hidden as it's changed to the VPN Server's IP and all of your traffic is encrypted with AES 256-bit Encryption).
In order to learn how to use CyberGhost's Torrent Optimized servers, please consult these comprehensive articles:
Windows - How to connect to Torrent-Optimized Servers
MacOS - How to connect to Torrent-Optimized Servers
For any additional information or concerns - it is best to approach the Support Department:
via e-mail: support@cyberghost.ro
via on-line request: https://support.cyberghostvpn.com/hc/en-us/requests/new
via 24/7 Live! Chat Sessions on our website