Step 1
Install and activate CyberGhost VPN on your Windows PC. Choose the server to be used. If you don't know, how to install and use CyberGhost on Windows, please refer to our instructions here
Step 2
The Windows' 'Internet Connection Sharing' function (ICS) allows using the encrypted VPN connection established in step 1 with different devices in your local network. For that, you need to connect the respective device, in this case, the PlayStation console, to your Windows PC using an Ethernet cable.
Please note that your PC needs to have two network cards, one for a connection to your router (to the Internet) and one for the connection to your game console. Alternatively you can use a wireless LAN, either from your PC to the router or from the console to your PC (or both). However, if you need to share a wireless Internet connection, more steps are necessary and it's a bit more complicated to realize. Please refer to this article to share a wireless Internet connection under Windows 10.
Step 3
The first settings have to be made on the host computer, that is the Windows PC, which encrypted Internet connection should be used by the PlayStation:
Start CyberGhost VPN, choose the profile you want to use, and establish the VPN connection. Once done, open the Start menu, type 'Control Panel' and switch to the 'Network and Sharing Center'.

Click on 'Change adapter settings' (on older Windows versions 'Show Network Connections').

Search for an Ethernet connection related to the 'TAP-Windows Adapter V9'. Click on it with your right mouse button and choose the entry 'Properties'.
Activate the tab 'Sharing' and then the option 'Allow other network users [...]'. Also choose the fitting 'Home Network Connection' from the drop-down list, usually the second physical network card or a WiFi stick.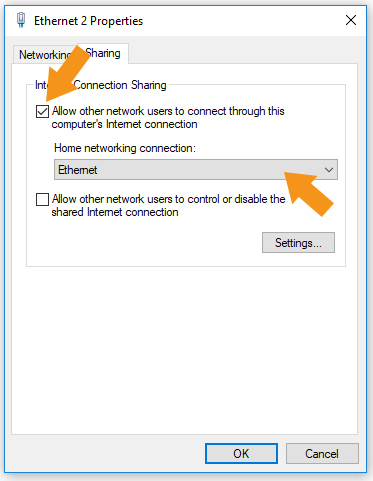 Click on 'OK'.
Double click on the adapter representing the Ethernet (or Wi-Fi) connection that goes to your router, click on 'Details' and note down the network IPv4 address, usually something such as '192.168.xxx.xxx'.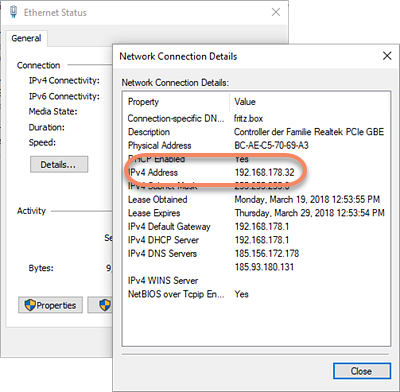 Close all windows, connect your PlayStation to your Windows PC, and configure the console:
Step 4
Depending on the PlayStation device you are using, the options to set can be found in menu entries like 'Network' or 'Internet'. There you first deactivate the automatic search for networks and then set up an Internet connection manually.
Activate either 'Use LAN cable' or 'Wi-Fi' (depending on how you connect to the Windows PC with the running CyberGhost connection). In the case of an Ethernet connection, all settings will usually be adjusted automatically, in case of a Wi-Fi connection you additionally need to enter the correct password set for the wireless network of the Windows PC.
If you use a Wi-Fi connection from your PlayStation to your Windows PC AND from your Windows PC to your router, make double sure you don't accidently connect the PlayStation directly to the router.

Please also note that older versions of your game console might only have an Ethernet port and therefor need a WiFi hardware add on in order to establish a wireless connection.
The noted IP address will be the gateway to be set.
For any additional information or concerns - it is best to approach the Support Department:
via e-mail: support@cyberghost.ro
via on-line request: https://support.cyberghostvpn.com/hc/en-us/requests/new
via 24/7 Live! Chat Sessions on our website