NOTE: The first generation Fire Stick (FCCID: 2ABDU-0509) can be used to install and may even launch the CyberGhost VPN app, however, you cannot use it. Due to the old first-generation Fire Stick hardware, it will not allow the application to work properly and will make it an unusable device.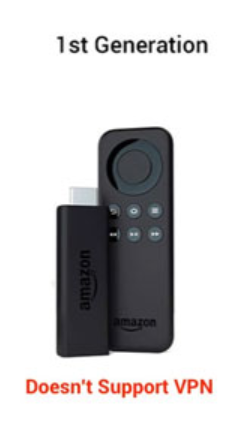 The CyberGhost VPN app is available for:
Fire TV (all versions)
Fire Stick (2nd generation or newer)
If you are experiencing any difficulties, please follow the troubleshooting steps given below :
PIN couldn't be validated error
Try cleaning your Fire TV/Fire Stick cache and data:
1. Click the Home button, select Settings option, and from Settings select Applications menu.
2. In the Applications menu, select Manage Installed Applications.
3. Find the CyberGhost VPN app and click Force Stop, then hit Clear data and Clear cache options.
4. Go to Settings, select Device, and click Restart and Restart your Fire Stick.

After following these steps you should get a new PIN which you can validate in the Cyberghost
online account. After validating the PIN please make sure you also press "validate" on the FireTV Stick.
Removing the cache and data from the CyberGhost VPN application will fix the "invalid PIN" problem as well as the most connection and speed problems on FireOS devices.
Try switching between TCP and UDP
Go to the app settings (top right gear icon) and turn the Use TCP option on or off.
If you are having connectivity difficulties with CyberGhost VPN on your Fire Stick or Fire TV, we recommend you check your network connection and wireless signal strength first.
We suggest that you store your Fire Stick/Fire TV in the same room as your wireless access point and if you are on a Fire TV, run a test via a wired connection.
Reinstall the application.
Uninstall the app, reboot your device, and install the app again. Then try connecting again.
Restart your Fire TV device and any home network devices like modems or routers.
1. To restart your device from the menu:
2. Go to Settings.
3. Select My Fire TV, and then Restart.
Reboot your router and modem if you suspect your network isn't working as it should.
1. Unplug your router & modem;
2. Wait at least 30 seconds;
3. Plug it back in and test again;
Should the connection problems persist, please contact our customer support team via live chat or email and we will help you!
via e-mail: support@cyberghost.ro
via on-line request: https://support.cyberghostvpn.com/hc/en-us/requests/new
via 24/7 Live! Chat Sessions on our website