You can order CyberGhost directly from the CyberGhost homepage, from a newsletter, an affiliate or through various special promotions. Either way the order process takes place online, where you first decide for the payment interval (e. g. monthly or yearly).
For monthly plans, the Money Back Guarantee is 14 days, whereas the yearly subscriptions they are covered by a 45 day Money Back Guarantee in case you are not satisfied.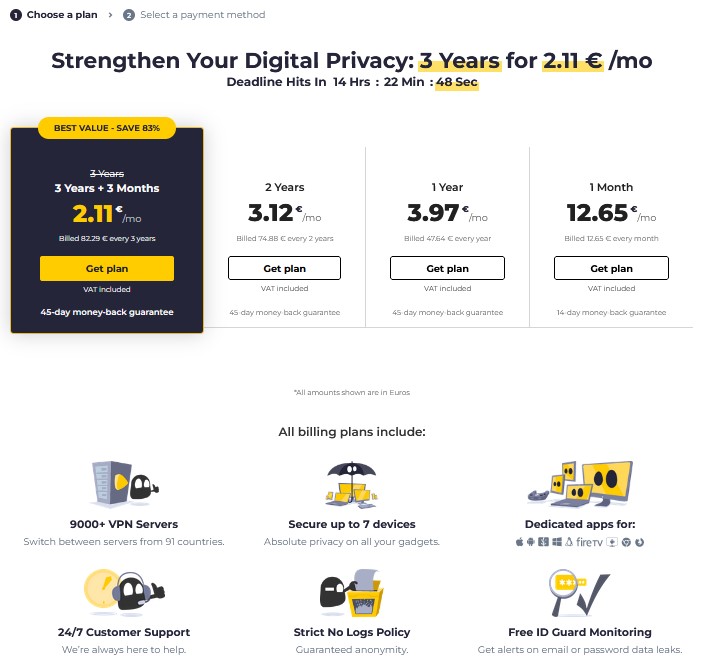 Scroll down the page to the lower part of the website.
In order to use a CyberGhost subscription you need a CyberGhost account. Depending on whether or not you already have one, the next steps are slightly different:
Existing customer: In order to renew, upgrade or extend your CyberGhost subscription please login to your Online Account Management page first. Once done you will see your account data and the remaining run-time of your current CyberGhost subscription (if existing). After purchase the new subscription will be added as additional time on top of any remaining days. For an account recovery, please click here.
New customer: If you are new to CyberGhost or want a new account, please enter a valid email address, needed for payment confirmation, invoice and account data delivery. After the purchase is complete, new users will have to set up their password (please check below).
Now decide for a payment method, enter your e-mail address and click on 'Complete your purchase' and enter your payment details. Payments will be processed by a third party service to avoid privacy breaches based on common data bases. Click on 'Next'.
All personal data such as credit card number, PayPal account, names, etc. will stay private with the payment provider and never be submitted to third parties, not even to CyberGhost itself.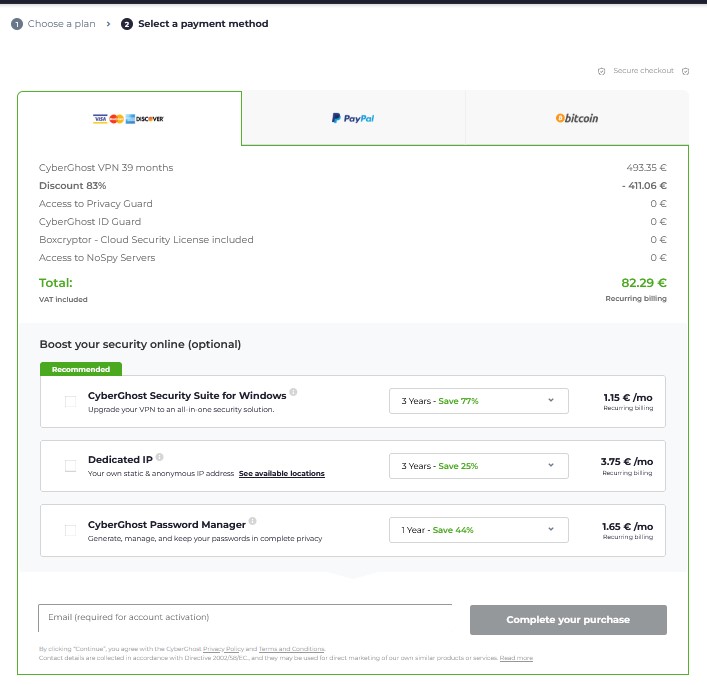 On the next page check your details and acknowledge that you buy a subscription with recurring payment cycles. Click on 'Next'.
Some special conditions (e. g. half the price) are only valid for the first payment, while the next payments will reflect the regular subscription price.
After the payment process ended successfully you will receive a confirmation email with your invoice (this is where you will find the reference number as well - please always submit this number, if you have questions regarding your purchase such as asking for a refund or an account recovery) and you will be asked to set up a password for your new CyberGhost web-account.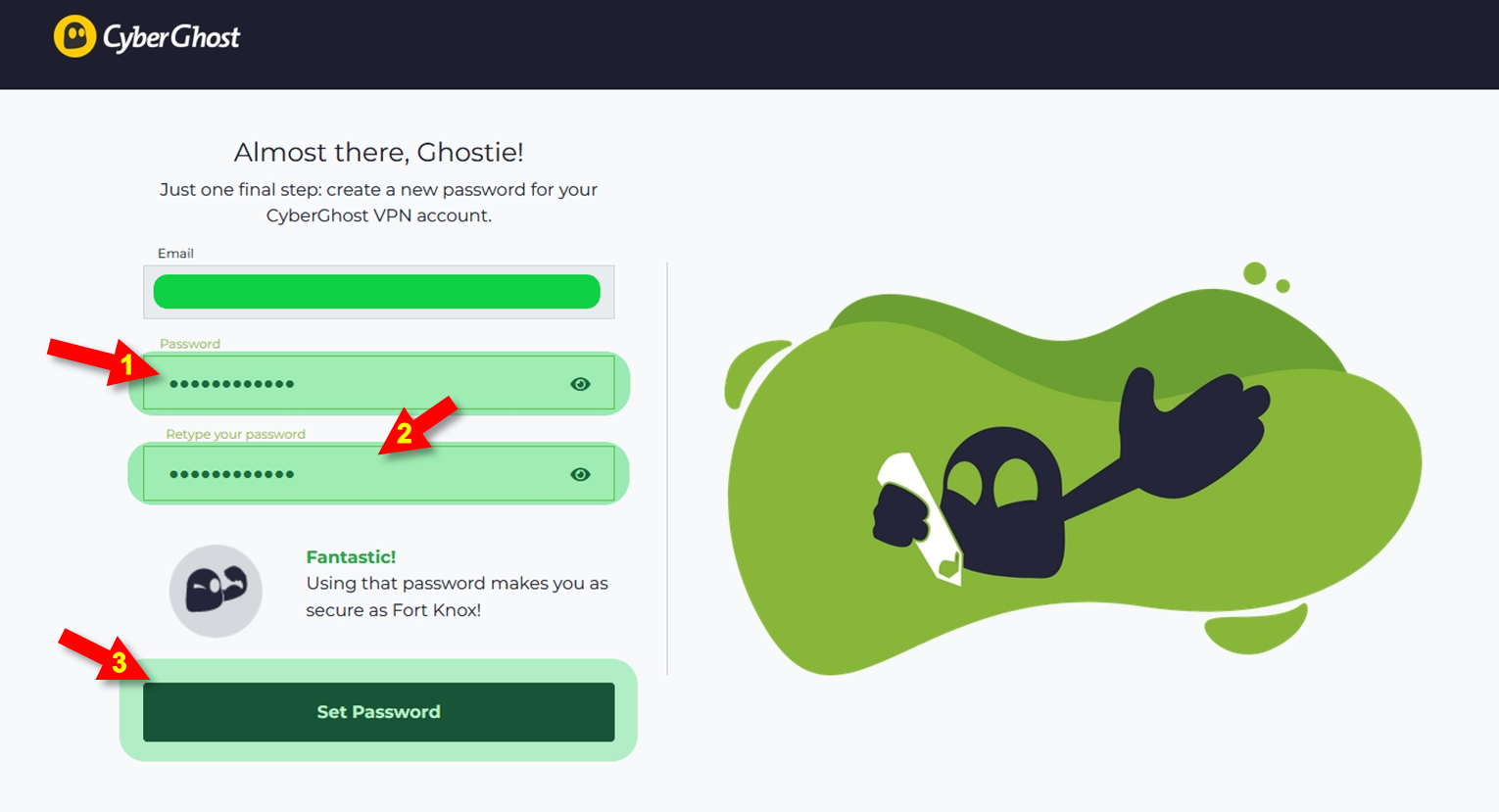 Finally, you will be redirected to your CyberGhost web-account to start installing the app on your favorite devices :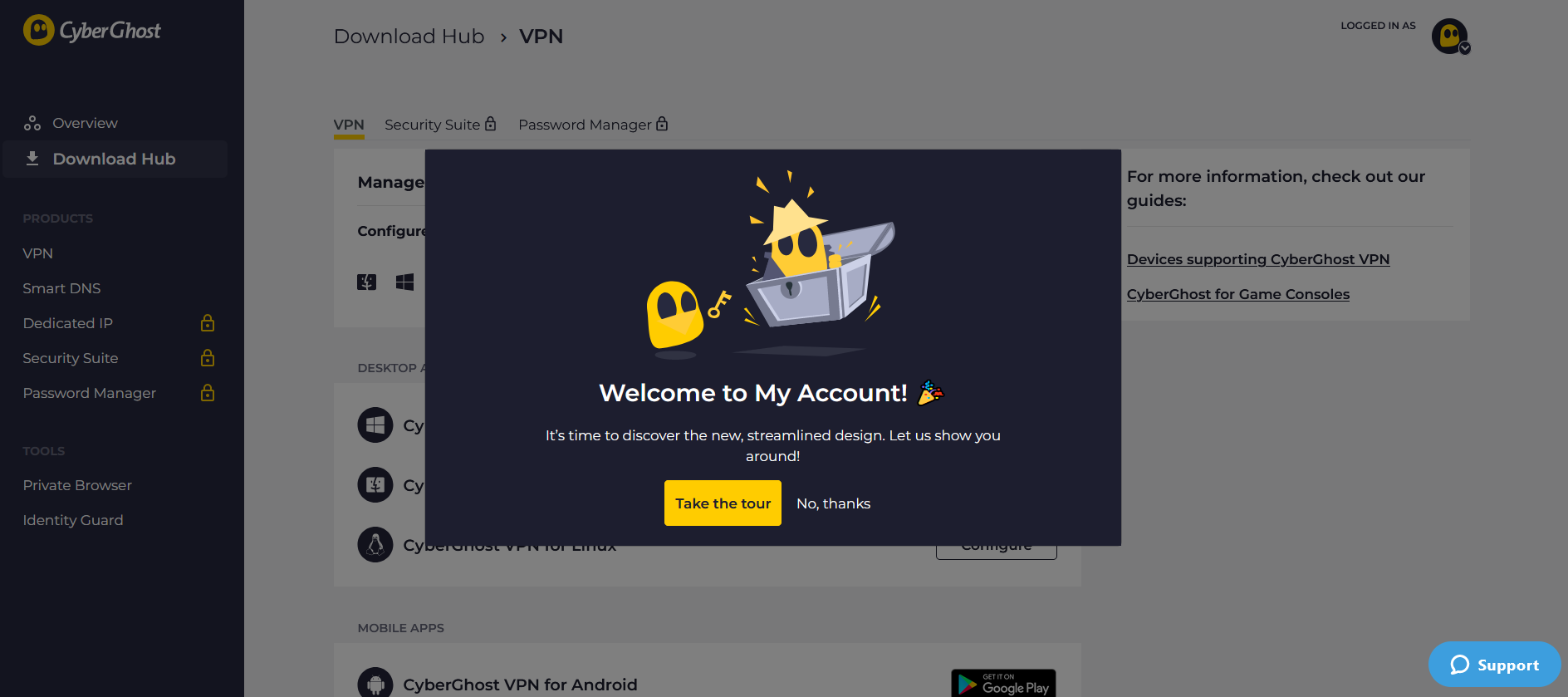 Using native VPN Protocols
To use your CyberGhost subscription with a native protocol such as OpenVPN it is mandatory to first visit your Online Account Management page, manually add a new device and create another new pair of login data, solely meant for native protocols.
Once done you can start configure your connection details as described in the various instruction manuals for VPN connections on different platforms.