CyberGhost owns an extensive server pool throughout many countries in West and East Europe, the USA, South America, Asia and Australia. A user may log in per default automatically on a server in one of the available countries, but can also choose his or her favorite location manually by defining a country or a single server to connect to.
To manually choose a country and/or single server switch to the main screen and simply tap on the downward showing arrow next to 'Connect to' and the current default mode: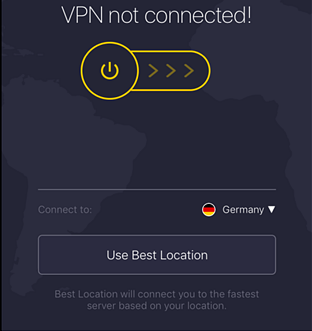 Now choose a country by tapping on the resp. name or flag.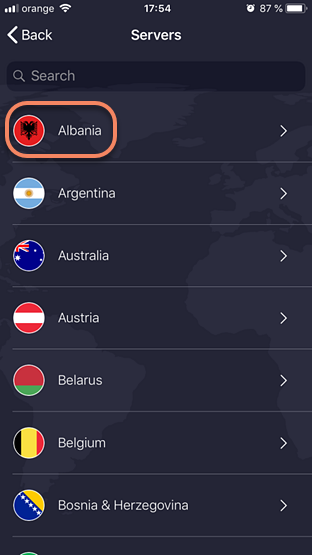 Up to this point the server to be used in the country of choice will be determined by CyberGhost automatically, based on an internal load balancing.
If you want to activate a specific server in the country of your choice, tap on the rightward showing arrow.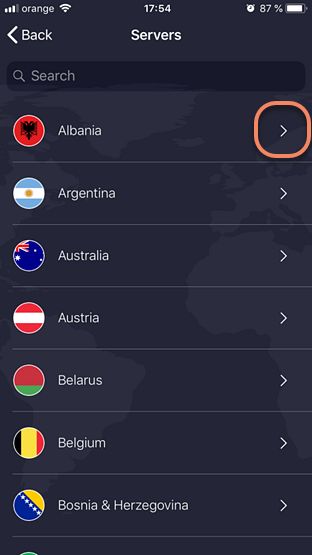 Now scroll through the list of available single servers and tap on a server entry to select it.
The country or server you specified will replace the default connection in the main screen. To activate the new connection type simply tap on the power button. It will stay valid as the default connection type until you choose a different country or server or switch back to 'Best Location'.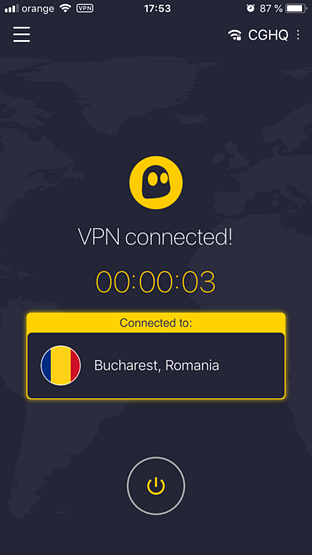 If you defined a single country to connect to in default mode CyberGhost will choose the single server to work with automatically, based on the internal load balancing.
For your information
All of the following functions are valid for each server inside the CyberGhost network:
Encryption: All connections will be secured with 256-bit AES, which can't be intruded from the outside.
Hidden IP: Your original IP address will be replaced by an IP address from the CyberGhost network, so your identity can't be tracked down. At the same time the very same IP address will be shared with all other users on a respective server, thus extending your anonymity.

No logs: CyberGhost is committed to its strict NO LOGS policy requiring the minimum anonymous user data to run the service.
KillSwitch: The automatic Internet KillSwitch blocks all connections as soon as it detects an unexpected connection loss to the CyberGhost network.

LeakProtection: CyberGhost protects against IPv6, Port Forwarding and DNS leaks.