The CyberGhost app for Linux offers a wide range of Peer-to-Peer (P2P) Torrents servers which allow you to download torrents safely and securely.
NOTE : Please ensure that you NOT start your Torrent Client until AFTER connecting to the VPN server as any torrent in the Seed queue WILL generate traffic on your main connection and can be tracked.
To connect to one of our P2P file-sharing servers, please take the following steps :
1. Open a Terminal window.
2. Now, we need to fetch a list of countries which support P2P File Sharing ( not all countries and/or servers support Peer-to-peer file sharing due to various laws and policies in effect in their respective region ) by typing in :
cyberghostvpn --torrent --country-code
press ENTER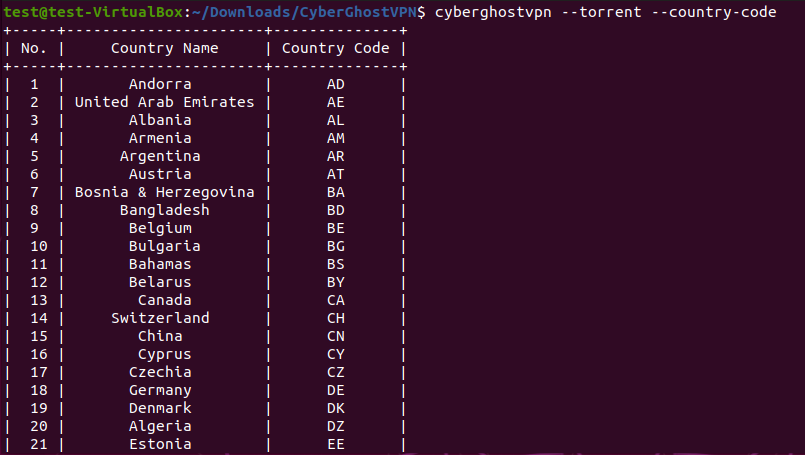 3. Once the list of countries that support P2P file sharing is displayed, simply enter the desired country's code into the connection command. For this example, we'll use Poland (PL) and the command is :
sudo cyberghostvpn --torrent --country-code PL --connect

4. To confirm that you're connected to the VPN you can type in :
cyberghostvpn --status

Also, you can visit a site such as https://www.iplocation.net/ ( make sure that you wait a few seconds after connecting and access this site in a new browser window, Incognito Mode is advised as these sites often rely on cookies and your old location may be stored until a restart of the browser or Incognito Mode is used )
5. After confirming that you're connected to the VPN server, you can start your Torrent Client.
For any additional information or concerns - it is best to approach the Support Department:
via e-mail: support@cyberghost.ro
via on-line request: https://support.cyberghostvpn.com/hc/en-us/requests/new
via 24/7 Live! Chat Sessions on our website