If by any chance you should wish to uninstall CyberGhost for Linux or perform a reinstall of the application (you'll be able to keep your config in case of a reinstall), all you need to do is run the appropriate command, as follows:
NOTE: For this example, the CyberGhost app is located on the Desktop.
1. Open a Terminal window and access the cyberghost folder.
Type in cd Desktop/cyberghost/cyberghost then press Enter.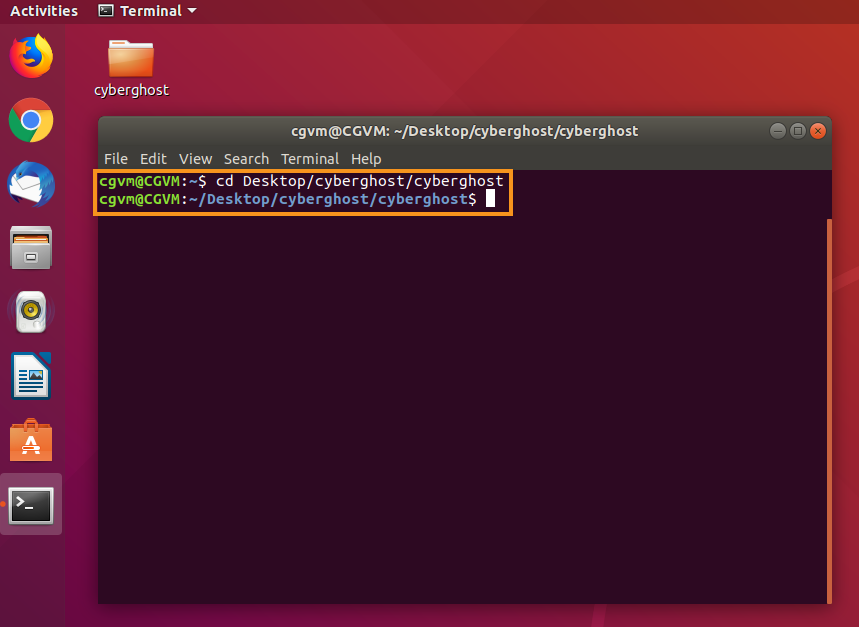 2. Type "bash uninstall.sh" (without the quotes) and press Enter.
- You will be asked to enter your Linux User Account password (the one you use to login at Linux startup)
- You'll be asked if you wish to remove OpenVPN (the protocol used for the VPN connection), choose Y if you don't need it any longer for other VPN connections
- Finally, you'll be asked if you want to remove the configuration files (stored OpenVPN credentials) - if you plan on reinstalling, you can choose to NOT remove these.

Once the above process has finalized, please follow the below instructions:
How to install CyberGhost on Linux
With CyberGhost VPN reinstalled, you will start with new credentials which may also fix any errors that could have been generated due to an older installation with outdated credentials or fix any unexpected error messages (Ex: Application too old! Please reinstall).