The digital HDTV satellite receiver 'VU+ Solo²' is based on Linux and can be used with your CyberGhost account with a OpenVPN installation, if the following requirements are met: 
Disclaimer: Please keep in mind that, although the technical process is as thoroughly documented as possible, you need to have at least some technical understanding. There's always a chance for an overseen mistake and/or things being  changed whilst the article may not yet have been updated. 
Step 1
Visit your CyberGhost VPN online account.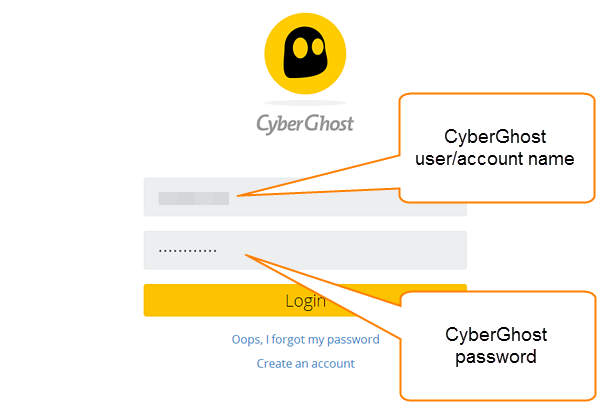 Click on the menu entry 'My Devices' and then on button 'Add Device'.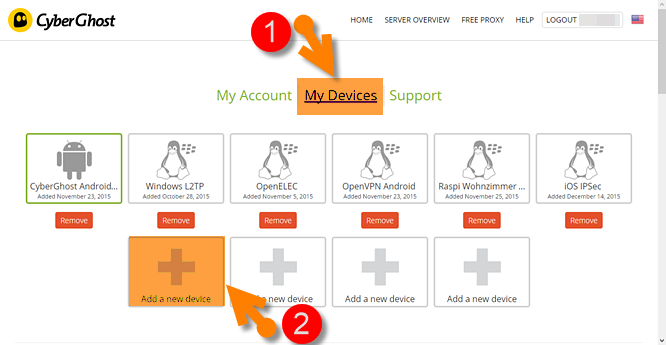 In the list of Operating Systems you can CyberGhost use with, please click on 'Other' to be able to setup all necessary options for the OpenVPN protocol. When done the screen extends and gives way to 'Create new credentials'. Do it by clicking on the respective button.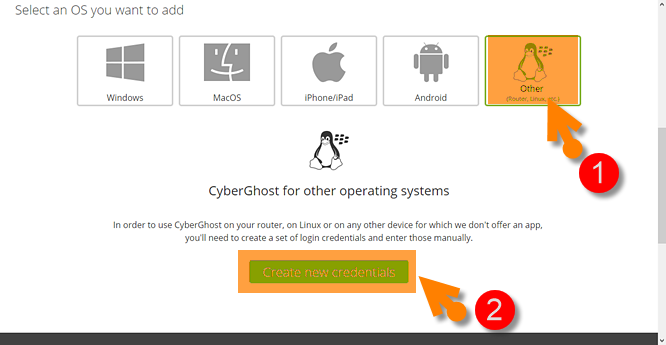 Scroll up the page. As you see, the placeholder for a new device is now replaced by 'Linux, Router, etc.'. Click on that button: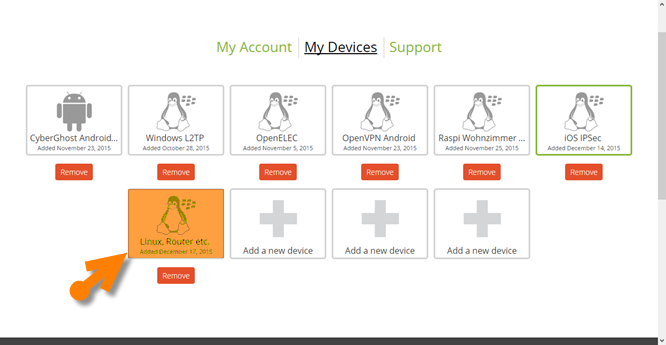 Type a name for your new device and activate the wanted extra features, provided with each regular subscription: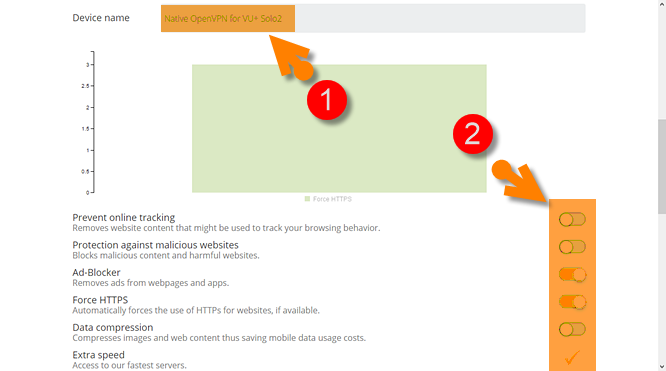 Scroll down and generate the login and configuration data for the OpenVPN protocol: 
Protocol: Choose the OpenVPN protocol you want to use:
OpenVPN (UDP): UDP allows higher speed than the TCP version, but can result in broken downloads in some cases. This is the default setting.
OpenVPN (TCP): TCP allows more stable connections than the UDP version, but is a bit slower. Choose this version, if you have recurrent connection issues such as sudden disconnections.

Country:

 Since native protocol connections may only be used with exactly one server you now have to choose the country you want to surf from; the server to be used in this country will be chosen by CyberGhost automatically. (If you want or need different PPTP, L2TP or OpenVPN connections in different countries, repeat all steps for every country.)

Server group: Depending on the chosen country as well as the availability of different server types as an attribute of your current plan you can also define a server group to use:
Standard and Premium Server: This is the group of all paid service servers of the country chosen.
NoSpy Server: This is the group of all exclusive NoSpy servers of the country chosen. These servers can only be accessed by those subscribers, who opt for them as an additional feature

.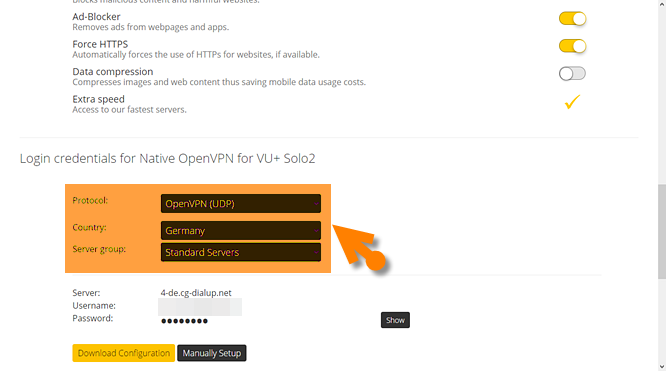 After setting up your connection wishes please note down the following data sets. You will need them to configure your device:
Server: This is the address of the country (server) you want to be connected with, e.g. '

1-ro.cg-dialup.net

'. Note: This address changes with every country you have chosen in the step before. The actual single server to be used will be chosen automatically by CyberGhost.
User name: A solely for protocol usage generated user name. This is NOT your regular CyberGhost account user name.
Password: A solely for protocol usage generated password. This is NOT your regular CyberGhost account password.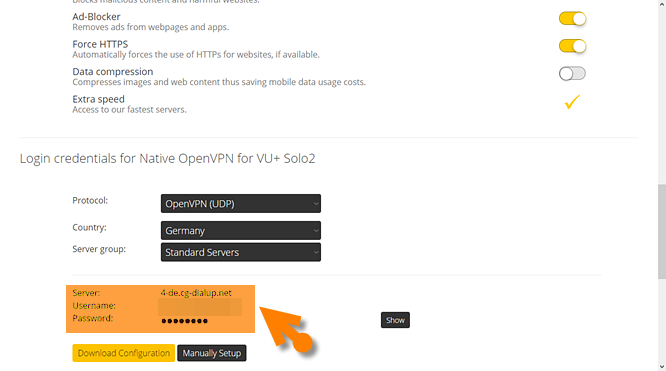 Once done, please download the configuration file. For that please click on 'Download Configuration' and save the file on your computer. It's a ZIP file, which contains the following single configuration files:
ca.crt: This is the certificate of the certification authority

client.crt: This is the user certification file 
client.key: This is your private key file
openvpn.ovpn: This is your OpenVPN configuration file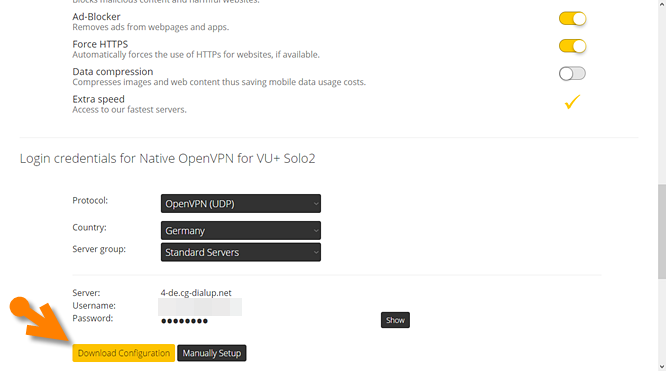 Download the configuration file, unzip all single files to a computer and rename the file 'openvpn.ovpn' to 'CyberGhost.conf'. 
If you need to change the country to surf from, you must re-configure the location (select a different country) to use in your account management, download the new config file, unzip it and rename the new OpenVPN file to 'CyberGhost.conf'.
Step 2
To be able to log in automatically, save your user name and password in a file called 'pas.key'. For this you need to have access to a Linux computer where you type the following command in a terminal window:
sudo nano pas.key
Type in your credentials (one in each line):
User name (the user name created in step 1)
Password (the password created in step 1)
e. g.:
NSANSANSA
****************
Save your changes with 'CTRL+O' and leave the nano editor via 'CTRL+X'
Next open the configuration file 'CyberGhost.conf' by typing
sudo nano CyberGhost.conf
Extend the line 'auth-user-pass' …
[...]
auth-user-pass
[...]
… with the path to your credentials file:
[...]
auth-user-pass /etc/openvpn/pas.key
[...]
Copy both files ('CyberGhost.conf' and 'pas.key') along with all certificate and key files from the downloaded ZIP file into the OpenVPN folder ('etc/openvpn')on your VU+.