Through to the Account Dashboard - your IP* needs to be activated.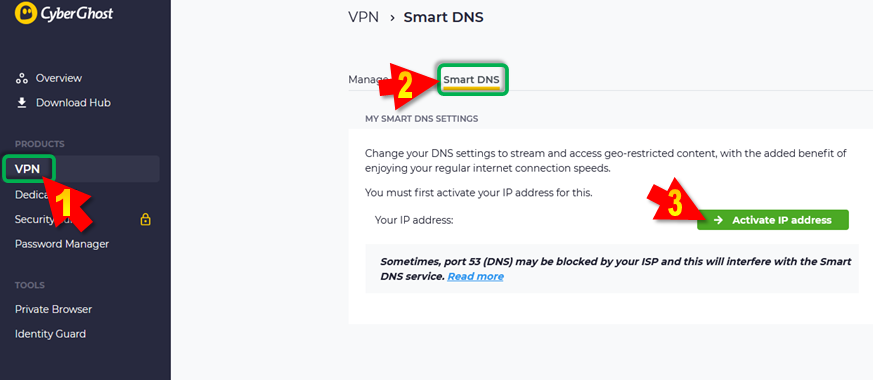 *Your IP listed in the Account Dashboard is the IP provided to you by your ISP(Internet Service Provider).
Completing the only requirement as described above, now head over to your compatible DD-WRT router. The below steps are presented for you which will help you apply the CyberGhost SmartDNS via DD-WRT router:
Step 1 of 6: Log in your router dashboard via your preferred browser
Step 2 of 6: Choose Setup
Step 3 of 6: Choose Basic Setup
Step 4 of 6: Under Network Address server Settings (DHCP) fill in the following fields:
Static DNS 1: Use the DNS provided to you in the Account Dashboard under My SmartDNS
Static DNS 2: leave blank
Static DNS 3: leave blank
Step 5 of 6: Enable Use DNSMasq for DNS
Step 6 of 6: Choose Apply Settings.
- DNS settings completed -
Note: Make sure to reboot the router in order to use the newly implemented DNS settings
-------
For any additional information or concerns - it is best to approach the Support Department:
via e-mail: support@cyberghost.ro
via on-line request: https://support.cyberghostvpn.com/hc/en-us/requests/new
via 24/7 Live! Chat Sessions on our website