Through to the Account Dashboard - Smart DNS needs to be enabled. Once you activate it and the DNS settings are generated, you will just need to insert them in the PS4 network settings.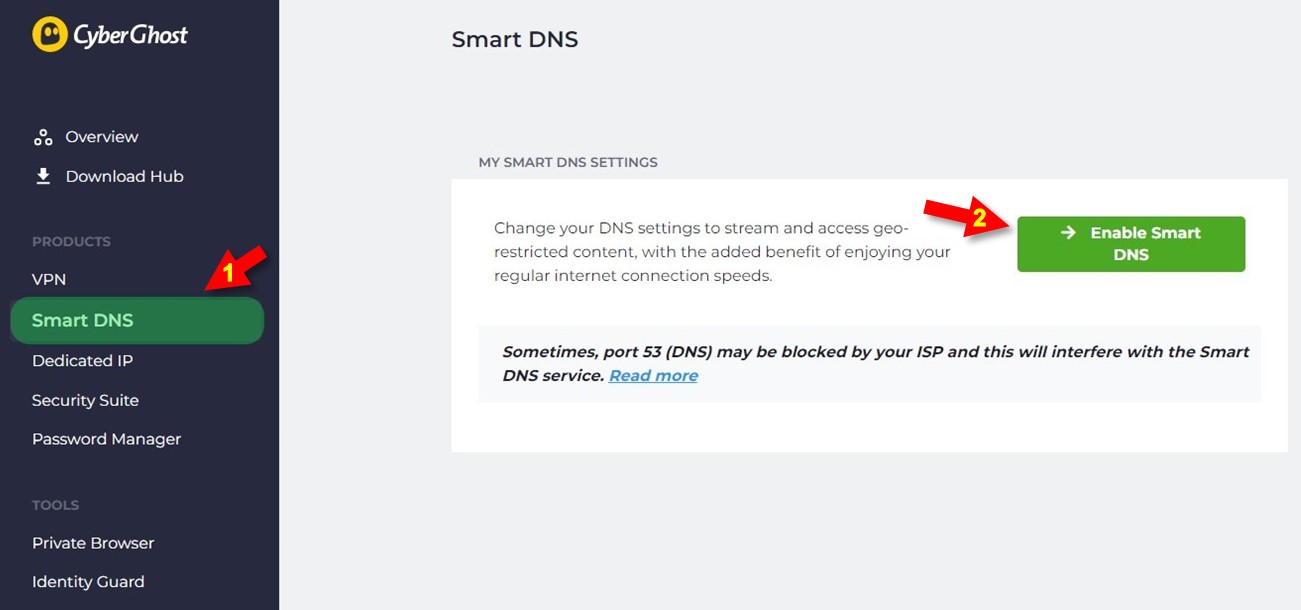 Completing the only requirement as described above, now head over to your PlayStation 4. The below steps are presented for you which will help you apply the CyberGhost SmartDNS via PlayStation 4:


Step 1 of 12: From the main menu of your Play Station 4 – choose Settings
Step 2 of 12: Choose Network
Step 3 of 12: Set Up Internet Connection is the option which must be chosen from the available choices
Step 4 of 12: When asked "How do you want to connect to the network?" – choose the method through which your Play Station 4 is connected to the Internet:
Use Wi-Fi*
Use a LAN Cable
*the case presented is displayed for Wi-Fi
Step 5 of 12: Custom is the choice to pick from when asked "How do you want to set-up the Internet Connection?"
Step 6 of 12: Choose* the respective Wi-Fi through which your Play Station 4 is connected to the Internet
*In case of using LAN Ethernet cable – this step can be bypassed
Step 7 of 12: Wait for the sub-menu of your Wi-Fi to open. From the choices possible – choose: Automatic*
*IP settings do not need changing
Step 8 of 12: DHCP Host Name – Do Not Specify is the choice that needs to be picked
Step 9 of 12: DNS Settings – Manual is the appropriate choice. This will enable you to insert the DNS assigned to your account.
Primary DNS – found in your Account Dashboard under My Smart DNS tab
Secondary DNS – can be left blank
Step 10 of 12: Between Automatic or Manual – choose Automatic – for MTU Settings
Step 11 of 12: Proxy Server – The appropriate choice to make is Do Not Use
- Internet settings updated -
Step 12 of 12: Head to Quick Menu of your Play Station 4 and choose Power. Restart Play Station 4.
-------
For any additional information or concerns - it is best to approach the Support Department:
via e-mail: support@cyberghost.ro
via on-line request: https://support.cyberghostvpn.com/hc/en-us/requests/new
via 24/7 Live! Chat Sessions on our website