Through to the Account Dashboard - Smart DNS needs to be enabled. Once this one-click step has been accomplished the next steps are completed directly from your Nintendo Switch.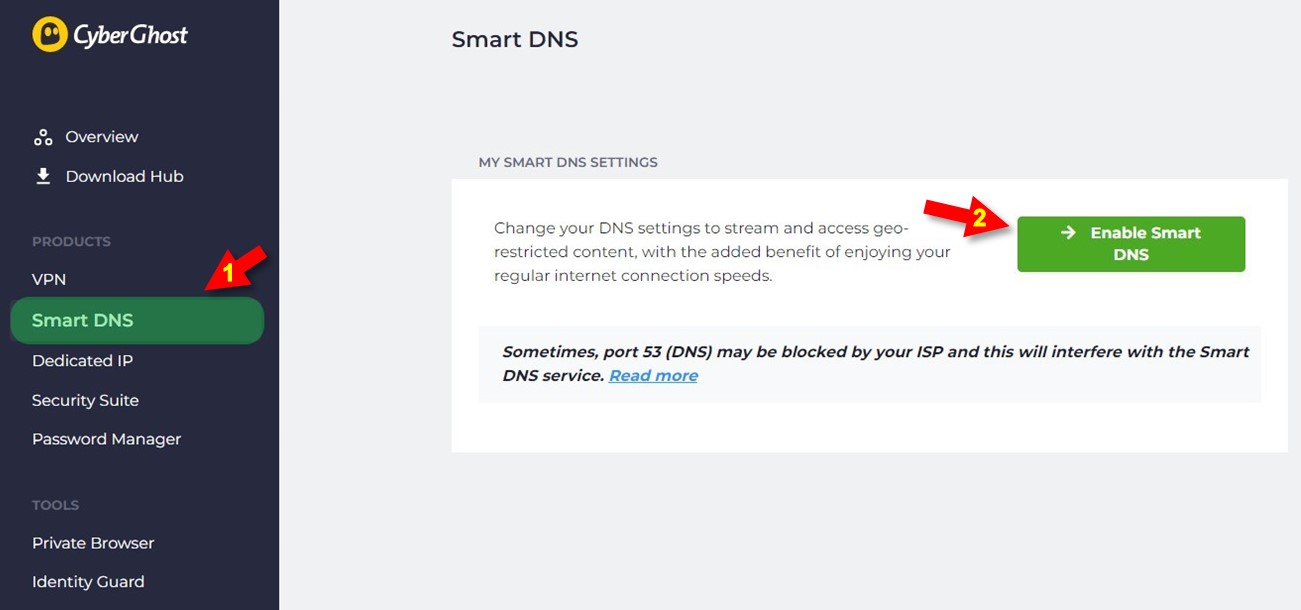 Completing the only requirement as described above, now head over to your Nintendo Switch. The below steps are presented for you which will help you apply the CyberGhost SmartDNS via Nintendo Switch:
Step 1 of 9: Open the Nintendo Switch;
Step 2 of 9: Choose System Settings;
Step 3 of 9: Locate and tap: Internet;
Step 4 of 9: Choose Internet Settings;
Step 5 of 9: Pick the Internet connection which you wish to configure with the CyberGhost Smart DNS;
Step 6 of 9: Choose Change Settings

Additional information:
IP Address Settings: Leave it to Automatic
Proxy Settings: Leave it to Off
MTU: Leave it to default (typically 1400 or 1500) but change only if requested by Support
Step 7 of 9: Scroll down through the set-up menu and tap on DNS Settings and choose Manual;
Step 8 of 9: After choosing Manual, configure as follows:
Primary DNS: Use the CyberGhost Smart DNS presented in the Account Dashboard
Secondary DNS: leave blank
Step 9 of 9: Press Save
- DNS settings completed -
Note: Should your IP address change after already whitelisting the IP address in the Account Dashboard your new IP address needs to be linked(activated) again in the Account Dashboard but the DNS settings in the Nintendo Switch do not need to be changed.
-------
For any additional information or concerns - it is best to approach the Support Department:
via e-mail: support@cyberghost.ro
via on-line request: https://support.cyberghostvpn.com/hc/en-us/requests/new
via 24/7 Live! Chat Sessions on our website