Smart Rules is a specific CyberGhost feature to help you automatically customize CyberGhost to work with your preferences or to trigger different apps or have CyberGhost connect to a preferred server based on your needs.
Jump to...
To define specific rules, when and where they apply, open the 'Extended view' of CyberGhost, and choose 'Smart rules' :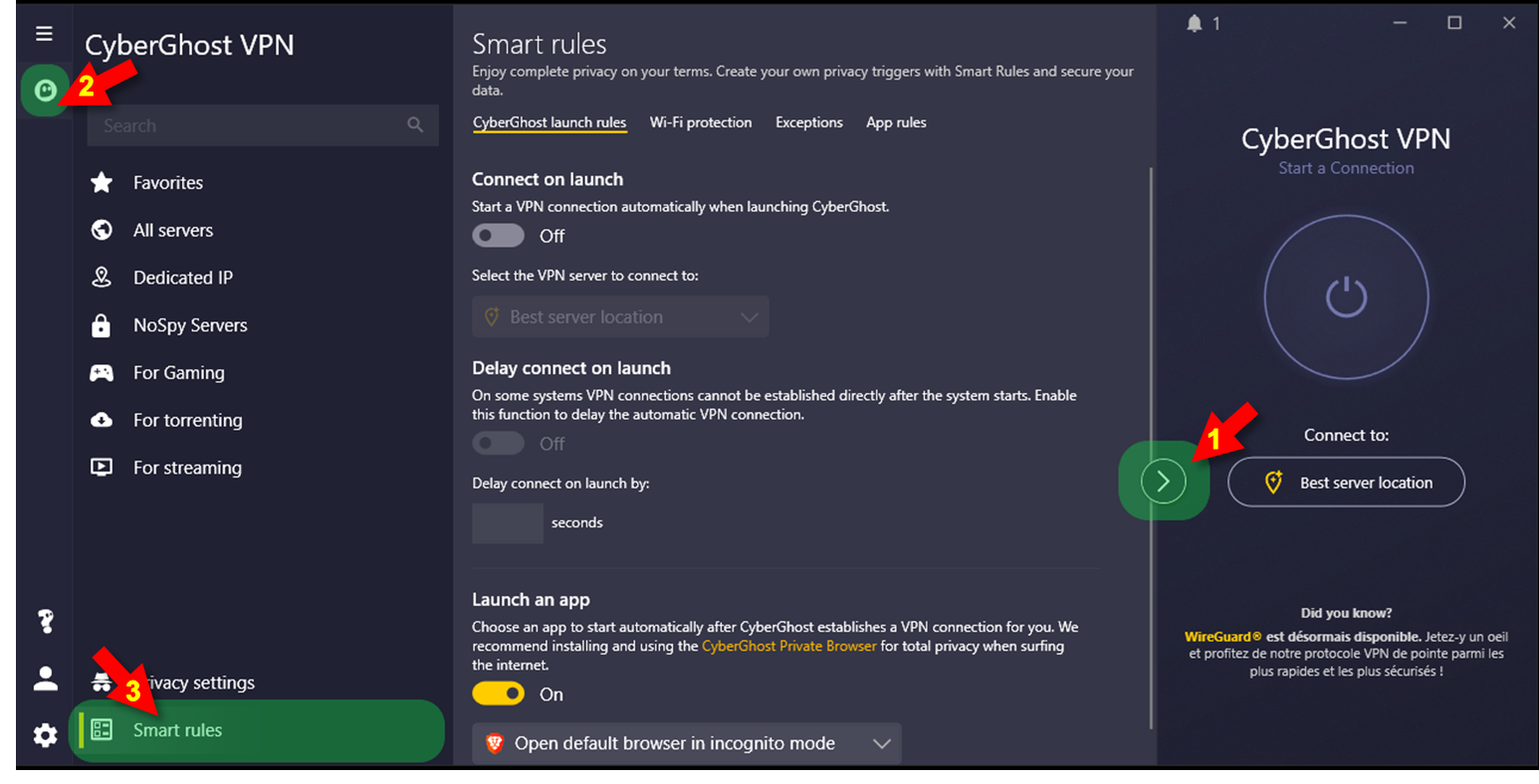 CyberGhost launch rules
Connect on launch
Once 'Connect on launch' is enabled, CyberGhost will also initialize a VPN connection for you.
*Depending on your needs or preferences, it is possible to choose a country, a specific server within a country, or the desired streaming program. The defaulted choice is "Best server location" which will leave CyberGhost to choose a server for you.
NOTE : If you wish to have CyberGhost connect you to the same server every time, your desired server needs to be added as a 'Favorite' and then choosing that respective server when configuring the 'Connect on launch' feature.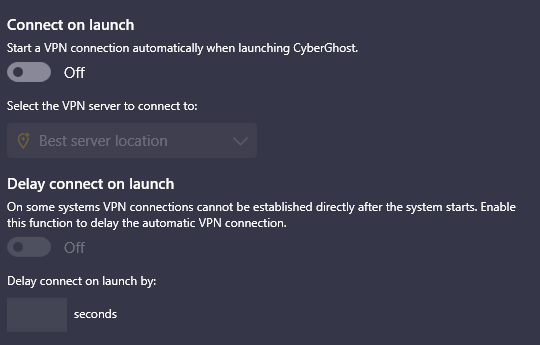 Launch an app
You can choose a '.exe' for the Application / Program that you wish to start after the VPN connection establishes and in case you will choose a ".exe" for a torrenting program, make sure to specify a server from the 'For Torrenting' area when configuring the feature 'Connect on launch'.
The displayed screenshot below exemplifies the Brave browser ( as it is the defaulted browser and may vary from one set-up to another ).

Wi-Fi Protection
CyberGhost will offer you the choice to adjust how the app will behave when given specific or various Wi-Fi networks.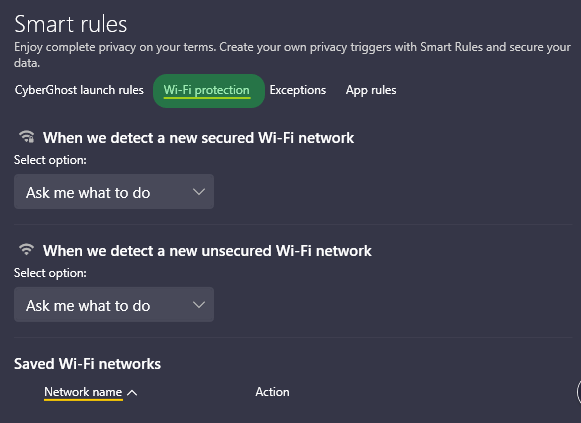 1. CyberGhost will detect when your laptop is in the range of a New Wi-Fi which is encrypted or not encrypted.
Specific behavior can be configured :
Never launch a VPN connection - CyberGhost will not take any action (will not trigger a VPN connection)
Ask me what to do - Will display a pop-up message, where your choice or action is needed
Always launch a VPN connection - CyberGhost will trigger a VPN connection for you
Disconnect the VPN - This will cause a termination of an existing VPN connection
Exceptions
Exceptions will come in handy when a specific website or an address cannot pass through a VPN and with the help of it you can exclude the respective page or address from being covered by the VPN.
*One usual case would be with incoming and outgoing e-mail protocols(such as IMAPP or POP3)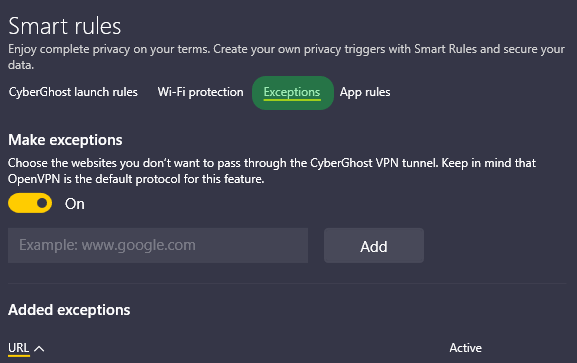 App rules
It will come in handy when CyberGhost will trigger a VPN connection for a desired (specific) location based on the programs that you will open. Use this feature when you are trying to either torrent or stream.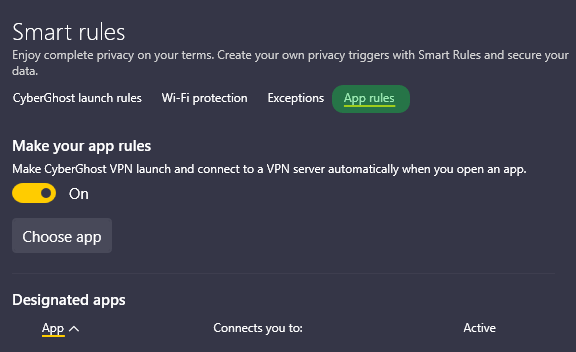 For any additional information or concerns - it is best to approach the Support Department:
via e-mail: support@cyberghost.ro
via on-line request: https://support.cyberghostvpn.com/hc/en-us/requests/new
via 24/7 Live! Chat Sessions on our website