You can open your Account and Settings page via the gear symbol on the lower left part of the main CyberGhost window :
Jump to...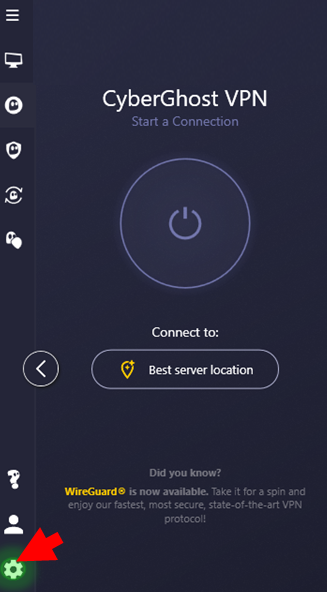 My Account
Here you can quickly access your account details, such as user name, email address, plan, and runtime. You can also logout from the current account and login to a different one, or open your online account management in a browser window.
Username : Shows the current active account name, for trial version users it's the mail address used when registering. You can change your user name at any time in your online account management.
Email : Your email address as entered when registering, resp. your email address as entered in your online account management. This address might come in handy if you ever need to restore your account, e. g. after a loss of credentials.
Number of devices : Amount of active devices. Depending on your subscription you can use your plan with different numbers of devices at the same time. To remove or add a device, please visit your online account management.
Take the lead : Loads the online account management page into your default browser. Account management might be necessary to e. g. activate or deactivate a device slot.
Log-out this device : Here you log out from the current active account. The app switches to the start page, where you can log-in again.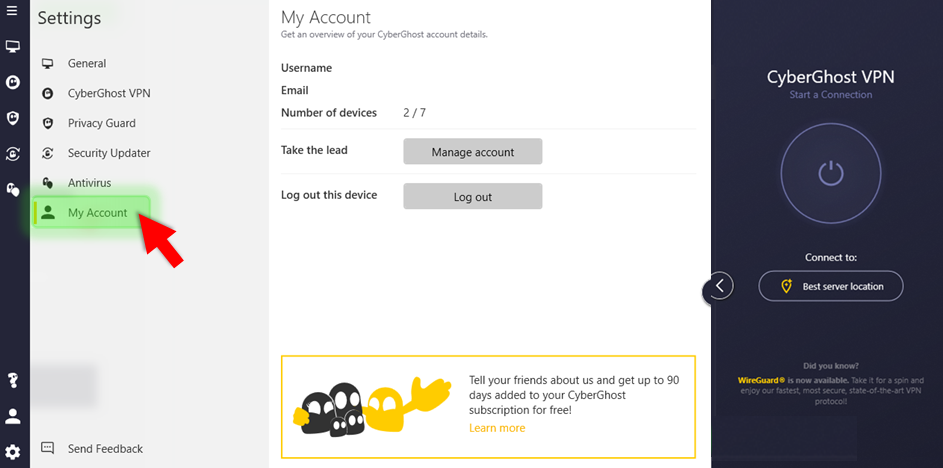 General Settings
In the 'General' settings page you find the following options :
App launch : Enabling it will cause Windows to automatically start CyberGhost once the operating system has booted.
Language : Specify here the app language (application needs to be restarted in order to apply the changes).
Theme : Here you can choose between System Default, Light, or a Dark theme.
App Shutdown : You can choose to automatically quit the app when you disconnect the VPN
Background service : You can tell the app to terminate the CyberGhost VPN background service when the application is closed (when quitting the app)
Version : Displays your current version of the application. If applicable, notifies you if a new version is available for download. You can also check manually for new updates.
Submit anonymous usage data : Will send Non-personal data that helps us improve our app.
Reset your Settings : Resets all settings to default values.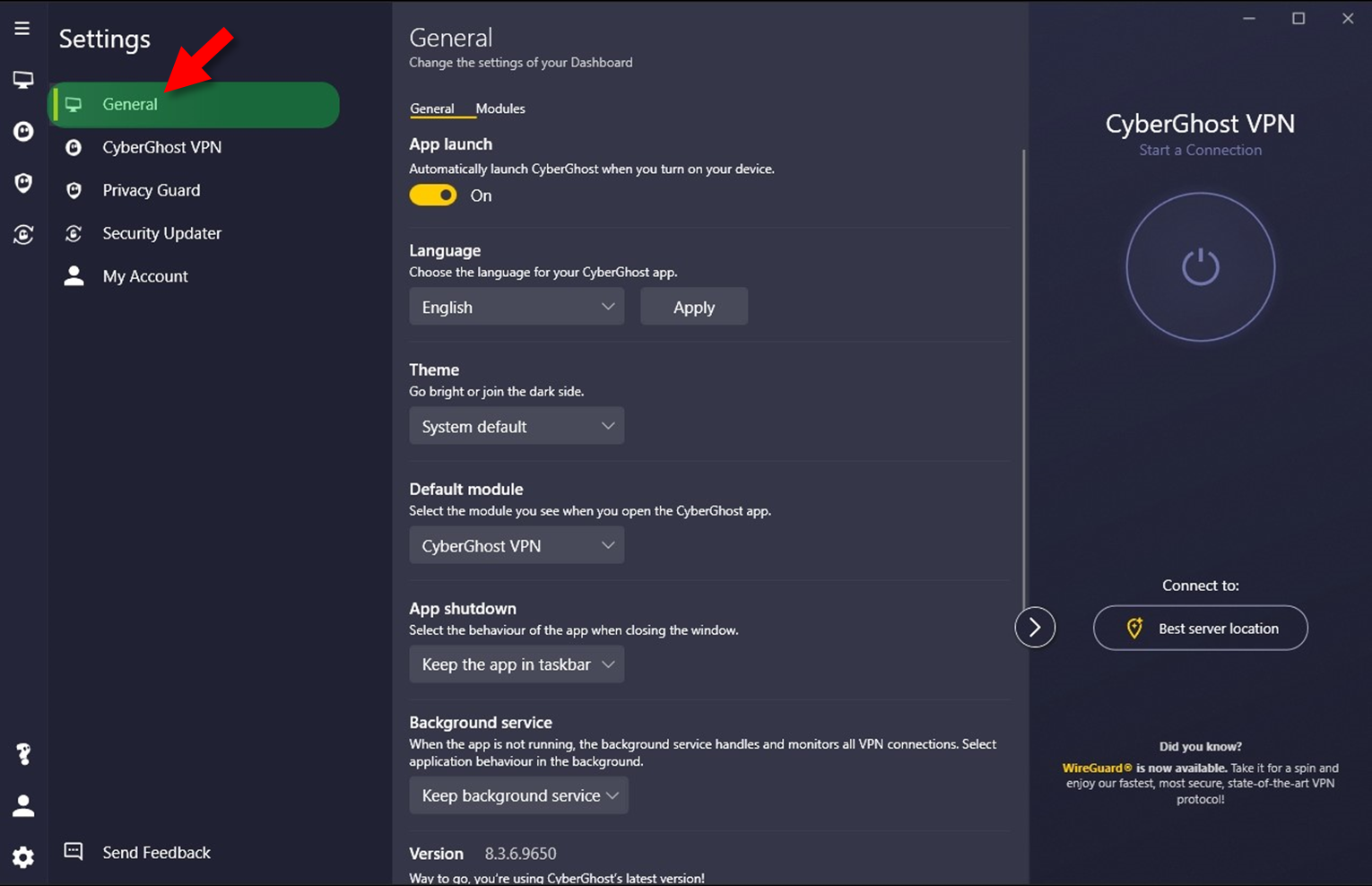 CyberGhost VPN Settings
VPN protocol : Select the VPN protocol to be used. By default, it is set to 'Automatic selection'.
For more information on our supported protocols, click here.
MTU (Maximum Transmission Unit) size: The size of the largest protocol data unit that can be communicated in a single network layer transaction. By adjusting the size, it can increase the connection performance.
Use TCP instead of UDP (available for OpenVPN only) : By default, CyberGhost uses for its connections UDP, which allows higher speed due to its less restrictive data checking procedures. The downside: Downloads can be suddenly interrupted or corrupted and packages can get lost, e.g. when playing online games. TCP stands for more stable connections, but lower speed due to more precise data checking. Please activate this option, if your Internet connection suffers from unstable traffic or if a provider blocks or slows down UDP connections. Note: This option is only effective if using the OpenVPN protocol, which allows both different connection variations.
Use random port to connect (available for OpenVPN only) : This option allows CyberGhost to establish its connections through a randomly chosen port (which will be changed with each new connection), instead of a fixed port that makes it easy for providers to slow down or block CyberGhost connections. The used port range can be changed anytime if needed. All ports are secured internally by Firewall rules. Note: This option is only effective if using the OpenVPN protocol.
Disable IPv6 connections when NOT connected to the VPN : To avoid data leaks provoked by IPv6 traffic running outside the safe VPN tunnel, when using a WebRTC leak vulnerable browser, activate this option. It blocks all IPv6 traffic on the network card and allows only IPv4 traffic.
Repair virtual network card : If you experience driver problems (e.g. after installing a different VPN) use this function to repair the original drivers installed by CyberGhost.




For any additional information or concerns - it is best to approach the Support Department:
via e-mail: support@cyberghost.ro
via on-line request: https://support.cyberghostvpn.com/hc/en-us/requests/new
via 24/7 Live! Chat Sessions on our website