Using "Favorites" is roughly equivalent to using shortcuts, which they literally are since any favorite will establish its inherent link with a simple mouse click.
To use favorites you first need to define them, as presented below.
How to add a server as favorite
1. Open the CyberGhost VPN app and extend the menu
2. You can add as favorites servers from all categories; however, for this example we will add a specific city from one of the available countries from the All Servers category
3. Expand the city locations from that specific country by hitting the arrow pointing to the right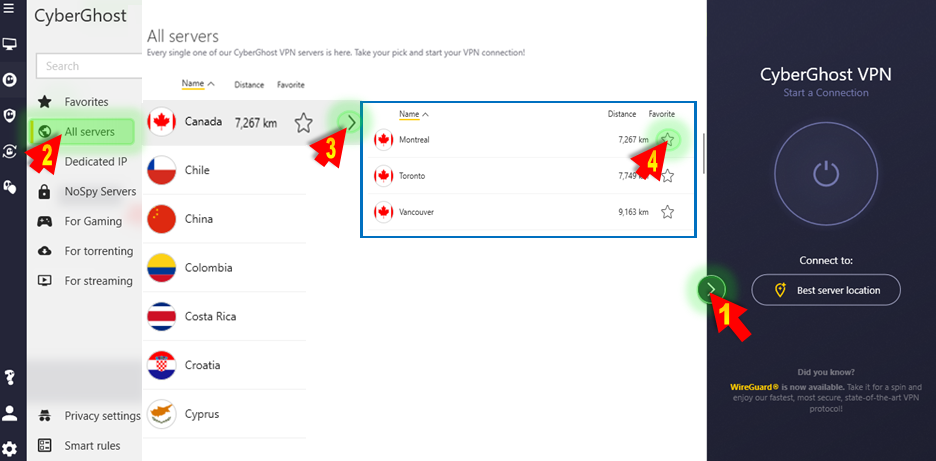 4. Mark the star shaped symbol to add it as favorites and the Favorites category will be populated with that specific city location.
You can also mark your preferred location after connecting to CyberGhost VPN by clicking on the star-shaped icon as shown below.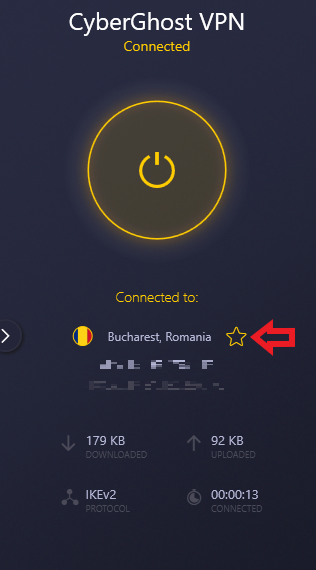 F.A.Q.
Q: How do I remove a Favorite?
A: To remove a favorite simply click again on the yellow star, either in any country or city list or directly in your favorite list.
For any additional information or concerns - it is best to approach the Support Department:
via e-mail: support@cyberghost.ro
via on-line request: https://support.cyberghostvpn.com/hc/en-us/requests/new
via 24/7 Live! Chat Sessions on our website