Protecting your Windows devices with CyberGhost Antivirus is as easy as it gets. Intego, the world-class antivirus solution, is now our trusted ally in the fight to protect your data. Because you deserve full access to the features, robust protection, and complete peace of mind, Intego Antivirus is also installed as a separate app on your device, supporting your CyberGhost Security Suite for Windows
System requirements for CyberGhost Antivirus powered by Intego:
Operating system:
Windows 7 or higher
Hardware:
500 MB free drive space
2 GB RAM
Internet Connection - Required.
High-speed connection is highly recommended
Jump to...
How to Install
1. Start the CyberGhost VPN client by clicking on its desktop icon or from the start menu entry. Log in with your CyberGhost credentials.
2. The app will open in compact mode, select the antivirus logo, from the left side.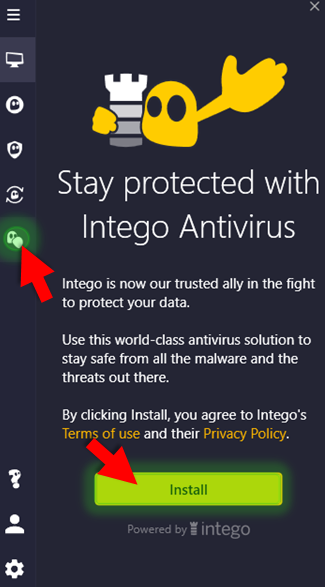 3. A welcome screen with a short description will be displayed.
Click the 'Install' button to launch the installation process.
4. Wait until the process is complete. If prompted, please select 'YES' to allow the app to make changes to your device.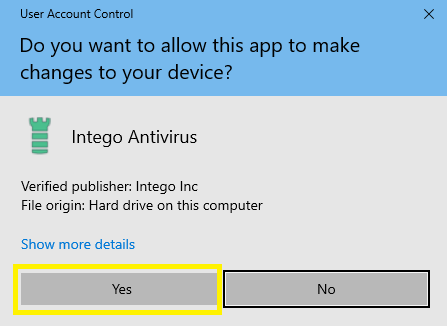 How to run your first scan
Once installation is complete, CyberGhost Antivirus automatically updates virus definitions. If you suspect you have a potential threat, you can manually perform the following actions :
Quick Scan: to analyze the areas of your computer that are most vulnerable to threats.
Full Scan: to analyze your entire system, along with applications, files, and running processes that are less vulnerable than those checked in a quick scan.
Custom scan: you can drag & drop to analyze particular files, folders or disks if you think they are at risk.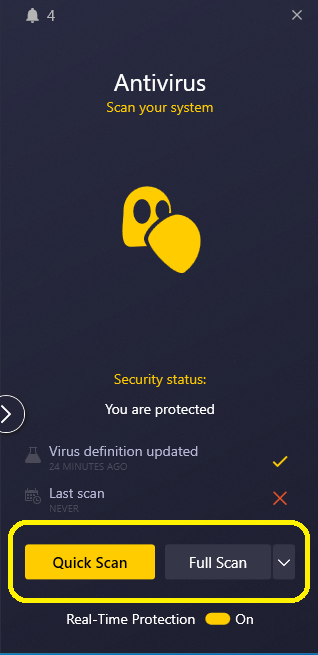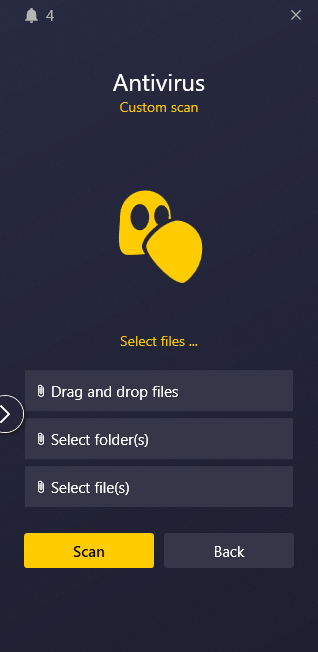 How to handle Security risks
When CyberGhost Antivirus identifies a security risk, it automatically blocks it and places it in quarantine to protect you.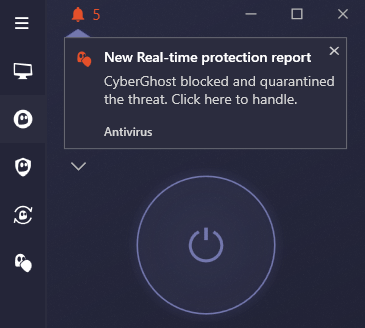 CyberGhost displays a Threats Found alert with suggestions on how to address the security risk :
In the CyberGhost main window, click on , and then click .



Select a threat from the list and choose what action to take:
Keep in quarantine: will continue to isolate the suspected virus-infected file to prevent it from infecting parts of your computer.
Delete file: permanently deletes the threat from your PC.
Restore file: if you think that the file does not pose any security risk, you can restore the file from quarantine to its original location.
Real-Time Protection
The Real-Time Protection constantly watches over your PC, protecting you from viruses and malware at all times. You can see the status of Real-Time Protection in the main screen window. It ensures that your PC is protected by scanning every file that is created, copied, modified or saved. It does not, however, scan other files. This is why we suggest you run a Complete Virus Scan of all of your files when you first install CyberGhost Antivirus.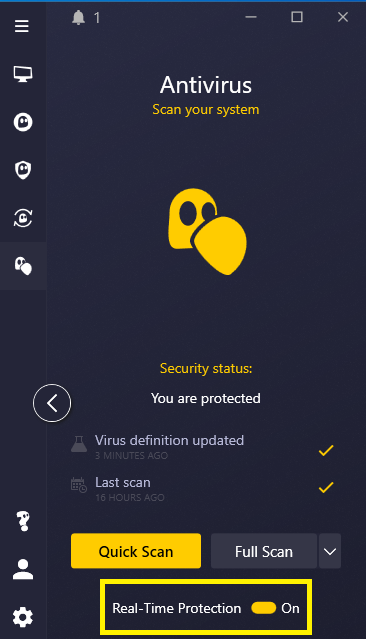 For any additional information or concerns - it is best to approach the Support Department:
via e-mail: support@cyberghost.ro
via on-line request: https://support.cyberghostvpn.com/hc/en-us/requests/new
via 24/7 Live! Chat Sessions on our website