There are a couple of extra features coming with CyberGhost VPN for macOS, all meant to enhance your security, respective your browsing, Internet and CyberGhost experience.
All features are server-based, meaning running directly on a CyberGhost server, thus saving bandwidth and Mac processing time.
Privacy Settings
Block content:
This feature improves your Internet experience by filtering annoying ads which also results for web-pages to load faster. This also improves the Internet security by blocking potential dangerous websites and prevents monitoring your surfing behaviors.
Open CyberGhost
Extend the menu
Select the Privacy settings section
Turn ON the Block content button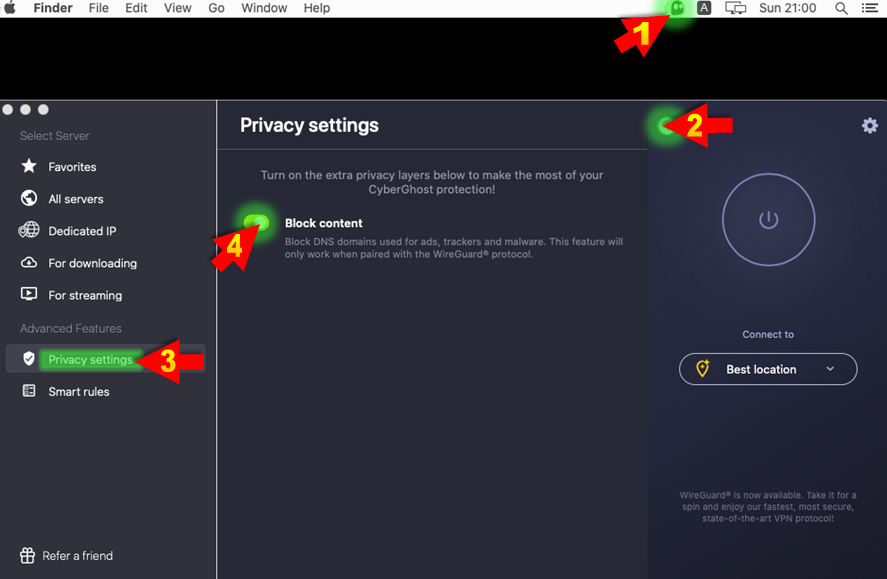 NOTE: This feature will only be paired when using Wireguard protocol, to view the steps on how to select this protocol, click here.
Smart rules
WIFI rules
If you use your device on multiple locations or have multiple WIFI networks in your home, you can set a rule for each one so that the CyberGhost app can remember this option when you come in range to that WIFI signal.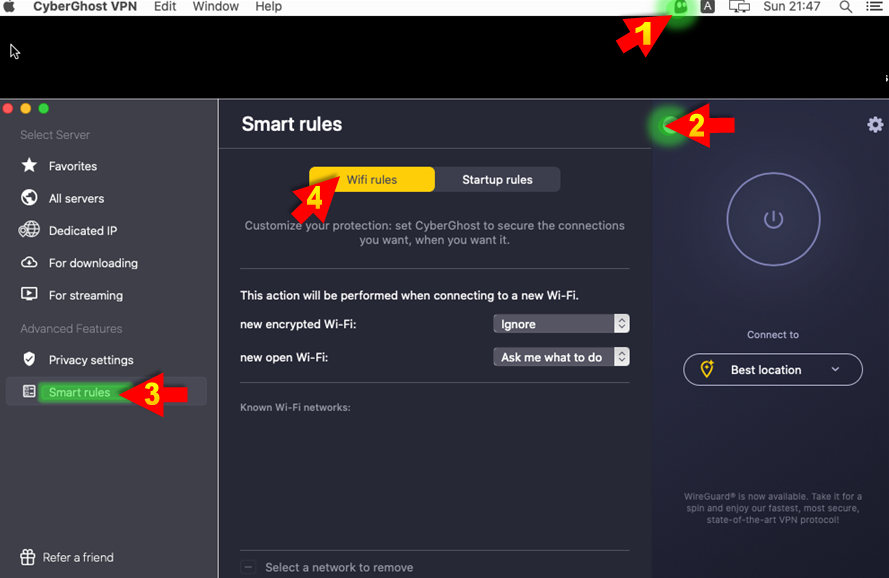 The 4 rules that you can set for a WIFI network are:
Ask me what to do - This will prompt you with a pop-up when a WIFI signal is detected by the app and will ask you if you wish to secure it with a VPN connection.
Ignore - This will simply perform no action on a detected WIFI signal, leaving you only the option to select manually a server connection, if you ever wish to secure it.
Always connect - Will secure the WIFI to the best available server without receiving any pop-up notification.
Disconnect VPN - This option would be set for a WIFI network that you would never wish to have the VPN connection ever established, it will basically prevent the connection.
Startup rules:
Similar to an auto-pilot, you can set CyberGhost to connect automatically either every time you start the system or when opening a specific application, for example your browser app or a download client.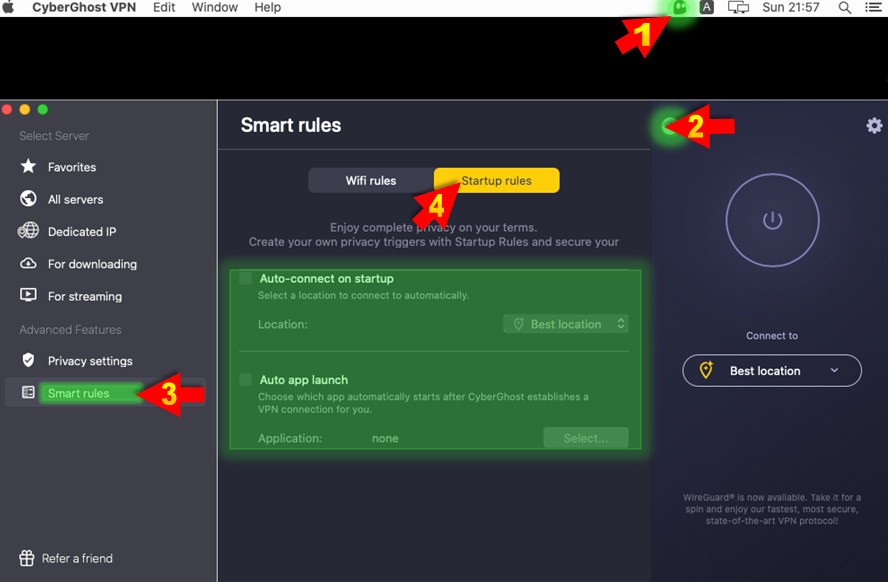 For any additional information or concerns - it is best to approach the Support Department:
via e-mail: support@cyberghost.ro
via on-line request: https://support.cyberghostvpn.com/hc/en-us/requests/new
via 24/7 Live! Chat Sessions on our website