Through to the Account Dashboard - Smart DNS needs to be enabled.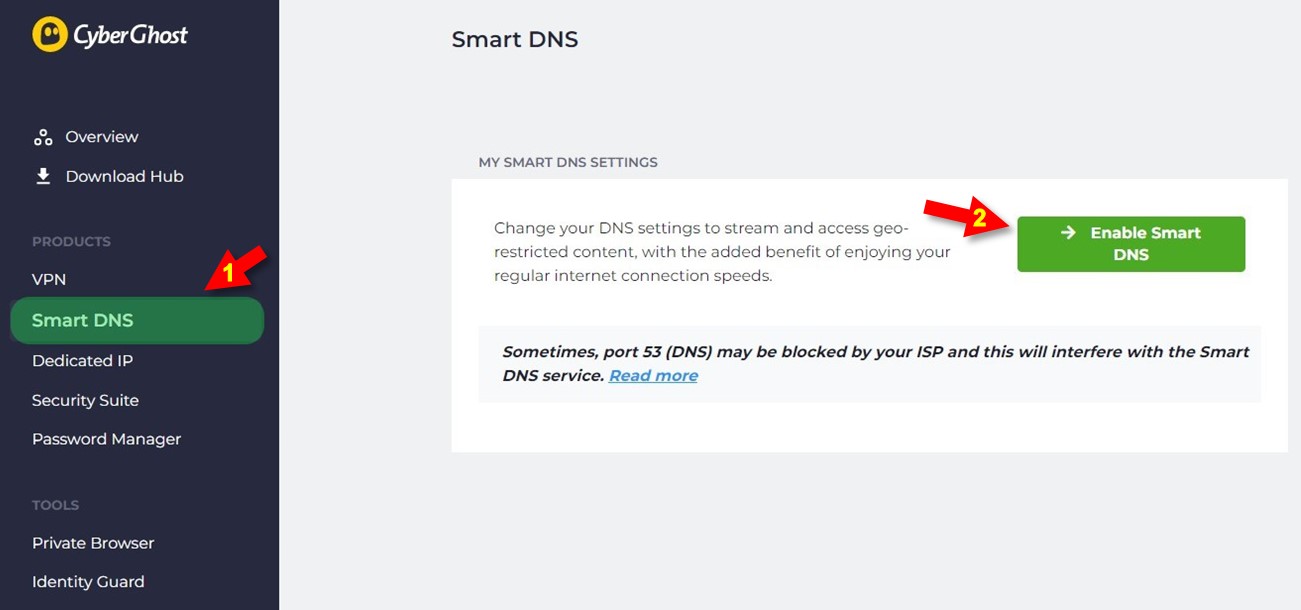 It is advised to save your original DNS settings before making any other changes.
You may need them in case you will want to switch back to your original settings
or different settings based on your needs. Changing the DNS is done one-time.
Completing the only requirement as described above, now head over to your AppleTV 3. The below steps are presented for you which will help you apply the CyberGhost SmartDNS via AppleTV 3:
Step 1 of 6: From the home screen of your AppleTV 3 – choose Settings
Step 2 of 6: Choose General
Step 3 of 6: Choose Network
Step 4 of 6: Select the Wi-Fi that is being used by the Apple TV 3 to connect to the Internet
Step 5 of 6: Scroll down to Configure DNS and select Manual
Step 6 of 6: Input the CyberGhost Smart DNS within the Configure DNS screen and confirm with Done
- Settings completed -
Additional settings:
a. Head back to the Settings menu of your Apple TV 3 and choose iTunes store
b. Choose Location
c. Scroll to and choose United States(or the country for which the SmartDNS is for)
d. Head back to the main menu for Settings and choose Sleep now.
e. After your Apple TV 3 is in Sleep Mode - disconnect the Apple TV 3 from the power supply. Allow 15 seconds to pass and reconnect the Apple TV 3 to the power supply.
Your Apple TV 3 can now be started back up.
-------
For any additional information or concerns - it is best to approach the Support Department:
via e-mail: support@cyberghost.ro
via on-line request: https://support.cyberghostvpn.com/hc/en-us/requests/new
via 24/7 Live! Chat Sessions on our website