Start the CyberGhost VPN client by clicking on its desktop icon or from the start menu entry.
The app will open in compact mode with the Notifications center as main screen.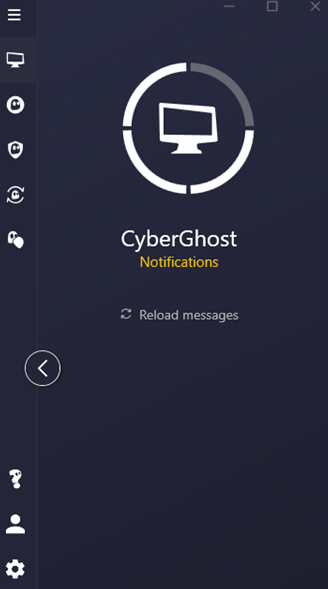 At this point you'll need to activate Privacy Guard and Security Updater in order to get an initial status your device's privacy and security.
You can start your journey from different areas around the app:
the navigation side-menu on the left side
the main Activate buttons for each app
the right-sided CyberHealth segments which reflect each status of the apps.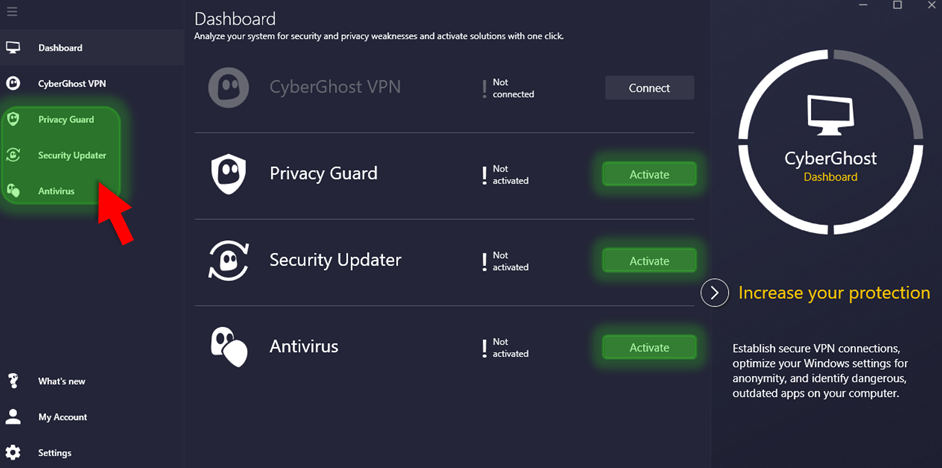 Each of the apps will display an initial welcome screen with a short description.
You'll be given the possibility to either Start now by activating the app and going through the setup, or to Learn more about the product on the CyberGhost VPN page.
CyberGhost VPN
We've been actively listening to your constant feedback and kept the same easy one-click solution approach while doing a lot of improvements under the hood, like:
New WireGuard protocol

More than 8000 VPN servers

at your disposition

Faster connection time on all the available protocols

Improved overall stability of VPN connections
With just a few clicks, you can fully customize your VPN experience according to your own needs from the Privacy settings or Smart Rules tabs.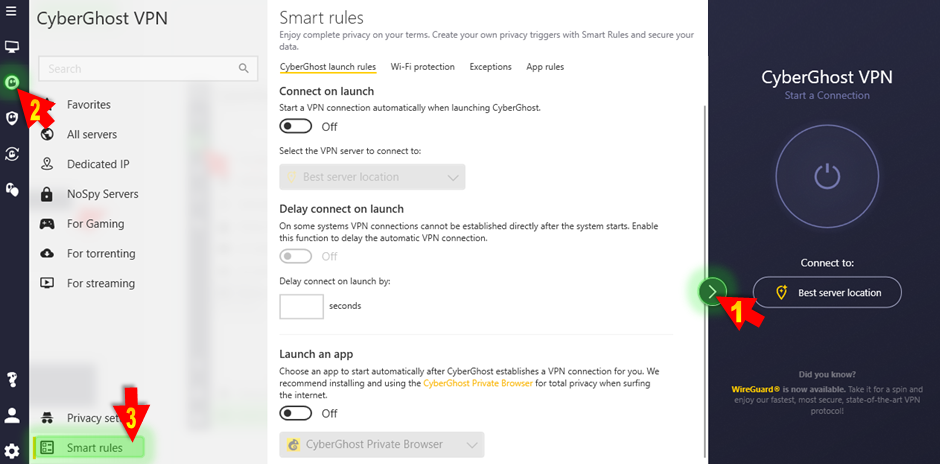 CyberGhost Privacy Guard
We created this tool because we believe you should be the one deciding how much of your data you share with Microsoft.
You will be able to disable the intrusive functionalities of your operating system and safeguard your privacy by choosing an initial privacy level :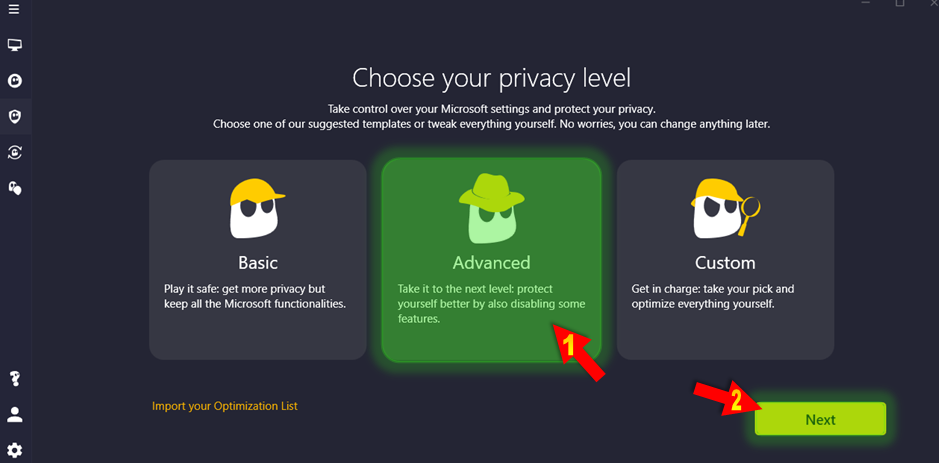 No worries though. You can change it at any point in time, go full custom mode and tweak each little setting or even revert to system default :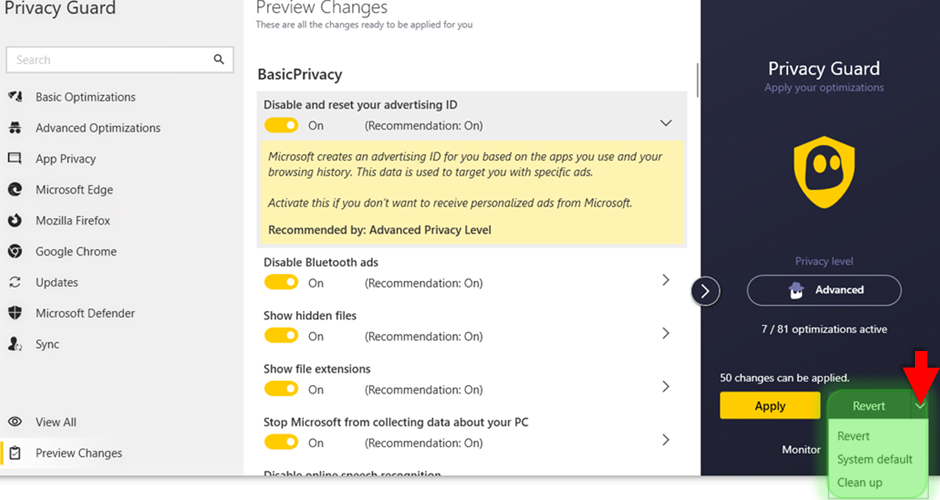 CyberGhost Security Updater
There are enough security threats to worry about online and people are rarely aware that using apps that are not up to date poses a significant security risk. The longer the apps remain outdated, the worse the situation can get for you and your device's security.
With the Security Updater at your side you can:
S

can

your device and

get

a

n

overview

o

f

your existing software

S

ee

a list of

all the outdated apps

Spot

t

he apps that need updating based on security vulnerabilities

Uninstall any potential threat from the impacted apps list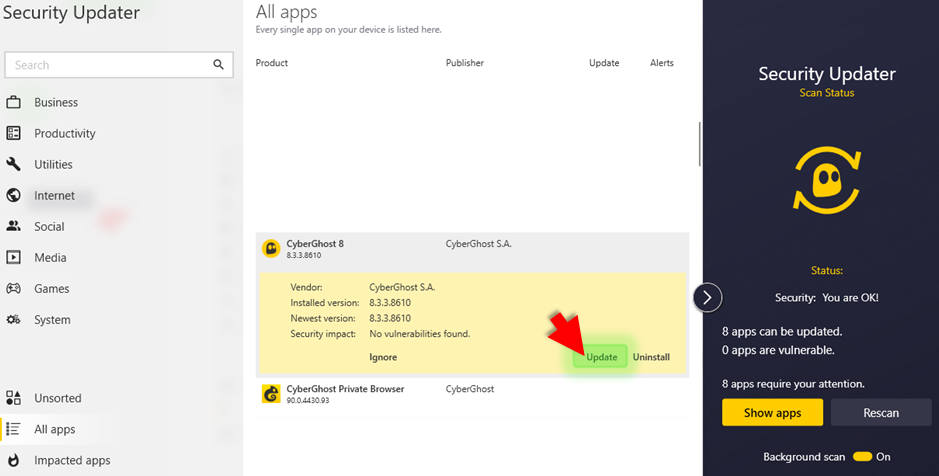 My Dashboard
It's time for you to get in charge of your operating system's security and reclaim your privacy.
Look at it as your personal command center from where you make the rules and achieve digital freedom.
CyberGhost VPN comes to your aid by providing individual statuses for each app and notifies you when any changes are made.

Let's reclaim your privacy!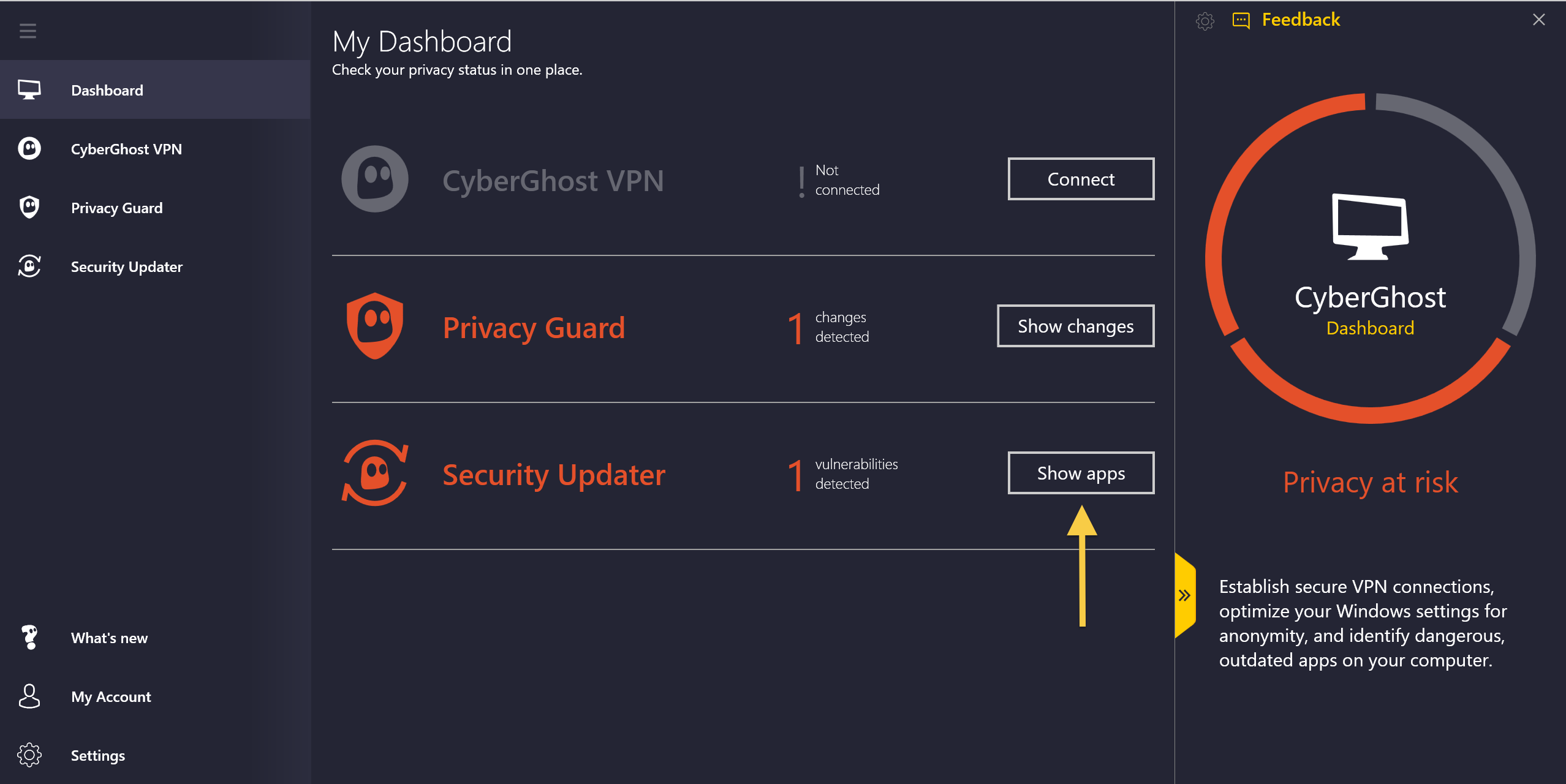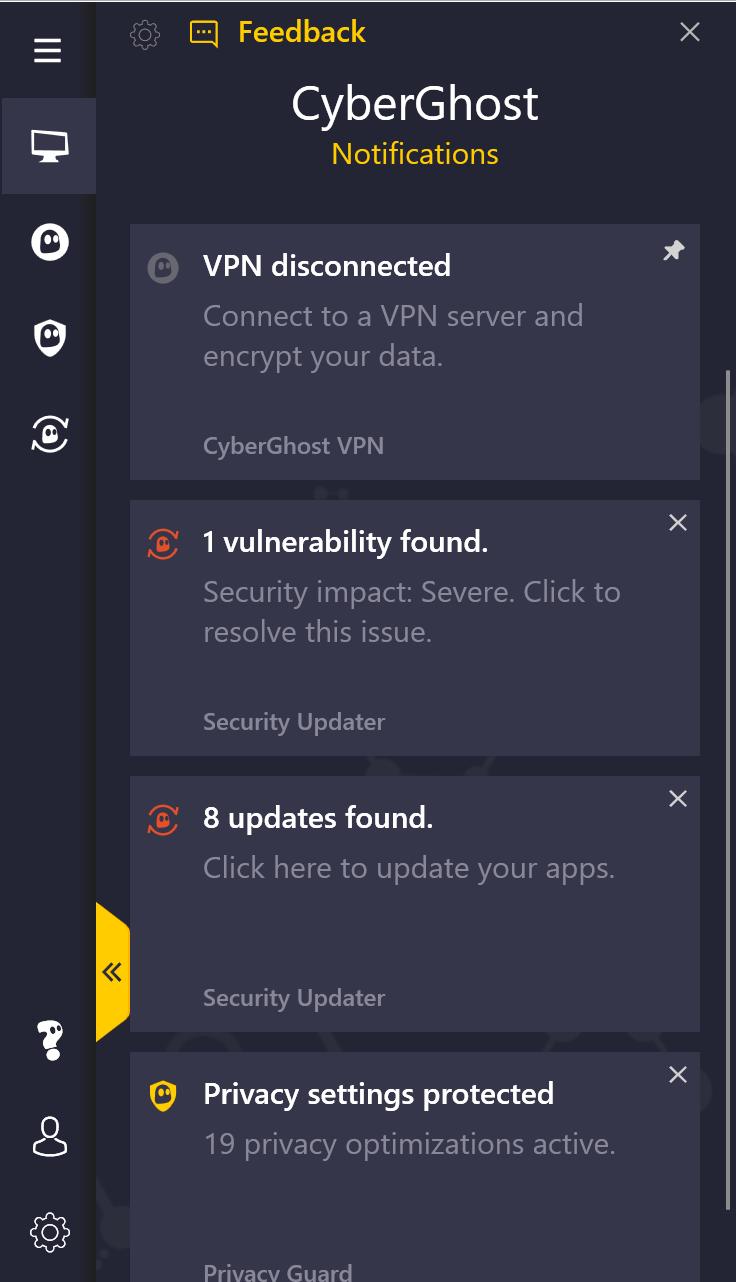 You can always find out more about our new Privacy Suite by checking the What's new button in the left navigation menu.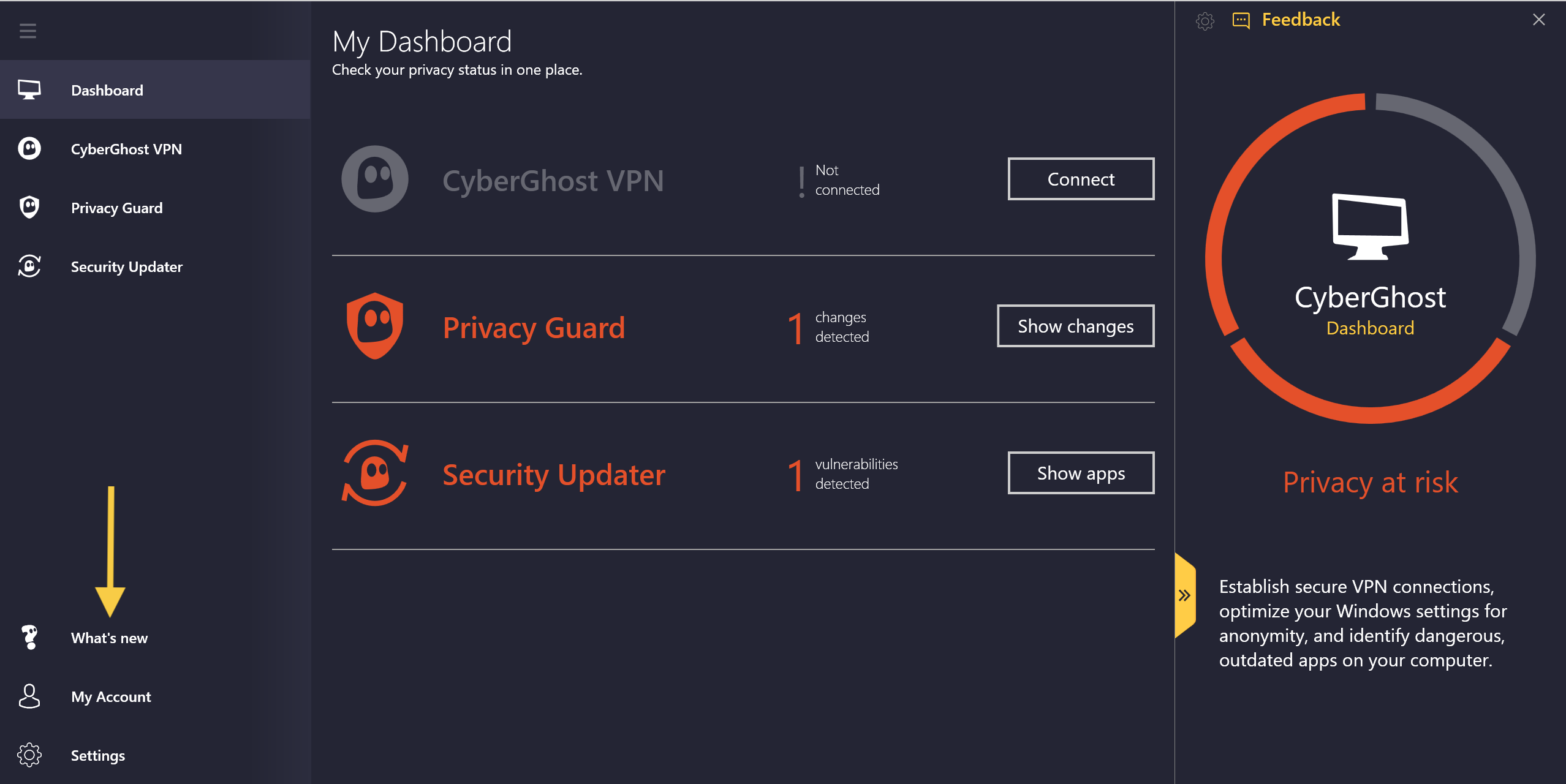 For any additional information or concerns - it is best to approach the Support Department:
via e-mail: support@cyberghost.ro
via on-line request: https://support.cyberghostvpn.com/hc/en-us/requests/new
via 24/7 Live! Chat Sessions on our website