Jump to...
Get your 1-day free trial (no credit card required)
I am new to CyberGhost VPN
If you don't have a subscription yet, you can get it from here. Upon receiving your account details by email, simply click on "Return to Login" and enter your CyberGhost username and password to log in.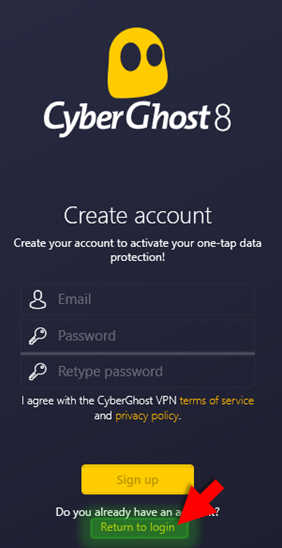 The username you are trying to log in with is incorrect.
Make sure you use the same username that you received by email after you completed the sign-up process. Should you need any further assistance concerning, get in touch with us by simply using the Live Chat feature on our Support Page.
The password that you're using is incorrect.
Check again your account details received by email or try resetting your password and login again after that. You can reset it here:
I am an existing subscriber
If you already have an active subscription, click on "Return to login" and log in with your CyberGhost username and password.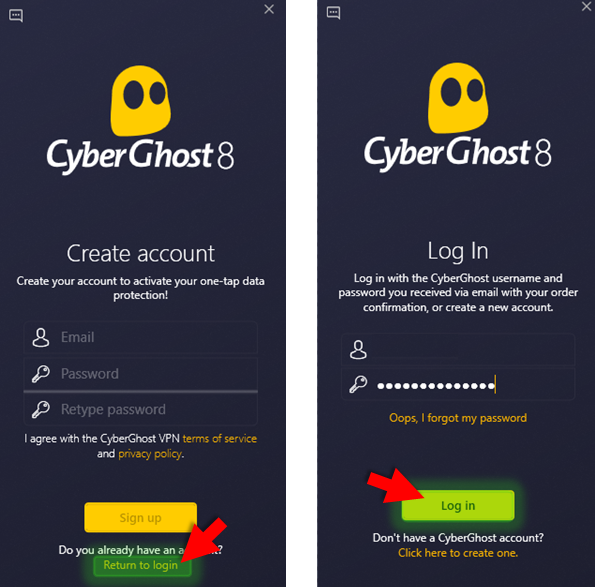 Get your 1-day free trial
(no credit card required)
If you do not have an active subscription and would like to use our 1-day trial offer - enter a valid email address and choose a strong password, then click Sign Up.
NOTE : An example of a strong password is "Cartoon4Coffee!". It is long, contains uppercase letters, lowercase letters, numbers, and special characters. ... Strong passwords should not contain any personal information.
Before the Trial period starts, you must confirm your email address. Please check your inbox and follow the instructions to verify your email.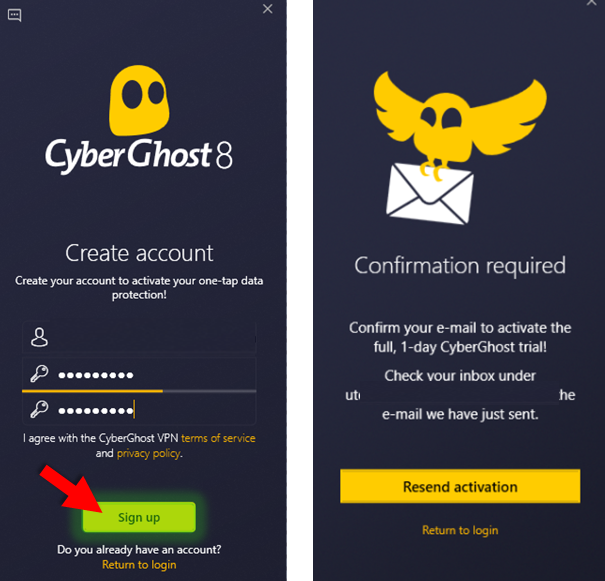 Possible log-in problems :
Lost your password ? Please click on "Ooops, I forgot my password" to open a recovery webpage in your default browser :
Enter the fallback email address entered in your CyberGhost account management.
If you haven't bought your subscription via Cleverbridge, please get in touch with us by simply using the Live Chat feature on our Support Page.
Activated too many devices ? A connection failure may also be due to having already activated the maximum number of devices allowed. Please go to your Account Management and check the current status of the registered devices. Regular subscriptions to CyberGhost are valid for a maximum of seven devices, regardless of the operating system involved, but if all slots are occupied, at least one old device must be removed before you can log in with another device.

You don't have CyberGhost credentials ? If you purchased a CyberGhost subscription for mobile devices through the Google Play Store or the Apple App Store and you did not get any credentials, it is because subscriptions for mobile devices are limited to the platform (iOS or Android) and the account used at the time of purchase (Apple ID or Google account) and cannot be used on Windows, Linux or Mac. For these desktops, you must purchase a regular CyberGhost subscription.
For any additional information or concerns - it is best to approach the Support Department:
via e-mail: support@cyberghost.ro
via on-line request: https://support.cyberghostvpn.com/hc/en-us/requests/new
via 24/7 Live! Chat Sessions on our website