This article presents a short overview of the features available on the CyberGhost account page. This can be managed online and can be accessed through the CyberGhost Account Management page directly from your preferred web browser.
Jump to…
Download Hub
Here you can download and manage every CyberGhost application and service.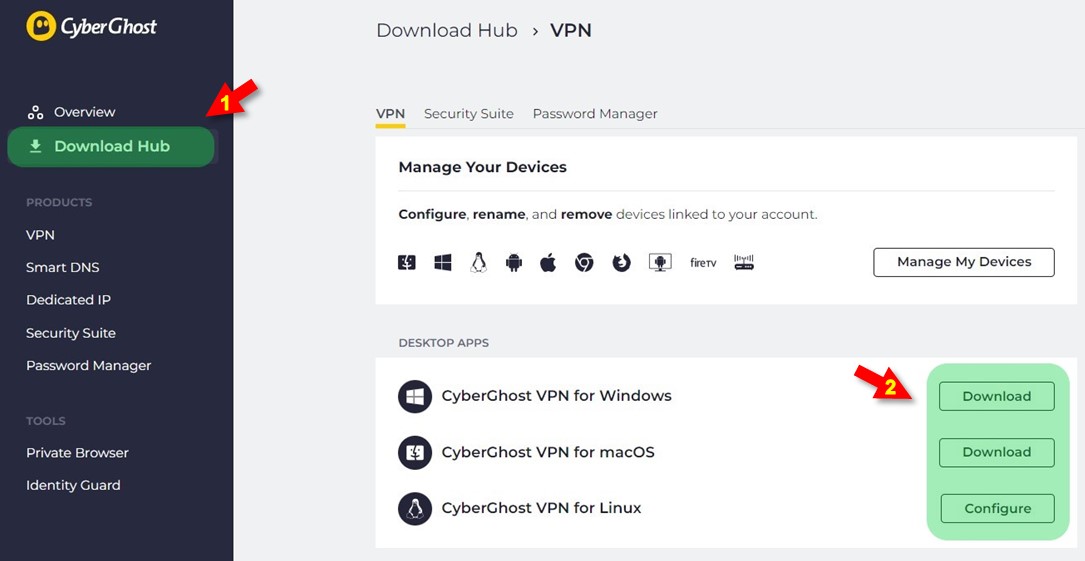 Once a product is installed or configured on a device, it will be visible in the products list. As you can observe in the figure below, selecting a product, such as the VPN, will give you the option to edit a certain configuration or delete it from a device. It will also provide other information such, as the date of installation and the number of devices that can still be linked with your subscription.
VPN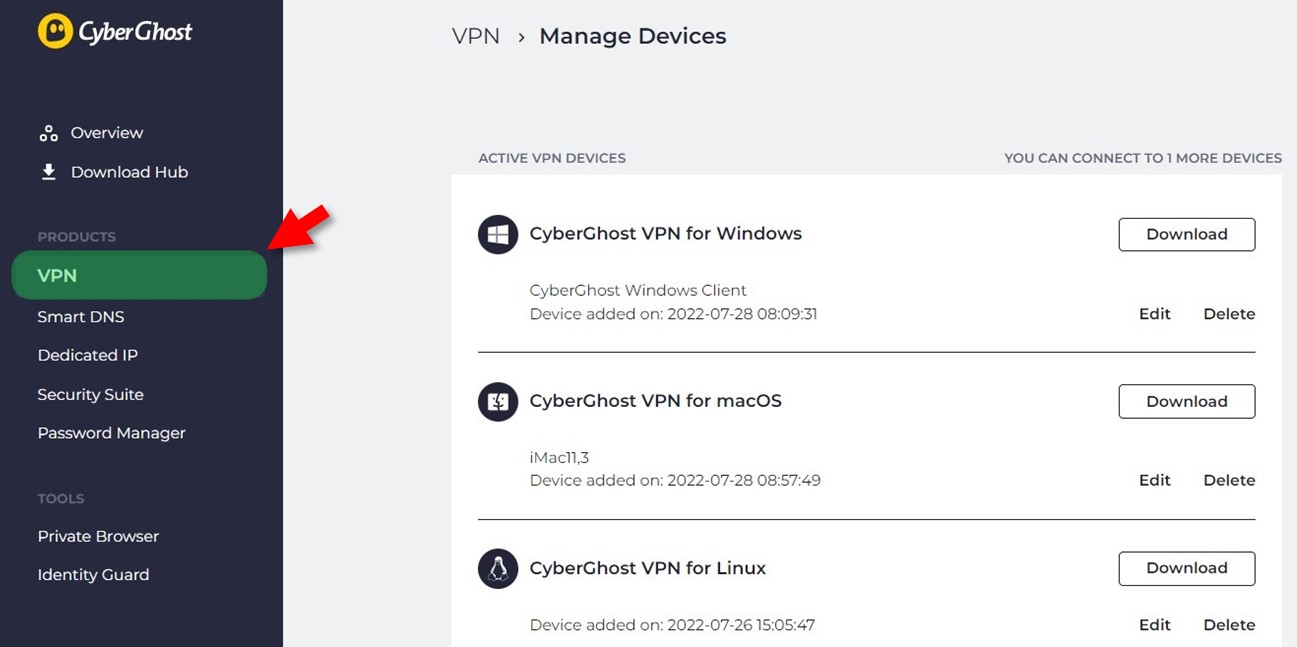 This page lists all registered devices (between 1 and 7 devices, depending on your subscription). A device can either be a Mac, Windows PC, Android Firestick, Android devices or iOS devices used with a CyberGhost client or manual configuration.
Note that the number of possible devices refers to the ones that can be used at the same time and not the number of devices in general. This means that you can use your CyberGhost account on more than the standard 7 devices, just not at the same.
Smart DNS
SmartDNS is a CyberGhost feature that allows you to access geo-restricted Internet content. This feature will help you unblock streaming content like US Netflix, US Hulu, UK Netflix, etc.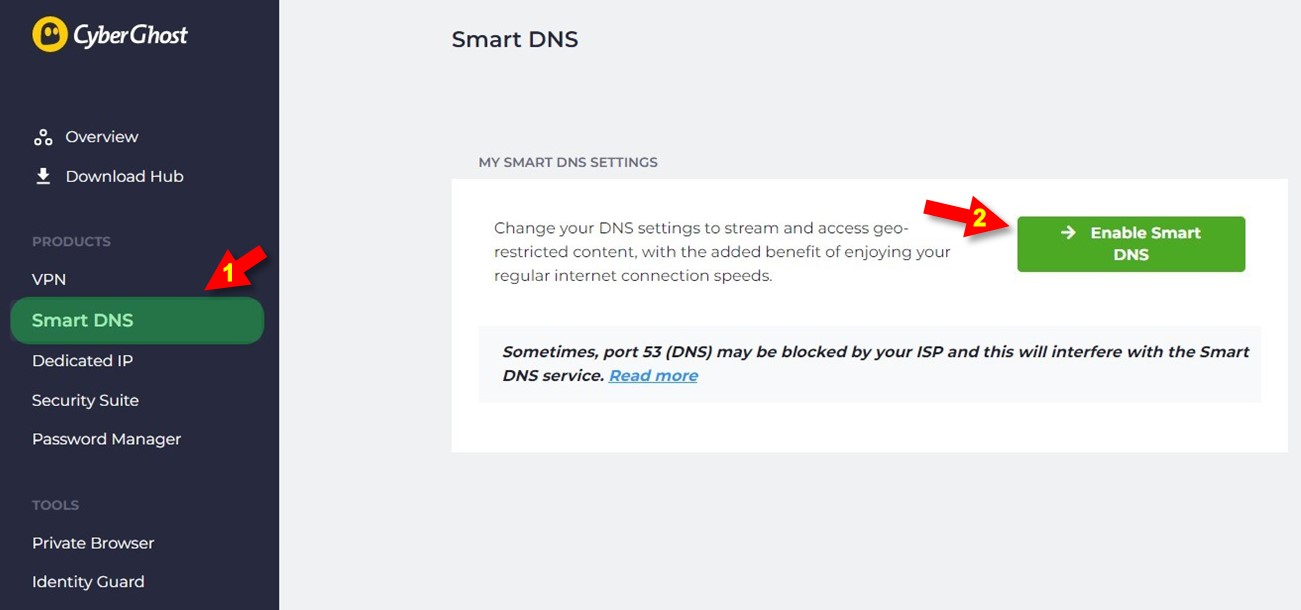 Click here for more information on how to configure it.
Security Suite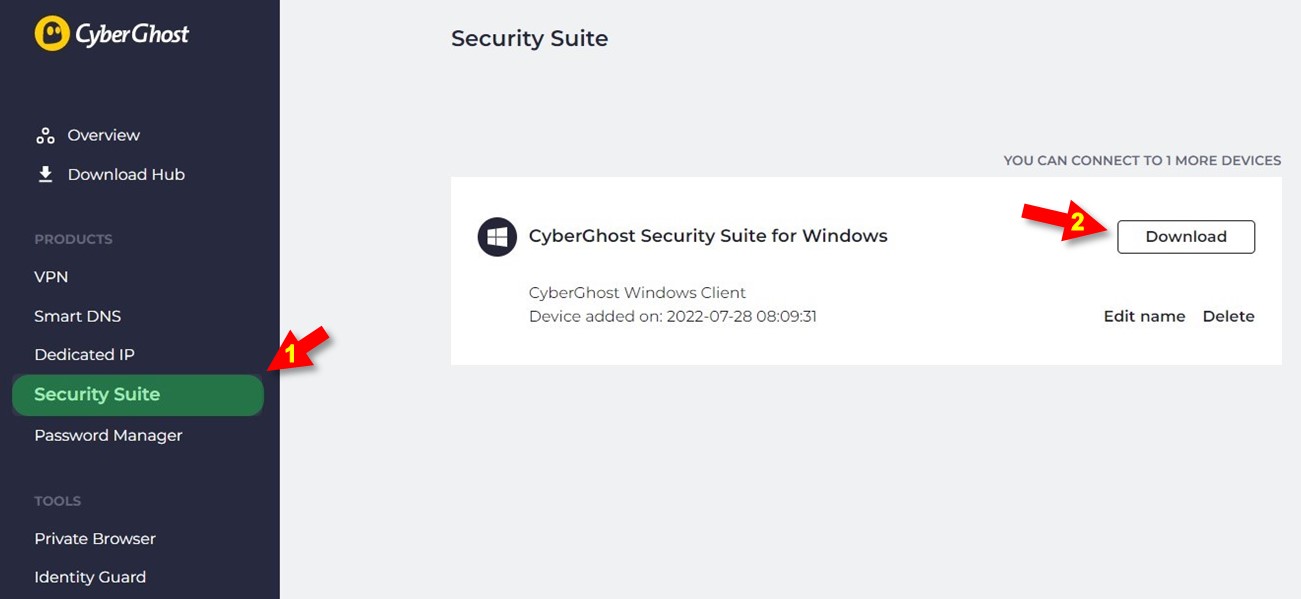 Security Suite refers to the CyberGhost additional security apps:
Privacy Guard, an application meant to help you control the Microsoft privacy settings.
Security Updater, an app meant to detect vulnerable applications or programs from the system that require updates.
Antivirus, an app that offers real time protection against malicious software.
The account section of this feature from Cyberghost has minimal functionality, as the main control for the suite is done through the CyberGhost installed application's dashboard. From the account section, it just presents the list of your devices that the suite is used on and the option to remove it or edit its name.
The Security Suite pack is available to purchase, separately, as an addon to the standard VPN subscription.
Password Manager
The Password Manager is a feature that allows you to save passwords and obtain an easier access to your online platforms and accounts. The extension of this feature is available on Google Chrome, Firefox and Safari browsers.
The web-vault of the Password Manager allows you to also import other passwords, from other managers, if these are compatible with the file format.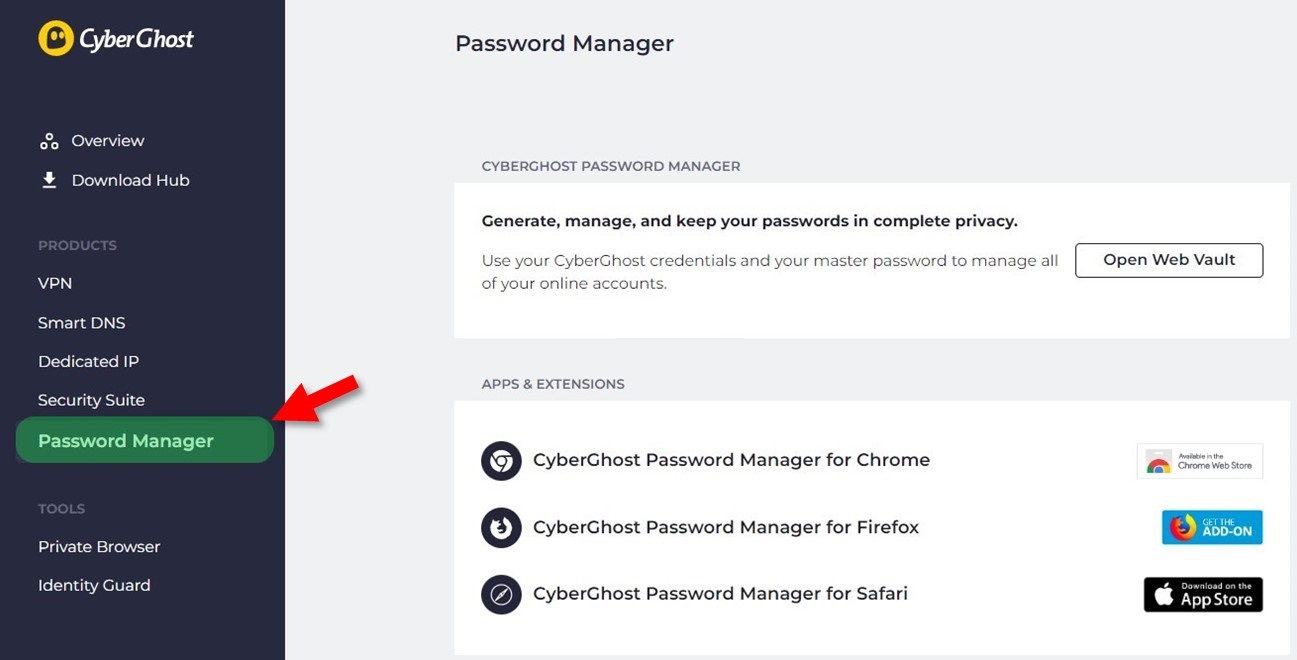 Identity Guard
CyberGhost ID Guard is a feature that will automatically alert you in case your email address is revealed in a data breach. allowing you to change your password quickly.
It also includes a Password Checker which allows you to test a password if it was used before in a data breach. For more information on the Identity guard, click here.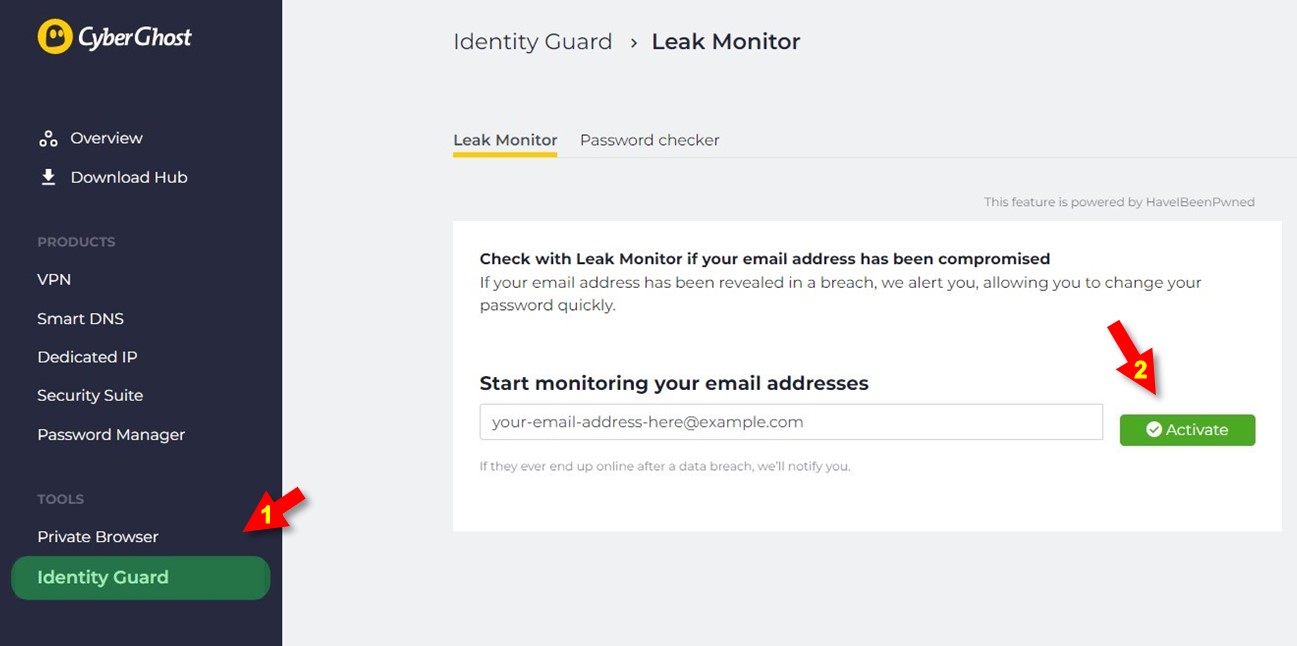 My Account

1. Account settings
Fields where you can edit your : Username, E-mail, and Password and even assign a profile Ghostie to your account.
Use your activation key: This is used to activate purchases that are either made through a third party site or from a box.
Delete my account: This allows you to delete a certain account, however take note that it does not also serve as a subscription cancelation or a refund request. After deleting an account, you can't reactivate an already used activation key nor is our support able to recover deleted activation keys.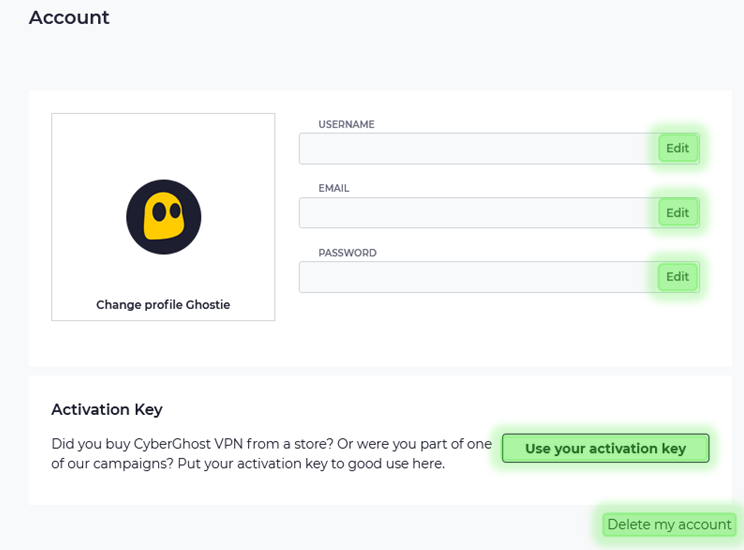 2. Subscriptions
This area is only visible if you have a running subscription connected to this account and presents 3 main categories:
Active Subscriptions: Displays the current subscription type this account is running on and its details, such as: date of purchase, expiration date, to download the invoice of it or cancel the automatic renewal.

Payment Details: Shows the payment method that was used for the CyberGhost subscription, and an option to update it, in case the listed card is either expired or not available anymore.
Subscription History lists the transactions that were made on this account

3. Refer a Friend
If you join and refer CyberGhost to a friend, he or she will know, you're wide awake of what's going on in this world, that you care about him or her and you know your way around.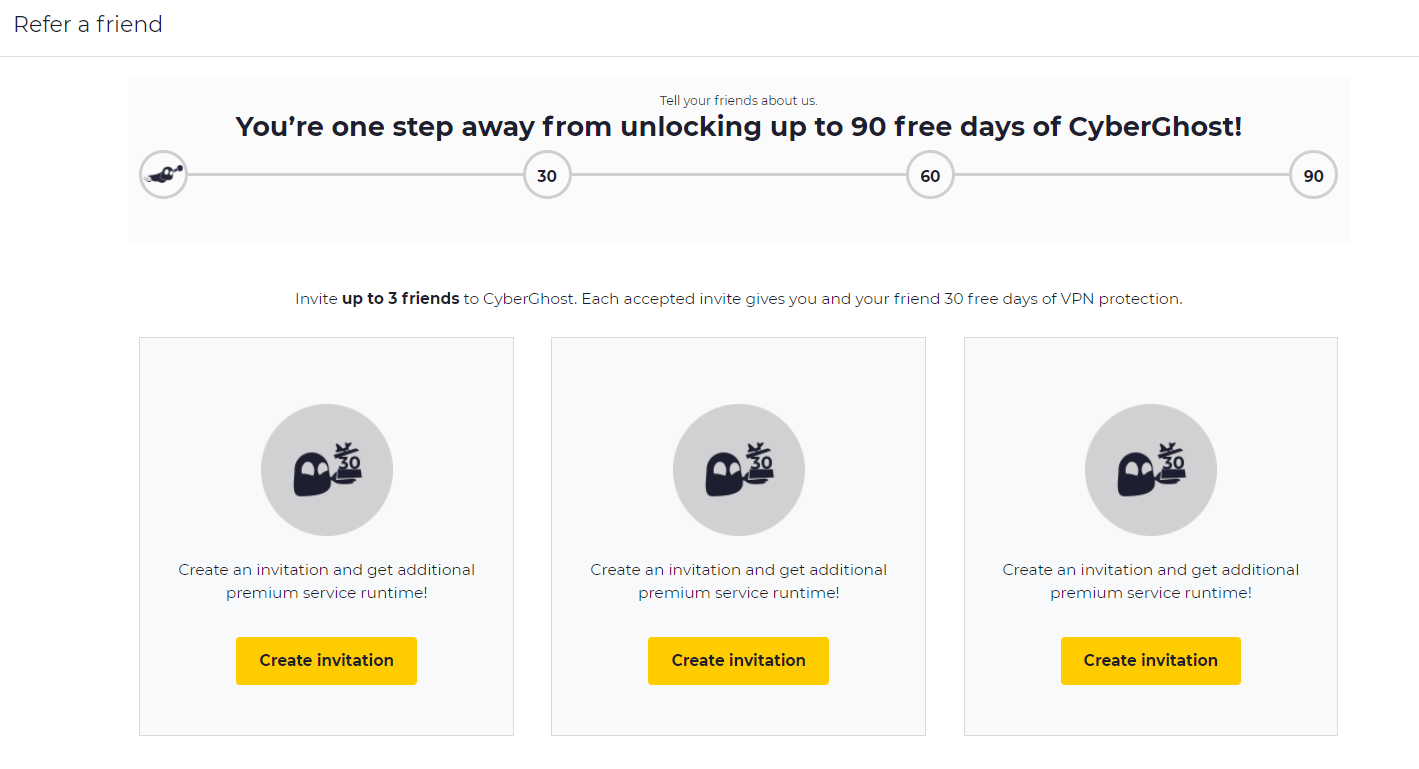 How does it work?
Check it out here.
For any additional information or concerns - it is best to approach the Support Department:
via e-mail: support@cyberghost.ro
via on-line request: https://support.cyberghostvpn.com/hc/en-us/requests/new
via 24/7 Live! Chat Sessions on our website