CyberGhost's paid services automatically renew at the end of each service period, and the payment method chosen is billed again, until you decide to cancel your automatic payments.
Please note, that turning auto-renewal off for a subscription doesn't result in any refunds as it is a separate event that is triggered manually.
If you'd like to cancel your subscription and stop future payments, please proceed as follows :
1. Go to your CyberGhost account.
2. Head to the 'My Subscriptions' section located on the left-side panel.
3. Now click on the button to the right of the page, called 'Cancel Subscription'
4. Security pop-ups will appear to double check if this was an on demand action instead of a possible miss-click. If you are determined to cancel all the subscriptions, proceed by clicking on "cancel all subscriptions"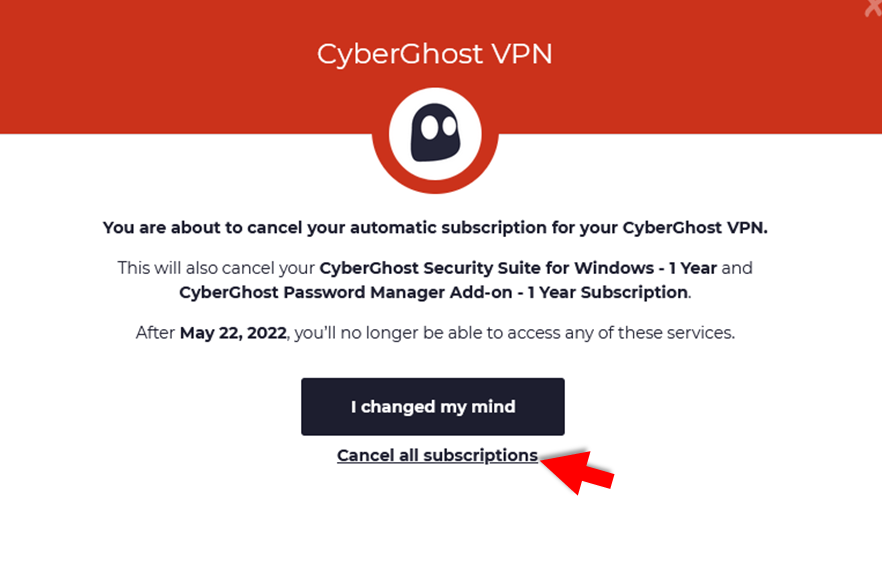 Re-activation
If you want to resume your subscription, please click on the button 'Reactivate Subscription' from the My Subscription section:

For any additional information or concerns - it is best to approach the Support Department:
via e-mail: support@cyberghost.ro
via on-line request: https://support.cyberghostvpn.com/hc/en-us/requests/new
via 24/7 Live! Chat Sessions on our website