There are a couple of additional connection features coming with CyberGhost VPN for Windows, all meant to enhance your security, respective your browsing, Internet, and CyberGhost experience.
All features are server-based, meaning running directly on a CyberGhost server, thus saving you bandwidth and processing time. The client itself doesn't provide any of these features, it solely works as a remote control.
1. To activate a feature first expand the main page...
2. Select the VPN logo
3. Mark the menu entry "Privacy settings". Then click on the respective button of the feature you want to activate: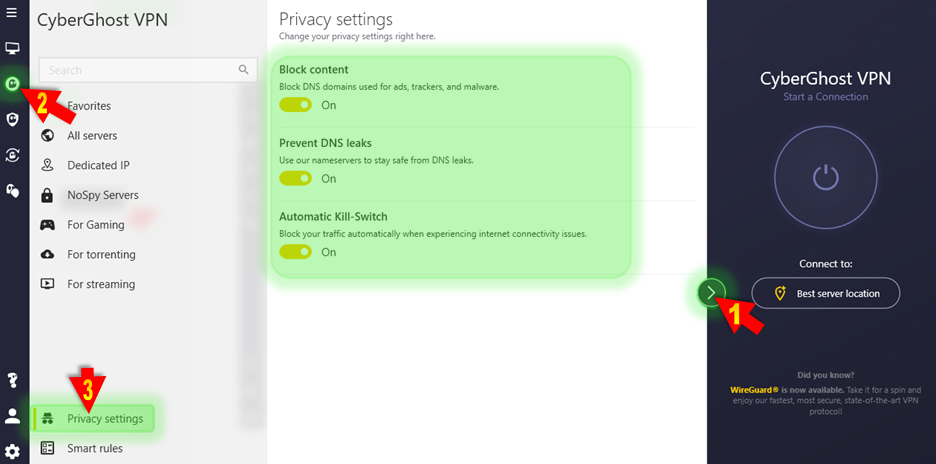 Block content: Block content is a feature developed by CyberGhost to help protect the privacy and security of our customers. The content blocking function returns the IP addresses of unwanted domain names as an address that cannot be routed over the public Internet.
Prevent DNS leaks: Activated, this option forces your system to use the CyberGhost Domain Name Server (DNS) instead of those of your Internet provider. (A DNS takes care of the correct access to an address. For example, if you enter 'www.cyberghostvpn.com' in your browser, he sends your wish to a DNS, which translates the address into numbers. Only then the connection can be established. This also means that a DNS has complete control over the accessibility of each web address and therefore is the perfect tool for censors. When using the CyberGhost DNS servers you avoid this kind of manipulation).

Automatic Kill-Switch:

As of the moment, the CyberGhost Kill Switch feature is enabled by default and the option that is displayed in the CyberGhost app is only by design, not for Enable / Disable the Secure Connect feature.
For any additional information or concerns - it is best to approach the Support Department:
via e-mail: support@cyberghost.ro
via on-line request: https://support.cyberghostvpn.com/hc/en-us/requests/new
via 24/7 Live! Chat Sessions on our website